Interview With MMRC MD Ashwini Bhide On Mumbai Metro 3 Project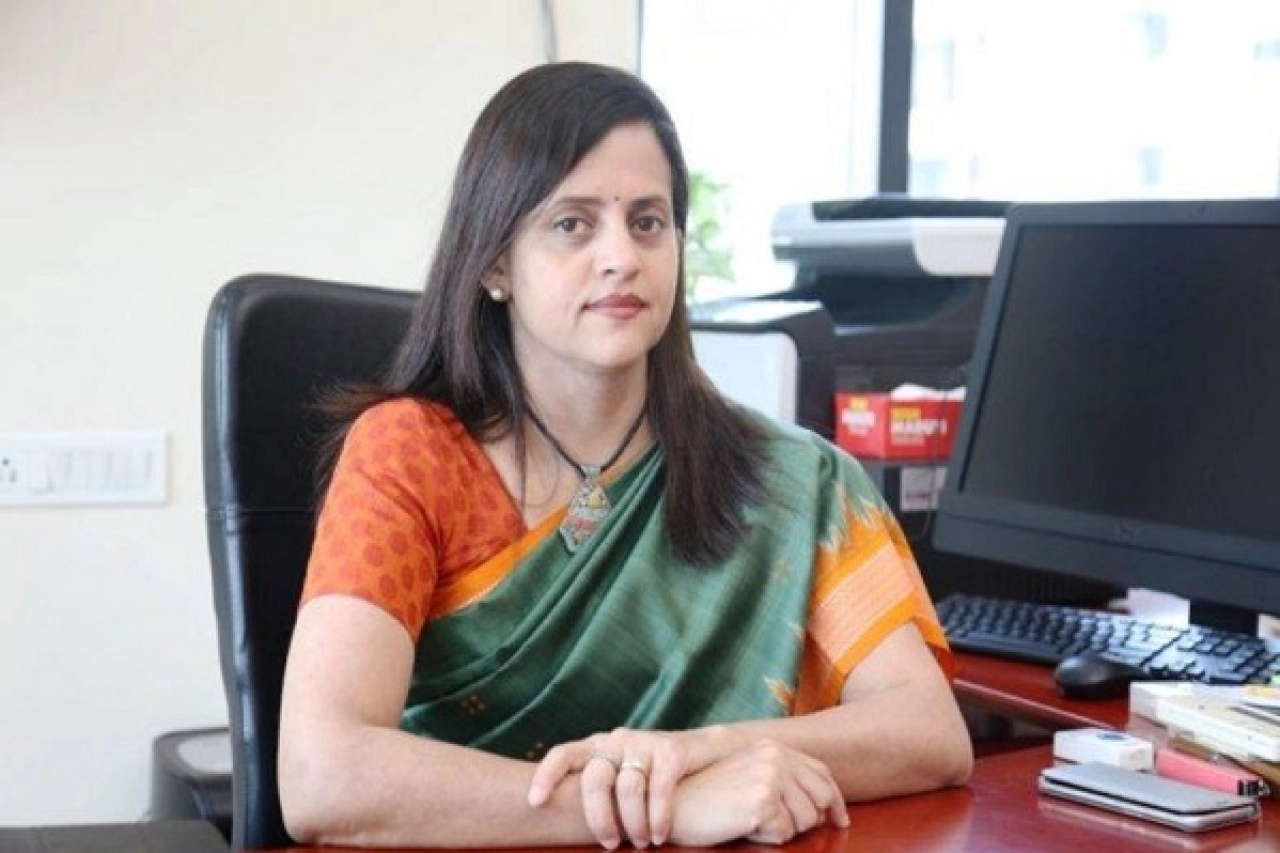 Snapshot
The IAS officer talks about dealing with different perceptions and objections while trying to preserve the character of the city's infrastructure, its outdoor and green spaces.
Ashwini Bhide, IAS, & Managing Director of Mumbai Metro Rail Corporation (MMRC), who heads the 'ambitious' and 'intricate' Metro rail network in Mumbai, opens up on the challenges of executing the Mumbai's underground metro project.
Bhide talks about dealing with different perceptions and objections while trying to preserve the character of the city's infrastructure, its outdoor and green spaces. She is not only dealing with the engineering challenges posed by this humongous multi-crore project but also the hubbub of acquiring Aarey Colony land and chopping almost 2,700 trees for the metro car depot for the 33-km long Colaba-Bandra-SEEPZ (Mumbai Metro 3) line.
How does it feel to be part of the first underground mass transit project? What has been the experience till now?
As far as my personal involvement is concerned, its a matter of privilege to lead this very, very challenging project. It has been considered as India's most-challenging project by Metroman Dr. E. Shreedharan himself. I joined the (Mumbai Metro 3) project in 2015 when the Mumbai Metro Rail Corporation Limited (MMRC) was separated from the Mumbai Metropolitan Region Development Authority (MMRDA).
We have had to execute this mass transit project in an overcrowded city like Mumbai, where you find old dilapidated buildings and heritage structures on one side and high rises on the other, without disturbing the city life, while controlling cost and time. There are engineering obstacles, social and environmental ones and those related to perception.
Handling all of these is the opportunity of a lifetime for me and my team. It is a difficult but important task to make people comprehend the enormity of this project. Resolving issues such as rehabilitation, acquiring land, obtaining permission from Forests department; CRZ and other clearances become a big part of the exercise. The last four years have been like a roller-coaster ride but we always found a way. There is a sense of achievement.
Have there been any studies done on the change of transportation patterns as this is the only Metro line that will cut across both western and central railways on a parallel route? How much of a drop in commuters would the suburban system witness? Or do you think only vehicle-users will use the Metro?
This study was done in DPR of Mumbai Metro 3 where we worked out the Internal Rate of Returns (IRR) on investment which is divided into financial and economic IRR. The financial IRR sees how much money is invested and how much is earned as farebox collection.
Economic IRR studies damages such as displacement of people, social impact and environmental impact such as chopping of trees. This project's economic IRR is almost 18 per cent. Location of business districts, housing, and residential patterns, commuting patterns are considered while planning the project. There is no direct connectivity to areas such as Fort, Colaba, Worli, BKC, Marol.
The Mumbai Metro 3 corridor will ensure a major shift from vehicular traffic as it is not parallel to the suburban system. Whereas, Metro lines 2 and 7 would run parallel to the suburban corridor, so the excess crowd will get divided. As far as line 3 is concerned, the nodal shift would be around 15-20 per cent.
There is a lot of confusion about how much Aarey Colony land will be taken up for the Metro project.
We are in possession of 30 hectares of land at Aarey for the Metro car depot. This land is not in its entirety occupied by trees. There are around 3,000 trees but they are scattered only on 17 per cent of the land. We were asked by the Tree Authority to retain a large chunk of trees, which is concentrated on one particular piece in the middle.
So we have decided to retain that green cover in a five-hectare area. So the metro car depot will come up in the 25-hectare area. It was a major challenge for us to design a metro car depot for 31 metro trains with eight coaches each in just 25 hectares, but we decided to curtail some of the stabling lines and created additional space elsewhere near the station. Two trains each can be stabled in the facility created at BKC and Cuffe Parade.
Why can't the Metro car depot be shifted to Kanjurmarg as per the larger public demand?
The land at Kanjurmarg was not available even in December 2016, while we had been trying to acquire it since September 2015. By then, tenders had been awarded so we had to finalise a place for the depot before going ahead with the work and making any investment.
In December 2016, the government gave us permission to start the depot work at Aarey and now that 50 per cent of our work has been done, there is again a demand to shift the metro car depot to Kanjurmarg.
Is the land available at Kanjurmarg?
No. And if at all it were available, it would take three years to just develop it as some of it is marshy. How can we wait when huge investments have already been made and we have to commission Mumbai Metro 3 by December 2021?
Was the feasibility of having a Metro car depot examined at other sites too?
The metro car depot is not just a parking area like the ones you have for buses or like the stabling lines you have for local trains. This is where all maintenance work will take place. All the recommended locations including Kalina university, BKC, Mahalaxmi racecourse were studied and were found unsuitable due to various reasons.
Kalina was inadequate and even the university had future expansion plans. A detailed study was done for the racecourse to see if an underground depot was possible but then we would have had to keep it air-conditioned round the clock, which would have a huge environmental impact. The plot at Aarey is best-suited as it has access from three sides and is easily accessible from JVLR.
Another major concern raised by environmentalists is also the flooding that can occur in neighbouring areas due to concretisation. What is your take on this?
On what basis are people raising these questions? It's nothing but misinformation to mislead people. Only a seven-hectare area of the metro car depot will be concretized and 75 per cent of the land will remain unpaved.
The said area is not the Mithi River's floodplain but the catchment area from where the water goes to Mithi. Plus there is a huge gradient so water does not spread but goes down. In addition, there is already the presence of natural channels that have old stormwater drains (SWD).
As part of the land development, we have already shifted some of the old SWDs outside the boundary by a proper drain as per BRIMSTOWAD requirement and this has been approved by the BMC.
What would be your message to Mumbaikars who are confused about this project?
The Mumbai Metro 3 project only means to improve the city's environment, reduce pollution, improve connectivity and commutability. We have to save lives which are being lost on railway tracks, we have to improve the quality of travel on the suburban rail network and on the roads, save time and make the city more sustainable.
The environmental benefits of this project are far richer and wider than the temporary environment damages, so every citizen must support it and own it.
What about the allegations of commercial use of Aarey?
There were claims that funds were going to be raised through the commercialisation of the Aarey land, when in fact the government is funding it. Had they studied the financial structuring of the project, which was available online, only Rs 1,000 crore, of the project cost is to be raised through our resources, while the rest is to be provided by the government.
The Mumbai Metro Rail Corporation (MMRC) is a new company (formed to implement the Mumbai Metro 3) the Metro is yet to begin operations. We don't have separate resources of our own yet.
Hence, when we got cabinet approvals for this 30-hectare plot. They also gave us another 3.5-hectare plot next to JVLR. This land is already being used commercially for RMC plants.
What fare structure has the MMRC decided on?
There won't be any difference in the fare structure for different Metros, whether they are underground or elevated. A common fare policy of the government will be adopted by Mumbai Metro 3 because they don't expect to recover the capital investment through farebox collection. Whatever we would like to get from farebox collection is basically the operation and maintenance cost.
Union Road Transport & Highway Minister Nitin Gadkari commented that protests against projects raise the project cost and cause delays. With the ongoing fight for Aarey Colony, how will these two factors be affected?
When the tenders were received, we had to factor in the market-appreciated cost. The cost-escalation from 2011 to 2021, or beyond, will also be another burden to consider.
Apart from what Mr Gadkari said, which is absolutely right if the Mumbai Metro 3 project is not completed on time, Mumbaikars will be deprived of a much-needed facility which was thought of all the way back in the 1961 Development Plan.
The 15 per cent decongestion of trains won't happen without it. In addition, without this project, the chance to have a healthier and smoother commute will be gone too.
For Mumbaikars, public transport is second nature. Do you think this can make public transport attractive for Mumbaikars?
Some people use roadways due to lack of connectivity, some ditch trains as they are overcrowded. In some cases, both factors play out together. According to MMRDA's comprehensive transport study this year, the 350-km network will be used by around 45 lakh people.
By, 2041 when the Metro network reaches a mature stage, over one crore passengers will use it. While the suburban rail network will still exist, the vehicular traffic will remain static. Parking restrictions and other regulations will make it better.
This will also give the railway network some breathing space to improve. Mumbai's advantage is that it is public transport friendly. People here like using public transport and hence, it won't struggle like other cities.
In terms of deadline, how is the work progressing?
Work on all stations, including Girgaon-Kalbadevi, has started. Their progression is varied depending on when land became available. Overall, we have completed almost 48 per cent of the work, around 34 km of tunneling out of the 56 km is completed.
By the end of this year, we intend to complete almost 70 to 80 per cent of our tunneling work. We intend to commission this project in two phases — Aarey to BKC and from BKC to Cuffe Parade.
Phase 1 has reached a much-advanced stage with 90 per cent of tunneling done and 60 per cent work on stations done. As far as timelines are concerned, if the Aarey Metro car depot issue is resolved soon, we are pretty sure that we will complete in time. We cannot move the trains without the metro car depot.
The 26/7 floods lead to over 1,000 deaths. Despite you citing the need for the project, how can you assure that the project will not have any environmental impacts?
Why should there be any environmental impacts? A public transport project has the capacity to take so many vehicles off the road and most importantly move people from one area to another with ease.
Should this be environmentally dangerous? Open spaces that we have covered during construction are very limited. As far as open spaces are concerned, this project temporarily needs 76 hectares of land.
The requirement of permanent land is 4-5 hectares scattered all over the 33-km alignment. Secondly, we have a lot of roadside trees in Mumbai, unlike many cities in Europe and America. Around 65 per cent of the 3,000 trees that were disturbed have been transplanted.
For those that didn't survive, we compensated by planting three times more trees. We have also given an undertaking to Tree Authority to plant more trees once the project is completed. Three nurseries are engaged in that project.
In addition, we are also planting 21,000 trees in degraded forest lands of Sanjay Gandhi National Park. Out of the 2,659 trees that will make way for the Aarey carshed, around 450 will be replanted in the vicinity of Aarey. We are looking for more spaces and may collaborate with the BMC to compensate for the rest.
On the other hand, the underground Metro (Mumbai Metro 3), both tunnel and stations, are made watertight. There is a national building code. We follow NMP 130,131 which are the US building guidelines.
Even in our National Building Code, there are certain stringent norms included. Mitigation plans for flood and fire are all in place. When tunnel-boring machines drill tunnels and immediately cover them with a concrete lining, no scope is left for the rock to get exposed. If the rock is exposed, then groundwater will seep in.
Besides the concrete lining, there are rubber gaskets and grouting. Today, there is no water in the 34-km tunnel that we have built. This shows that the tunnel itself is watertight. Similarly, we have elevated the entries and exits of the station to prevent flooding.
The Metro car depot issue has seen a Twitter war like never before. On one side are environmentalists and on the other is the government machinery. How successful have you been in convincing people?
There are two kinds of levels in this. One is the battle which takes place in the administrative and judicial sphere, where it is fought with reason, facts, and legal documents.
There we have been fighting for the past four years and the same issue is being challenged again and again in different courts under different disguises. But all those cases we have won on the basis of facts presented in the court. Now we are facing court cases on the same issues that were settled in court before.
It is relatively easy to go back to court, show the earlier verdicts and win the case. The only issue is, how much time will it take? As far as the perception war in the social media sphere is concerned, it works both ways.
If you want to counter the flurry of misinformation every time, I am myself not very sure about it. Because whatever you say, that is countered. At the same time, those who support the project, they are not a cohesive group but huge in number.
They want us to present facts on social media so that they can understand them too and are not influenced by misinformation or propaganda. And for their sake, we keep sharing the facts.
So it may look like a war or a battle, but the whole point is that because the wrong information is being spread as real information, with authority, it is necessary to counter that.
Policy decisions cannot be taken on Twitter or on the basis of the opinion of 80,000 people. Because it is the opinion of only this group, while we do not know the say of lakhs of other Mumbaikars, who may or may not be on social media. Even if you want a referendum, there is a need for a mechanism for that, which is not available.
We had a mechanism for suggestions, objections, public hearing. For the tree-cutting issue, we did that. Twice, even when it was not required, the matter was kept open for suggestions and objections.
Eighty thousand suggestions and objections were raised but for hearing there were only 300-400 people. Who are those 80,000 people? So these 300-400 people got the replies to their objections. We made our factual position clear.
The government has to see long-term benefits and then take holistic decisions. The government cannot get swayed or influenced by certain flared emotions. So when you approach an institutional mechanism to raise issues, you get a fair hearing and committees are appointed to investigate.
In 2015 it was possible for us to think about the land in Kanjurmarg but today it is not. Suppose it takes 10 years to get the Kanjurmarg land, would it be prudent for the government to let go of the investment made? We cannot get emotional. Those with a grouse approached the court and the court has already given its verdict.
This is the first time when a government body and an officer have been so outspoken on Twitter. What is your take on this?
We have always been active on Twitter. This project has a long gestation period and plus it is an underground project. In an elevated project, you can see the piers and girders coming up, but in an underground project, you cannot take people down there to show the work.
How do you show them then that things are moving? Which is why as part of our PR strategy, we present everything on social media. When people criticize us or raise queries, we answer those.
Do you personally handle your Twitter account?
Yes, I personally handle it. I don't have someone else doing it on my behalf.
When it comes to development and infra projects, it is argued that open spaces are readily grabbed as opposed to built-up spaces. Is there going to be a comprehensive policy to utilize built-up spaces instead?
It does not work that way. In fact, we have utilized built-up spaces. In Girgaon-Kalbadevi, we have acquired 30 buildings. But sometimes the alignment requires that you take that space.
In fact, if you take the example of Metro Metro 3, why it is underground? Because there is no open space. You cannot touch some old or heritage buildings and that is why it had to go underground. So as a policy, yes, one would go for easily-available government lands. Because they are relatively easily available for construction.
(This piece was originally published at urbantransportnews.com and has been republished here with permission)