2,734 Deaths In 2018: The Story Of Mumbai's Failing Suburban Railway System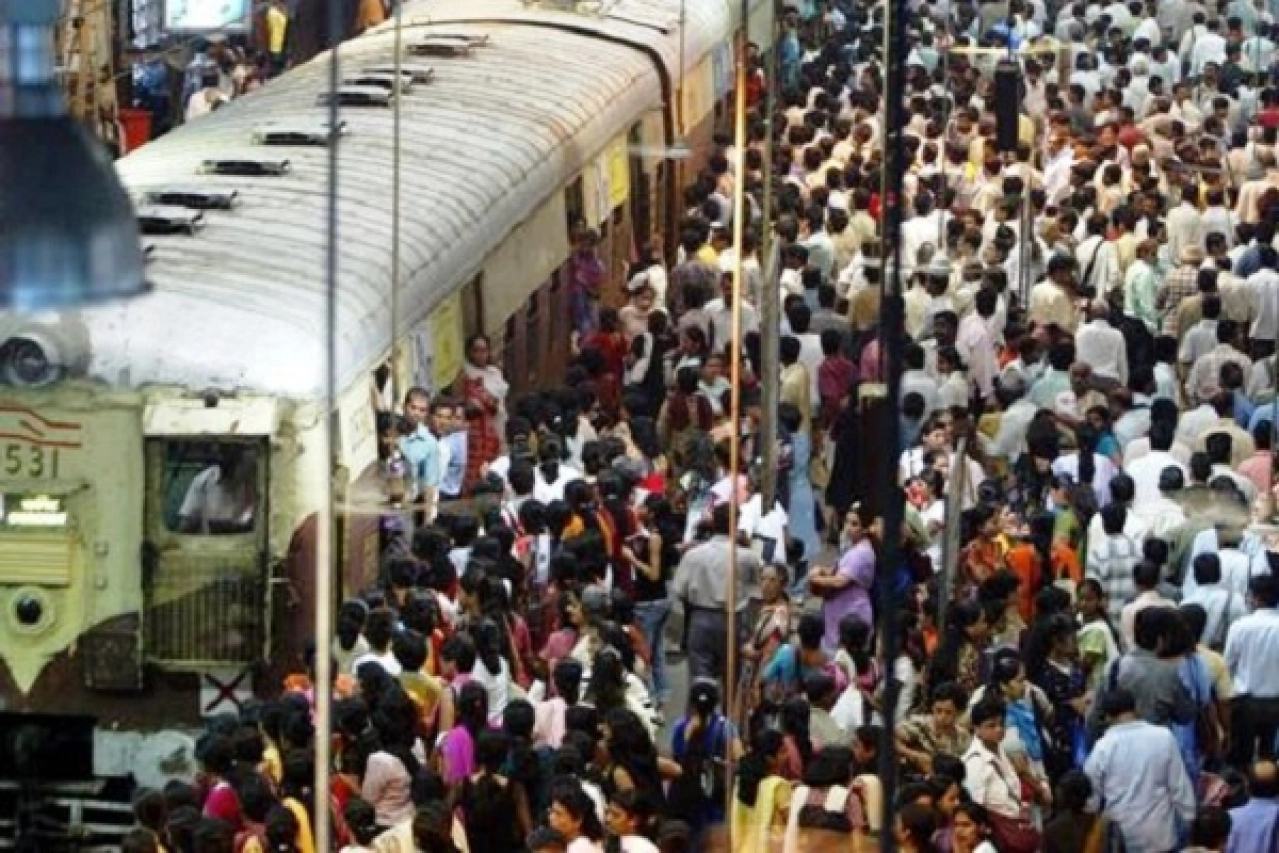 Snapshot
According to United Nations World Urbanization Prospects, the population of Mumbai Metropolitan Region was 20 million and Greater Mumbai 12 million in 2019.

And with a pitiable Suburban Railway network, imagine the struggle the citizens are and will go through in the future.

The time is ripe for a complete re-imagination of this mode of transport.
Mumbai, with an estimated GDP (in nominal terms) of $160 billion, accounts for 6 per cent of India's GDP and contributes close to one-third of the overall tax collection of the nation.
Mumbai, the city of dreams, is also the financial capital of India. The job opportunities it offers have served as a major attraction for immigration from the hinterland of Maharashtra as well as from all parts of the country.
Mumbai Metropolitan Region (MMR) is one of the fastest growing metropolitan regions in India.
It comprises seven municipal corporations, 13 municipal councils and 996 villages and extends over an area of 4,355 sq.km.
According to United Nations World Urbanization Prospects, the population of Mumbai metropolitan region was 20 million and Greater Mumbai is 12 million in 2019.
And this is projected to reach 34 million by 2031.
While the island city is not home to a majority of the city's population, it is the workplace for many.
Thus, the passenger movement is in north-south direction and south-north direction during mornings and evenings respectively.
Mumbai aspires to be one of the globally competitive cities in the world but falls short on several grounds, with transportation inadequacies being a notable drawback.
The Mumbai public transport systems are overcrowded and the road network is congested as there is a large gap between demand and supply.
The existing suburban railway system largely caters to the high need of urban transport in the city.
Mumbai 'Locals' – The Lifeline Of The Megacity
Mumbai was one of the first cities in Asia to have a suburban railway system during the 1920s. The first suburban train from Victoria Terminus (now Chhatrapati Shivaji Terminus) to Kurla was run in 1925.
The suburban railway system of Mumbai is India's second largest such network in terms of route length after Kolkata.
The suburban railway system in Mumbai is the most complex, densely loaded and intensively utilised system in the world.
Two zonal Railways — Western Railway (WR) and Central Railway (CR) — operate the Mumbai Suburban Railway System.
Spread over 390 route kilometres, it operates 2,342 train services and carries an incredible 80 lakh commuters everyday.
To keep it in overall perspective, the daily users of Mumbai suburban railway constitute one-third of the total users of Indian railways.
Suburban railway is the predominant mode of transport in Mumbai Metropolitan Region (MMR) and 53 per cent of the trips in MMR are performed on the network.
The resilience of this system has been tested and proven from time to time; even after major incidents such as the floods of 2005, serial bomb blasts of 2006 and terrorist attack of 2008, the system has shown its strength by bouncing back to normal within a few hours. Any disruption in the suburban train services almost brings the city to a halt.
The Expansion of Lifeline Over The Years
The suburban railway system of Mumbai was on the verge of collapse in the mid 1990s. Then the Ministry of Railways and Government of Maharashtra had decided to augment and strengthen the suburban railway system with equal participation in capital investment.
A Comprehensive Transport Study for Mumbai Metropolitan Region (MMR) was carried out and a set of project possibilities was identified for implementation under Mumbai Urban Transport Project (MUTP).
A Special Purpose Vehicle (SPV) named Mumbai Railway Vikas Corporation Ltd. (MRVC) was set up in 1999 to implement the rail component of MUTP.
The implementation of MUTP is being done in phases and loans from the World Bank have been an important component of this project.
The Rail component of the first phase of MUTP was sanctioned by the Parliament in the Budget of 2003-04.
The project has been successfully completed by the end of March 2012 at a total cost of Rs.4,450 crore. Under this phase, additional suburban rail corridors between Borivali-Virar, Kurla-Thane and Santacruz-Borivali were constructed.
Along with it, 559 new suburban services were introduced, 1,216 suburban services were converted from 9-coach to 12-coach composition.
Thus, 36 per cent additional carrying capacity was created during peak hours.
The second phase of MUTP was sanctioned by Parliament in the Budget of 2008-09. The present estimated cost of the project is Rs. 8,087 crore, implemented in two parts, i.e. MUTP 2A and MUTP 2B.
MUTP 2A, costing Rs. 4,713 crore, is partly funded by the World Bank loan while MUTP 2B is fully funded by the Ministry of Railways and Government of Maharashtra.
MUTP 2 includes construction of additional lines between Andheri to Goregaon, Mumbai Central to Borivali, and two additional lines from Thane to Diva.
Along with this, 200 additional suburban services and 20 per cent additional carrying capacity was envisaged to be created.
In addition to MUTP 2, work for running of 12-car rakes on Harbour line was sanctioned subsequently in 2012-13, referred to as MUTP 2C.
To further strengthen and augment the suburban railway infrastructure in Mumbai Metropolitan Region (MMR), the Narendra Modi government has announced MUTP 3 in the Railway Budget 2015-16 at a total cost of Rs.11,441 crore.
Under MUTP 3, additional lines that are planned include third and fourth lines between Virar-Dahanu Road, a new suburban corridor between Karjat-Panvel and a new elevated suburban link corridor between Airoli-Kalwa.
And, 300 additional suburban services are also being planned.
Recently, Asian Infrastructure Investment Bank, headquartered in Beijing, in which India is the second largest shareholder with a 7.5 per cent stake, has approved $500 million long-term loan for MUTP 3.
AIIB provides long-term financing as it is keen on India's urban infrastructure development.
Additionally, in early 2019, as a booster shot to the above expansion and upgradation projects of Mumbai's suburban rail, the Narendra Modi government approved a series of suburban rail infrastructure projects worth Rs. 33,690 crore for the city.
The projects are part of the MUTP 3A which is pegged at Rs.54,777 crore. The Rs. 33,690-crore approved works include massive infrastructural upgrade for the existing suburban network, which include implementing a new communication based signalling system (CBTC), upgrading the infrastructure of 19 stations, procurement of 191 AC EMUs, and new lines at key sections such as Kalyan-Badlapur, Kalyan-Asangaon, Borivali-Virar, etc.
The total cost of MUTP 3A is to be shared in a 50:50 ratio by the Ministry of Railways and the Maharashtra government, with each contributing Rs.13,345 crore, and Rs.7,000 crore to be funded through loans.
Indian Railways is also planning MUTP fourth phase, which a high-speed corridor from CSMT to Thane and is expected to cost Rs.16,000 crore.
Viability Of The Suburban Rail Expansion Projects
According to a Comprehensive Transport Survey (CTS) of Mumbai Metropolitan Region (MMR) conducted by Mumbai Metropolitan Regional Development Authority (MMRDA), the employment opportunities in MMR would double from 7.5 million in 2005 to 15 million in 2031.
Similarly, the survey says the proportion of formal employment in them increases from 56 per cent to 80 per cent and the proportion of walk-to-work will decrease from 40 per cent to 30 per cent.
Additionally, the expected rise in per capita income and the demographic dividend i.e majority population in working age will bolster the demand for public transport, which in turn, ensures the viability of these suburban rail expansion projects.
Suburban Rail — A Victim Of Apathy And Negligence
Overcrowding in the suburban trains continues even after the introduction of new services as the alternative modes of public transport like modern metro network are almost nonexistent.
The footfall at some of the stations has gone up substantially without corresponding increase in facilities.
This often creates law and order problems, lack of basic facilities like footbridges which caused stampedes in the past.
In 2017, as many as 23 people died in a stampede at suburban Elphinstone Road railway station and this tragedy compelled the government to call in Indian Army engineers to construct new bridges in a record time of four months.
The over congestion in Mumbai suburban railway has an incredible human cost. Every year, thousands of human lives are lost during track crossing or by falling off from the over congested rakes.
In 2018 alone, 2,734 people died in Mumbai suburban rail, that is seven lives lost on an average everyday.
Along with the physical breakdown, Mumbai Suburban Railway network is on the verge of financial breakdown.
This over crowded rail system is a loss making entity.
In financial year 2013-14, the Mumbai suburban railway system earned Rs. 1,500 crore and spent Rs 2,600 crore, thus incurring a loss of Rs 1,100 crore.
As part of its social obligations, Indian Railways continued to provide incremental inputs, which were far overtaken by demand.
Large scale expansion of the Suburban railway system could not be undertaken due to the fact that huge capital investment was needed to augment capacity without any return. Thus, there is a need for great political will to upgrade and expand the system.
The Future Course
A modern metro network for Mumbai can become an alternative that can take some burden of Mumbai locals. But it cannot replace the existing system, and thus, there is a great need to expand and upgrade the Suburban rail network, making it more safe and comfortable to travel in.
The Narendra Modi government has allocated huge amounts for upgrading and expanding the Suburban Rail. But the speed of execution of these projects must be taken up on a war footing.
In 2018, while China added 4,100 kms of new high-speed rail track to its existing 'bullet train' network, India has failed to add even 40 kms of normal rail track for its financial capital Mumbai.
This comparison indicates there is an urgency for high targets in executing infrastructure projects and no space for complacency.
There is also a need to improve the finances of Mumbai's Suburban railway system.
Its fares have not kept pace with inflationary trends.
Passenger fares were not increased for 10 years between 2002 and 2012. Increasing passenger fares causes political backlash and thus no government is keen to do it.
This problem can be overcome by focussing on earning from other possible means. The total non-fare box revenue of this urban transport system i.e money earned through means other than ticket sale is mere 6.5 per cent of total revenues.
Thus the non-fare box revenue must be enhanced with renting advertisement spaces, station redevelopment and commercial utilization of railway land.
The goal must be to make Mumbai's Suburban railway system a physically robust and financially viable urban transport system that continues to fuel the growth engine of India that is Mumbai.
For this to happen, cooperation at all levels of governance involving Union, State and local governments is a prerequisite.
Different political entities ruling these various levels of governance must put their differences aside to make it happen.