Bengaluru's Notorious Silk Board-K R Puram, 11 Other Routes To Get Dedicated Bus Lanes To Reduce Commute Time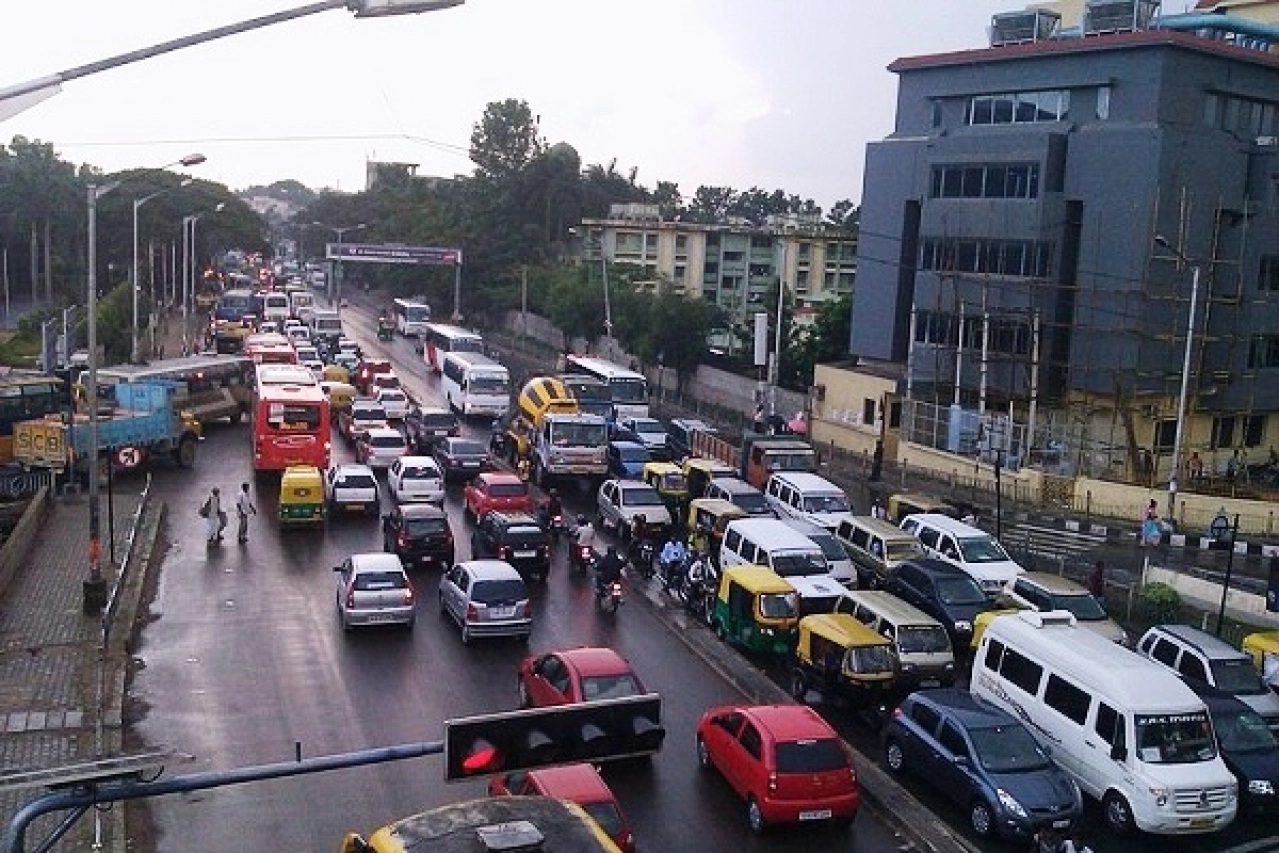 In a boon for Bengaluru commuters who avail public transport, the Bangalore Metropolitan Transport Corporation (BMTC) is collaborating with Bruhat Bengaluru Mahanagara Palike (BBMP) to launch dedicated bus lanes on 12 routes in the city, The HIndu has reported.
These routes include the Silk Board junction to K R Puram (Tin Factory) route via the Outer Ring Road (ORR) which is notorious for its traffic jams. The dedicated bus lane may be introduced as early as 1 November.
"This stretch is one of the worst traffic-affected. Having a bus lane might help reduce traffic congestion and it will also encourage people to adopt public transport. A good extent of space is available as well and we are expecting to have the Phase 1 start by 1 November", said an official with regards to the Silk Board – K R Puram route.
Out of the total 18.5 KM distance between Silk Board and K R Puram, the BBMP would open up a 10 KM dedicated bus lane stretch by 1 November and the rest of the length is expected to be commissioned by December.
The civic authorities would construct new shelters for commuters along the dedicated stretch while also increasing the frequency of buses – both AC and non-AC on the route. BMTC currently carries out 450 scheduled runs on this route.
Besides BMTC buses, only ambulances and vehicles with capacity exceeding 20 persons would be allowed to ply on this dedicated bus lane and offenders would be apprehended based on Intelligent Traffic System (ITS) and cameras fitted on the buses.
The dedicated bus lane would be separated using barricades for demarcation.
So far the civic authorities have identified 30 KM of stretch as part of the pilot plan. This was finalised following a route inspection by Transport Minister and Deputy Chief Minister Laxman Savadi, who travelled from Tin Factory to Silk Board on BMTC's bus.
Some of the other high traffic routes identified for the dedicated corridor include J P Nagar to Hebbal via Silk Board, ORR to Hosur Road and K R Puram station to the proposed Peripheral Ring Road (PRR). They would be finalised following the implementation of the pilot project.
Incidentally, earlier attempts to implement such dedicated bus lanes had ended in failure but authorities this time round are confident of making it work – especially considering the high level of traffic congestion.
Decongesting Silk Board Junction
With the Silk Board junction a primary to the planned dedicated bus lanes, there is also a plan to de-congest the high traffic bottle neck with the help of a flyover which will support both road traffic and the upcoming metro.
As reported recently, the BMRCL had awarded a tender for construction of loops and ramps for a proposed Rs 134-crore 2.8 kilometre flyover at the junction, including road widening and allied work on Metro's Reach 5.
The elevated road will be eight metres above the existing road level, while the Metro line is 16-metre high.
The four-lane road will be 20-metre wide and have four loops with a ramp towards Electronic City, BTM Layout and HSR Layout.