India's Aviation Industry Has An Unlikely Competitor -The Railways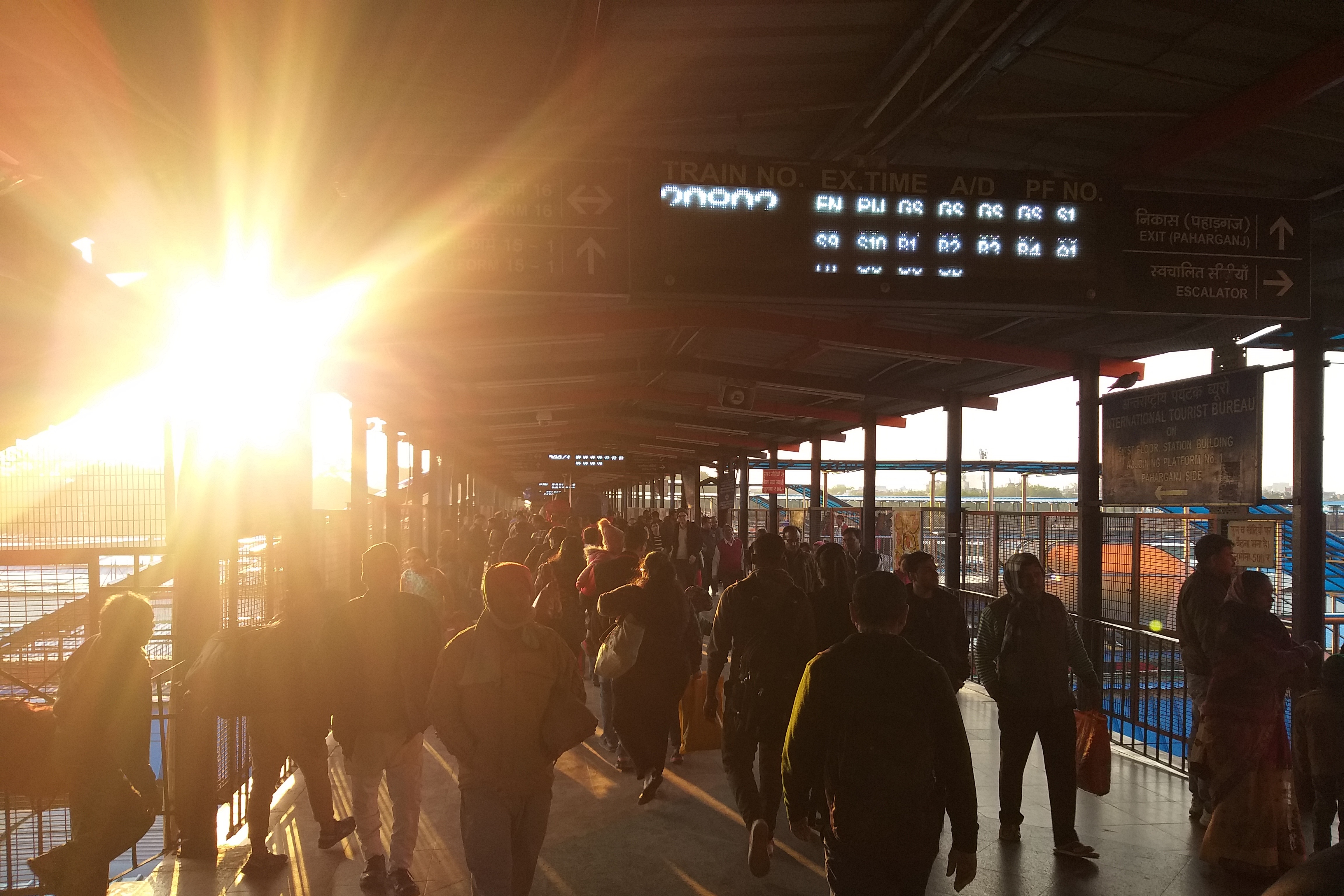 Indian aviation has witnessed exponential growth over the last decade. The financial year 2018-19 saw 275 million travellers, 2.5 million air transport movements and 3.5 million metric tonnes of cargo move in and out of Indian airports.
In the last decade, airport throughput, counted by passengers arriving and departing out of airports, has more than trebled for domestic passengers and doubled for international passengers. And forecasts call for 500 million passenger trips in the next 20 years positioning India as the third-largest aviation market within the next 6–7 years.
This growth has largely been fuelled by low fares. Add to that cost and convenience and it makes for a compelling proposition. How low the fares have gone is highlighted by the fact that the term 'rail-air parity' has become a part of the airline lexicon. That is, an air ticket priced at par (or in many cases below) a rail ticket in the air-conditioned 1st class/ AC 2-tier class of travel. All other things being equal folks simply took to the skies. That is until now…
Rail Travel Is Improving, Exponentially
As the middle class expanded and low-cost carriers made flying more affordable, there was an increase in the traveller base. More people took to flying and abandoned the trains. The traveller now had a choice and was no longer hostage to dirty train stations, delayed trains and disappointing experience.
This was also seen in the data trends. From 2008 to 2018 the total rail traffic increased by only 1.8 per cent while the air traffic increased by 10.8 per cent. Interestingly for railways, the AC 1st class and AC 2-tier grew by only 6 per cent (albeit a very high base) which should have been much higher based on the GDP and income growth.
But consistent efforts at the railways have changed this. A focus on cleanliness, safety and punctuality has ensured that rail travel is consistently improving.  Add to this, the initiatives like e-catering, railway security, cameras, food packets with QR codes and web-streaming of the kitchen meal preparation. The railways are clearly signalling that they are here to compete. 
And the proof is slowly but surely pouring in. Most recently the Vande Bharat express reported earnings of INR 92 crore. The Indian railways catering and Tourism Corp Ltd (IRCTC) revenues continue to rise (up 63 per cent in Q3FY20) with the stock flying higher. And trains such as Tejas Express have been able to capture traffic right from launch because of a focus on basics and on facilities as simple as a luggage trolley (similar to the passenger operated luggage-trolleys at the airport) that have not yet been seen in the Indian market. 
As more travellers experience the convenience of trains and as word of mouth grows, this will only get better. 
The Airport Location and Airport Experience are Also Driving More Folks to Trains
Airlines are also disadvantaged by the fact that in key cities the airports are just too far or too inconvenient.
Be it Bengaluru or Hyderabad where the location is 2 hours away from the city centre or Mumbai and Chennai where traffic woes can drive up the overall travel time. And for domestic travel especially in an environment where household and corporate budgets are constrained, railways, in this case, provide a connection that goes from the city centre to city centre and is often more cost-effective. Further, as folks run after the scarcest resource of time, when measured on a door-to-door basis and coupled with overall cost basis trains provide an easy alternative.
That is not all, as air travel has grown exponentially, a failure of capacity planning and design has led to the airport experience deteriorating significantly. Long queues to get into the airport, long queues at security and impatient personnel are becoming the norm. Technology initiatives are still in their nascent stages and the use of paper and outdated processes still continues.
Add to that the airlines now becoming far stricter on baggage policies, the exorbitant food prices at the airport and even the arrival experience where the taxi owners are known to follow their own set of rules (to avoid the access fee that airports charge). Together this makes for a fairly hassled travel experience.
It is not that the railways alleviate all of this. It is just that they provide an alternative. And if the alternative is more pleasant and more economical in terms of time or cost, it is likely that more travellers will gravitate towards it. 
High-Speed Rail Projects Likely To Impact Short-Sector Travel 
In the next decade as High-Speed Rail projects see realization, short sectors on-air (less than 1 hour) will become very challenging for airlines. This because the economics on short sectors are fairly challenging. Ideally, airlines want to fly aircraft to optimize the range and capacity dynamics. On short sectors these get skewed.
First, because the wear and tear on the aircraft are maximum during take-offs and landings (each take-off and landing is referred to as one cycle). And short sectors and long-sectors both have the same cycles on the basis of which maintenance and lease costs are impacted. Second, short sectors see demand patterns that are difficult to discern as several opt for roads instead (which too are improving). Finally, the pricing on short-sectors has to be extremely competitive thus the cost recovery potential is limited.
With more HSR projects on the horizon, it may force a rethink on short-sector flights. 
| | |
| --- | --- |
| Route | Length (kms) |
| Mumbai – Ahmedabad | 508 |
| Delhi-Noida-Agra-Kanpur-Lucknow-Varanasi   | 865 |
| Delhi-Jaipur-Udaipur-Ahmedabad   | 886 |
| Mumbai-Nasik –Nagpur   | 753 |
| Mumbai-Pune-Hyderabad   | 711 |
| Chennai-Bangalore-Mysore   | 435 |
| Delhi-Chandigarh-Ludhiana-Jalandhar-Amritsar   | 459 |
(List of HSR Projects)
On Availability, Air-Travel Still Beats Railways 
In spite of these developments when it comes to last-minute travel including tickets and availability it is still air that is the preferred option. Simply because air-tickets are always available. And airlines ensure this is the case because of how the pricing is managed.
For the railways, this availability challenge is not easily addressed because of the sheer volume of passengers. With 23 million passengers per day, the railways effectively transports more domestic passengers in a month than the entire airline industry of India does in a year. Ticket availability continues to be a challenge and last-minute bookings are very hard to secure. 
The 'Tatkal Reservation Scheme' introduced in December 1997 had been a success (scheme has driven the overall utilization of trains to almost 100%) but it still does not take away from the uncertainty of last-minute confirmations. 
Additional demand has also been taken care of by augmenting a load of existing trains by attachment of extra coaches and planning of special trains subject to operational feasibility. By way of numbers, during FY20 (upto December 2019),  approximately 70 million passengers availed accommodation through Tatkal quota and remaining unmet demand was catered to by augmentation of 758 coaches and running of 32,145 trips of special trains. But demand is only set to grow further. And as new trains are introduced and capacity augmented it will be interesting to witness rail travellers gravitating to air-travel and vice-versa.
Looking to the Future, Airlines must be Prepared 
The commercial aircraft fleet in India expected to double in the next decade. But as the country's airlines look to the future they will have to plan for a shift in travel preferences. With the improvement in rail, some sectors and regions will be more impacted than others.
Add to that, the concepts like flysgam (flight shaming) and tagskryt (train bragging) which are gaining traction in Europe and may just make their way here. The green equity movement has not fully been embraced by the Indian traveller yet. How this pans out remains to be seen. But, using Europe as a test case, if for the next generation the narrative is created as being a choice between economic growth and saving environment, the latter will always find favour with younger folks. 
For airline planners, the challenge will be to look at a broad set of parameters which do not necessarily correlate and discern emerging trends.
The trends include quantitative and qualitative factors. And the qualitative factors cannot be gleamed at sitting at a desk. And they certainly cannot be explained by foreign consultants that attempt to force-fit western models on the Indian context. To understand the market and plan for the market, one has to be in the market, experience the market and look at other factors that are completely unrelated. Because there is no formula for this, proposing such an approach often drives quantitatively driven folks crazy.
Current growth models for airlines assume a static system which is not the case. One essentially has to look at the entire transportation system including connectivity via railways, airlinks and roads and intermodal traffic flow. Add to that the urbanization trend which also means more travel to and from smaller cities. This is already reflected in the compounded annual growth rate of traffic at non-metro airports for the last decade at 14.5% (albeit a lower base).  The introduction of new trains that are faster and more comfortable is likely to eat into this growing volume. How airlines respond is yet to be seen. 
Overall while the country has witnessed double-digit air traffic growth for over a decade, the reality is that airlines have to start preparing for an unlikely competitor: the railways.
Satyendra Pandey is an India market expert and has held a variety of roles within the aviation business. His positions include working as the Head of Strategy & Planning at Go Airlines (India) and with CAPA (Centre for Aviation) where he led the Advisory and Research teams. Having lived and worked across four continents, he is also a certified pilot with an Instrument rating.