How Coronavirus Outbreak Is Impacting The Aviation Industry Worldwide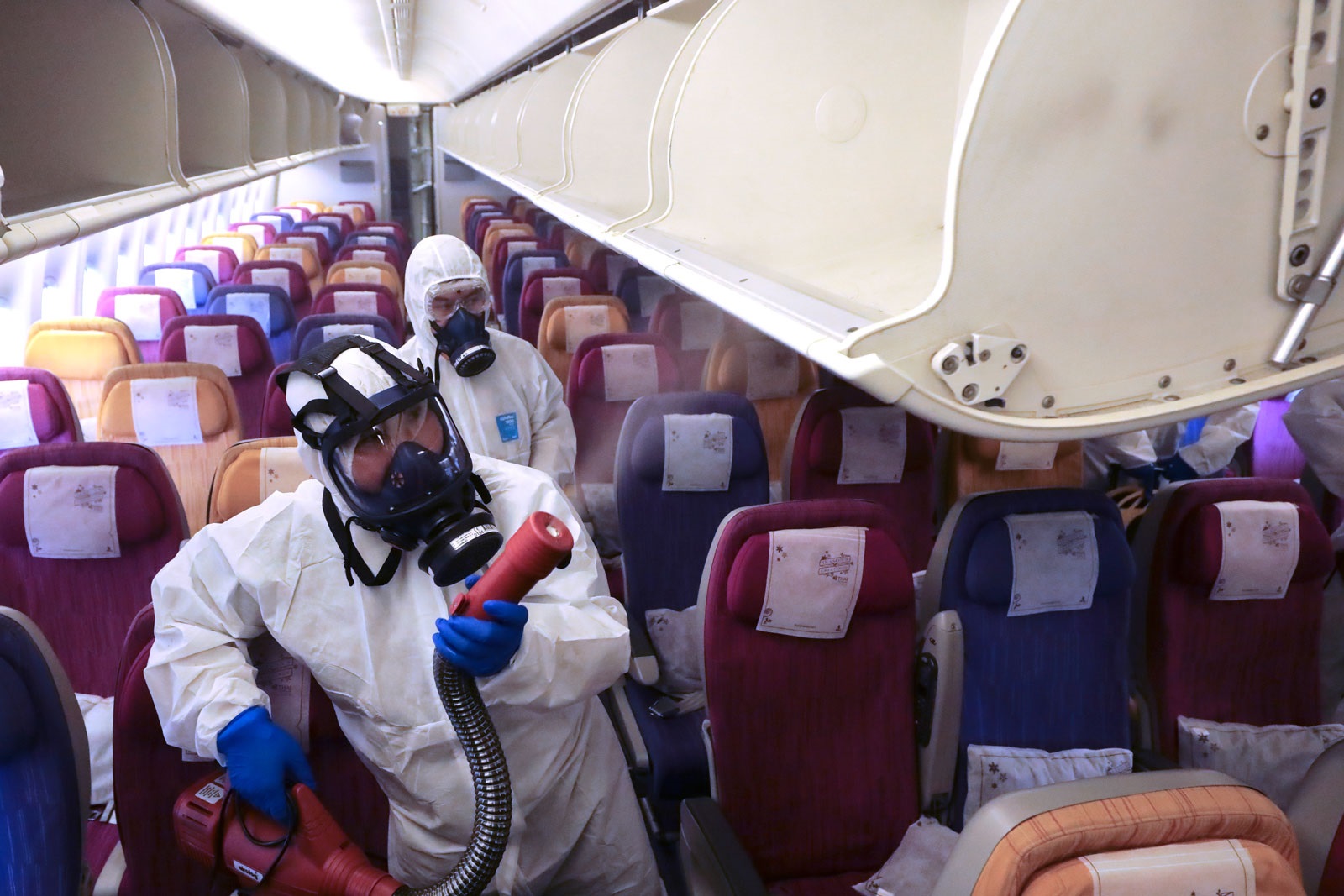 The coronavirus epidemic continues to haunt travelers. There have been 87,694 confirmed cases and 2,995 deaths so far. However, a vaccine and cure are yet to be found. Countries the world over have started taking immediate measures including a ban on travelers originating from areas and even countries that have had the coronavirus. Air travel continues to be impacted and the outlook is fairly pessimistic.
It is not the first time the system has witnessed a shock. But the scale and spread of the virus has been unlike anything seen before. What originated in one country has now spread to fifty-nine countries. The only word that can describe this spread is-exponential.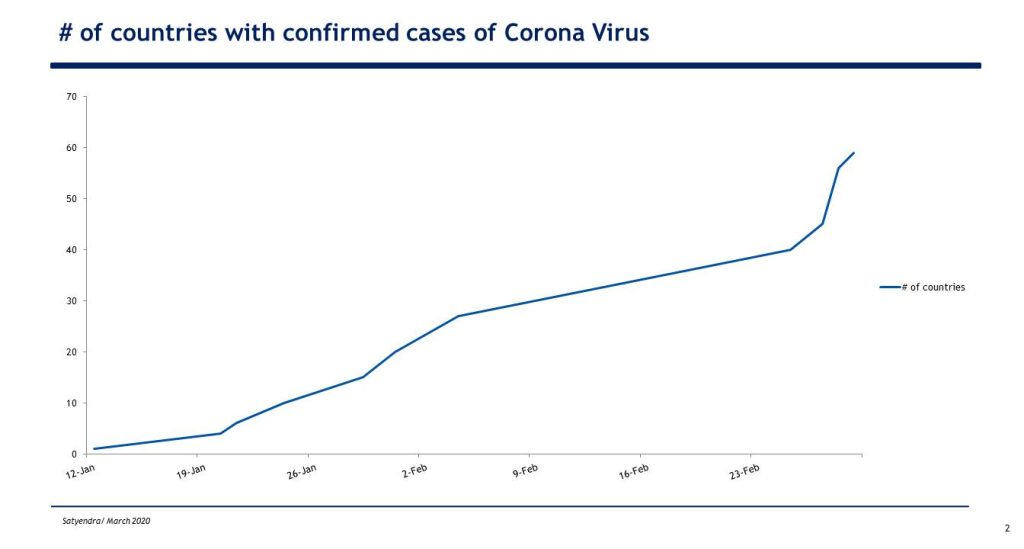 On January 30, the Director-General of the World Health Organization (WHO) declared the outbreak of novel coronavirus 2019-nCoV as a public health emergency. Interestingly WHO did not recommend any travel or trade restrictions but since then countries and airlines have been swift to act. 
In Australia, Qantas, and in Canada, Air Canada has suspended flights to China and Hong Kong. In the USA, American Airlines, United Airlines, and Delta Airlines suspended all flights to Mainland China and Hong Kong and American Airlines recently suspended flights to Milan after crews refused to operate there. 
Further, the US Postal Service (USPS) has suspended time guarantees on shipments destined for China and Hong Kong due to widespread airline cancellations. In Germany, Lufthansa has suspended flights to China including those by Swiss and Austrian Airlines. Further, Deutsche Post has stopped sending packages to China, including Hong Kong and Macau.
In Singapore, Singapore Airlines reduced flights to Mainland China while Singapore Post suspended all International Air services to China, including Hong Kong and Macao except SpeedPost Express. Even Indian carriers have suspended all flights to China and Hong-Kong. Flights to Singapore and Bangkok are also being reviewed with Air India, Indigo and Vistara curtailing flights and while GoAir has suspended its sole flight to Singapore.  
In addition to capacity adjustments which are in reaction to and in anticipation of a drastic fall in demand airlines are also working on conserving cash. To this end, Cathay Pacific and Emirates have already asked staff to take voluntary leave.
Airlines in the US are redeploying capacity into the domestic market; Lufthansa and British Airways have reworked network patterns and most recently Air Asia has announced a $118 all you can fly for a year scheme. 
Overall, the International Air Transport Association (IATA) estimates Asia-Pacific airlines will lose $27.8 billion of revenue in 2020. China most impacted but other markets such as Singapore, Hong Kong, Vietnam, Japan, S. Korea & India will see associated impacts. And while crude oil prices trending lower (currently below $50) will help, airlines with weak balance sheets will be left with very few options.
To put things in perspective, during the 1991 Gulf War, there was only a 7-9 per cent reduction in passenger demand. After the attacks of 9/11, the passenger reduction was in the neighbourhood of 12 per cent. During the SARS outbreak in 2003, the peak demand declined by 50 per cent in Hong Kong while the average decline was around 20 per cent. After the Tsunami of December 2004, there was a 35 per cent reduction in demand for Bali and surrounding areas. After the 2010 Eyjafjallajokull volcanic eruption, the demand fell by 20 to 30 per cent. However, in 2020, the demand decline alone, following the coronavirus outbreak, is estimated to be upto 40 per cent.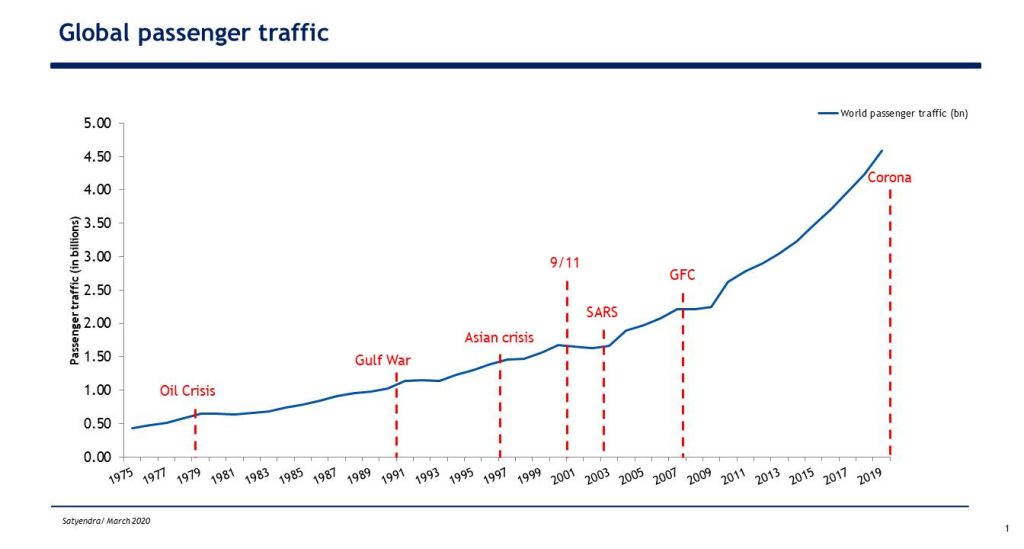 What is more challenging for airlines is that the spread of the virus will have secondary impacts. Supply chains are being disrupted, companies like Amazon have issued travel advisories and cargo revenues are drying up. Non-essential travel has been suspended, video-conferencing has seen a sudden surge and corporate budgets for the upcoming year are looking at travel expenses very closely. 
On a macro-level, several forecasts indicate the likelihood of a recession and the associated impact on air-travel is all but certain. Consequently, demand suppression is likely to force airlines across the globe, especially Asia, to drop prices. Only this time the traveler may not return immediately. As such a V-shaped recovery is actually the best-case scenario. And it will likely be the case that the airline industry registers an overall loss for 2020. 
Asia may be the hardest hit. First, because Asia, by virtue of the growth, is sitting on 23% of global aircraft orders. Of these approximately 1600 jets are to be delivered within the next 18 months and depending on the nature of the contracts airlines may be forced into further losses. Second, because India and China (the growth engines in Asia) both are facing economic slowdowns. Add to that the capacity dynamics and the expected strengthening of the dollar. Overall this may be one of the most challenging situations facing the industry after the 2008 global financial crisis.  
And that's not all. 
There is still the ongoing US-China trade dispute, the situation with the 737Max aircraft, and the collapsing yields.
2020 may be the most challenging year for airlines by far.
Satyendra Pandey is an India market expert and has held a variety of roles within the aviation business. His positions include working as the Head of Strategy & Planning at Go Airlines (India) and with CAPA (Centre for Aviation) where he led the Advisory and Research teams.  Having lived and worked across four continents, he is also a certified pilot with an Instrument rating.