Railways float fresh domestic tender for 44 Vande Bharat trains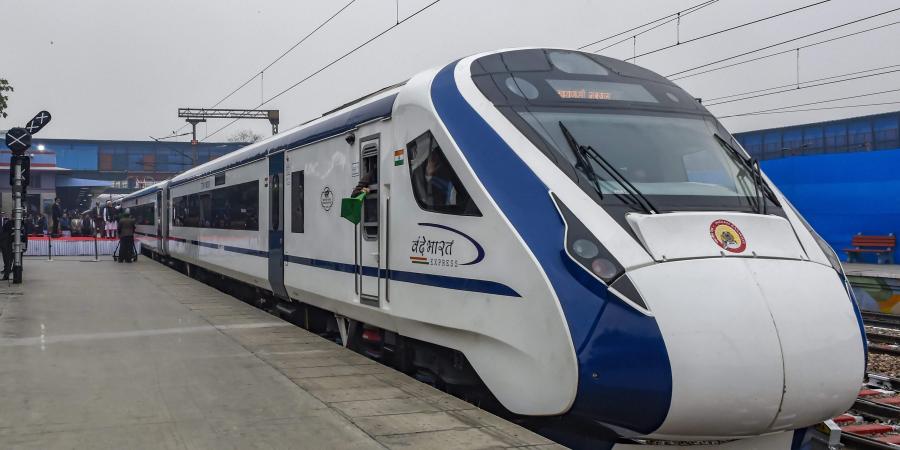 New Delhi: Indian Railways has floated a revised tender for procuring 44 semi-high speed 44 Vande Bharat trains at an estimated cost of about Rs 1500 cr mandating 75 per cent domestic component.
The revised domestic tender is in line with the government's Make In India policy as the minimum local content percentage has been revised to 75 per cent, according to railways.
The Railways had earlier scrapped three global tenders for the ambitious project for various reasons.
According to the new tender, only companies registered in India can apply.
The pre-bid meeting is slated to be held on September 29 and the tender will be opened on November 17, 2020, while the two-stage, reverse auction shall take place.
"The revised tender is in line with Government of India's preference for Make In India policy, the minimum local content percentage has been revised to 75%. It is the first big tender under revised DPIIT norms of Atma Nirbhar Bharat having at least 75 % domestic components. This tender is now a domestic tender. It shall be local (indigenous) tender in which a two-stage reverse auction shall take place," the Railways maintained.
The tender is for three phases of the project; propulsion, control and other equipment along with bogies for the train sets.
The Department for Promotion of Industry and Internal Trade (DPIIT) had revised public procurement order issued on June 4 to encourage domestic manufacturing.
The ambitious Make-in-India' project involves the manufacturing of 44 train sets comprising 16 coaches each for Vande Bharat.
The train sets will be manufactured across three railways' coach manufacturing units – Chennai's Integral Coach Factory, Kapurthala's Rail Coach Factory and Modern Coach Factory at Raebareli.
Earlier ICF at Chennai had floated a tender for manufacturing 44 train sets of semi-high speed Vande Bharat trains on July 10. Besides a Chinese company, the other five bidders included state-owned Bharat Heavy Electricals Limited, Bharat Industries, Sangrur, Electrowaves Electronics (P) Ltd, MEDHA Servo Drives Private Limited, Powernetics Equipment India Private Limited.
The last tender was floated on 22 December 2019 by the ICF and was opened on 11 July and finally discharged on 21 August. It was the third attempt for floating the tender, which was subsequently discharged as the production of the Vande Bharat, also known as Train 18, has been mired in controversy.
The railways maintained that the tender for 44 Vande Bharat train sets was cancelled to maintain transparency as some bidders had revealed financial details of their offer even before clearing the technical evaluation.
Prime Minister Narendra Modi had flagged off the maiden run of a Vande Bharat train on the New Delhi-Varanasi route on February 15, 2019. The second such train service between New Delhi and Shri Mata Vaishnodevi Katra was flagged off by home minister Amit Shah on October 3, 2019.
It would take about two years to develop the prototype after getting the contract, which the successful bidder would have to roll out by 2023, if the contract is awarded by December this year.
Vande Bharat trains are indigenous electric multiple units and the first train set with world class facilities was rolled out in a record time of 18 months by the ICF.
Manufactured at an estimated cost of Rs 100 crore, the 16-coach Vande Bharat service is equipped with top notch facilities, such as automatic doors, Wi-Fi availability and CCTV cameras and many other advanced features.
Expected to replace the Shatabdi service in a gradual manner, Vande Bharat also has GPS-based passenger information systems, modular toilets with bio-vacuum systems and rotational seats that can be aligned in the direction of travel.
Tender has been uploaded on www.ireps.gov.in