Coach Upgradation Work In Abeyance As Railway Earnings Hit All Time Low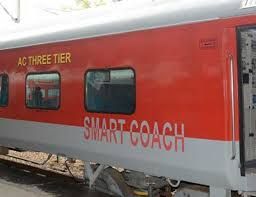 New Delhi, Nov 11: Facing the cash crunch, railways has kept several sanctioned works worth Rs 2700 cr related to coaches on hold as passenger earnings dwindled to 10 per cent of pre-Covid days.
Though freight operation is going on full throttle, not many passenger-carrying trains are in service due to the pandemic situation affecting the revenue badly.
As a cost control measures, the Railways has decided to keep works related to Smart coaches, bio-vacuum toilets, anti graffiti coating and the  refurbishments of coaches for upgradation of facilities in abeyance.
These projects linked with improvement in passenger amenities and sanctioned under rolling stock programme in the railway budget are now either cancelled or being kept in abeyance till further order, sources in railway said.
Though Modern Coach Factory at Rae Bareli has been allowed manufacture 100 Smart coaches, the Railways has sought to keep all actions under abeyance for 200 new Smart coaches and retrofitment of 2600 with smart features till further order.
Smart coaches are equipped with modern sensors that can detect defects on bearings, wheels, and the railway track, giving constant inputs to those in the control room to avoid accidents, carry out maintenance, and to improve efficiency of operations while at the same time make the train ride smooth and comfortable for passengers.
However, railways maintain that after getting satisfactory feedback from the first 100 Smart coaches operation, further proliferation would be taken up.
In a letter to all concerned, the Railways has stated "Zonal railways were advised that all tenders related to provision of bio-vacuum toilets are to be kept in abeyance."
While the allotment of works for bio-vacuum toilets in 7617 coaches at various zones including Modern Coach Factory at Rae Bareli and Rail Coach Factory at Kapurthala have been cancelled, it was decided that bio vacuum toilets would be procured centrally.
Refurbishments of coaches and Project Utkrisht has also been cancelled as per the railways order to all zones across the country.
Project Utkrisht and refurbishment envisage upgradation of amenities in passenger coaches.
Railways in a recent order has cancelled the works of anti graffiti coating to sustain external aesthetics in coaches.
Zonal railways and production units are advised not to anti graffiti coating on all coaches including conventional, LHB, suburban and local service.