DFC Gears Up For 2000 Km Long Track Operational By Early Next Year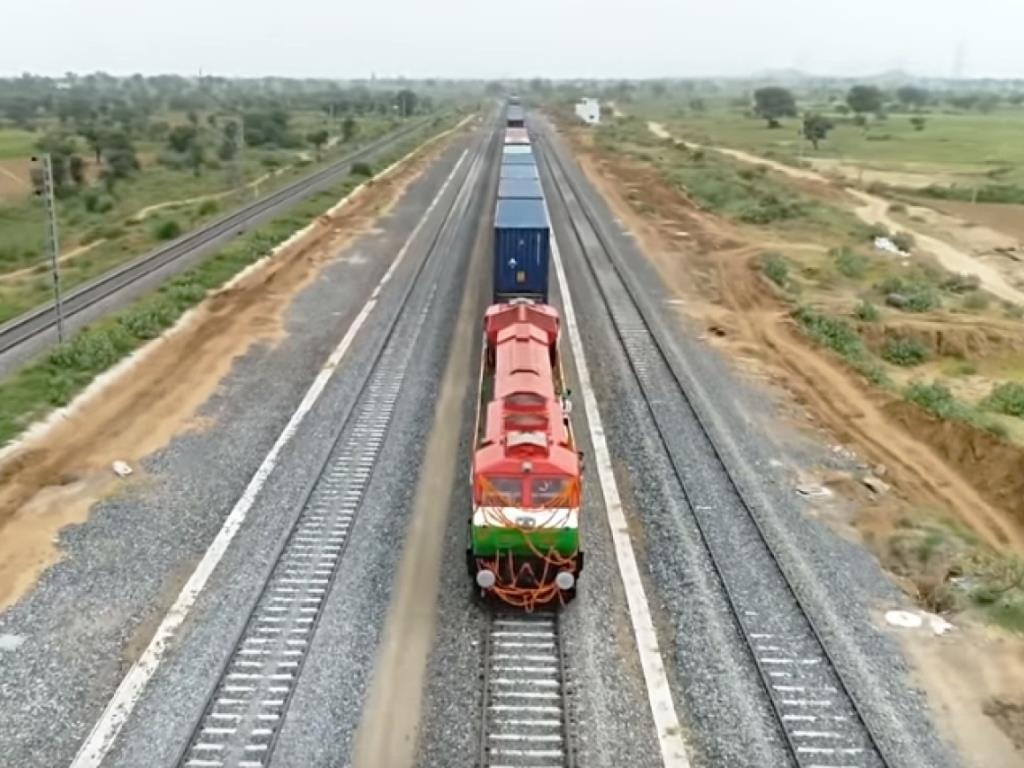 Expediting the work on a war footing, Dedicated Freight Corridor is inching towards making the 2000 km long track operational with complete OHE (overhead equipment) and signalling system by March 2021.
While the land acquisition problem, the major hurdle in speedy execution of the project is almost resolved with about 96 per cent land being required by the DFCC, the mega infrastructure initiative of the Railways is gradually coming on the fast track with constant monitoring from the Railway Board on a daily basis.
The Rs 81,459 cr flagship project is not only crucial for decongesting the dense rail network and boosting goods loadings, the exclusive freight corridor is also expected to be used for the faster movement of troops and heavy materials for Defence purposes during emergency situations.
Till now 351 km long track has been made operational in the Eastern DFC while 306 km being ready in the Western DFC with successful trial of goods trains in the two sections.
While about 1500 freight trains have run in the Eastern DFC, about 600 goods trains have run in the Western DFC up to now.
After relaxation of restrictions in lockdown, we have geared up with renewed vigour to meet the target by mobilising the workforce and construction materials at various work sites, according to a senior DFC official involved in the project execution.
Aiming to move 70 per cent of India's goods train to these two corridors, the
1468 km long Western DFC is from Dadri in Uttar Pradesh to Jawaharlal Nehru Port in Mumbai while the Eastern DFC is 1760 km long from Ludhiana from Punjab to Dankuni in West Bengal.
With 96 per cent land acquisition, Rs 64,000 cr expenditure has been incurred in the DFC project till now, said the official.
The Eastern DFC will have 104 rail bridges, 368 road over bridges (ROB), 189 road under bridges (RUB), 21 flyovers besides renovation of existing 9 ROBs and 10 RUBs.
The WDFC will possess a 4 km long tunnel, a first in the rail sector for freight operation, 262 major bridges, 33 flyovers, 505 ROBs, 200 RUBs and reconstruction of existing 24 ROBs and 10 RUBs.
Cutting across Aravali hills in Haryana, 857 metre length tunnel has been carved out in the Western DFC to facilitate double stack container movement.
DFC has also procured modern track laying machines for automatic laying of rails to speed up the rail work, the DFC official said and added the DFC corridor will have no level crossings and it will use one of the most advanced construction techniques to improve the quality and speed of construction.
While the WDFC is being funded by JICA, the EDFC is being funded by the World Bank.
Once fully operational DFC will be running all the trains at 100 kmph on an  automated signal system and there will be 120 trains running each way a day with a total carrying capacity of 13,000 tonnes.
While Eastern DFC will be carrying mainly bulk traffic passing through Haryana, Bihar, UP and Bengal, Western DFC is basically meant for container traffic passing through Delhi, Haryana, Rajasthan, Gujarat and Maharashtra.
Radio communication and GSM based tracking of all trains, a first in Indian railway sector, will be another special feature of the DFC.
DFC will help India achieve the targets it has committed to in the Paris climate accord, by migrating from diesel propelled freight trains and fossil fuel-based road traffic to electricity based railway locomotives.