Dighwada-Bandikui Route Launch: A Big Boost For Indian Railways' Electrification Drive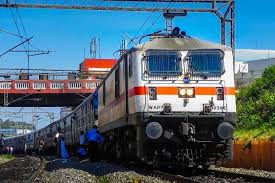 In a significant step towards making the National Capital Region (NCR) free from diesel engines, Dighwada-Bandikui rail route, a crucial section between Ajmer and Delhi, has been electrified.
With this, rail electrification gets a boost as Indian Railways is inching towards complete electrification of its entire broad gauge network by December 2023.
The increased electrification of rail routes has resulted in reduction in the energy bill of the public transporter.
According to the railways, the diesel engine-free NCR will contribute to a cleaner and greener environment in the region.
Currently, the 41,500 km rail route across the country has been electrified, which is more than 66 per cent of the total rail network.
We have set a target to complete a broad gauge rail track electrification by December 2023, said a senior Railway Ministry official.
Since the focus is on total electrification, the railways has also decided to replace 30-year old diesel engines with electric versions in the rail system.
The railways energy consumption between April and October in 2019-20 was 10,862.44 million units which has reduced to 7,012.37 million units in 2020-21 due to suspension of passenger service due to the pandemic.
In 2019-20, the railways' total energy bill including the fuel cost was Rs 29,787 crore.
While the diesel consumption cost the railways Rs 18,742 crore, electric bill was Rs 11,045 crore in 2019-20.
With more and more diesel engines being replaced with electric locos, the national transporter aims to save Rs 8,000 crore on fuel cost next year.
Currently, the power consumption is less by 25 per cent due to less number of passenger-carrying trains in operation though goods service is in full gear despite the pandemic.
According to the railways with 100 per cent electrification, it is expected to save Rs 12,000 crore on energy bills depending upon the cost of diesel and electric.
On electrified track, the running of diesel locos has been reduced to 25 per cent now as 67 per cent haulage is being done by electric locos now, said the official.
The railways has carried electrification on 18,065 km route during 2014-20, which is a record.