GMR, IRCTC among 15 players enter race for private train operation project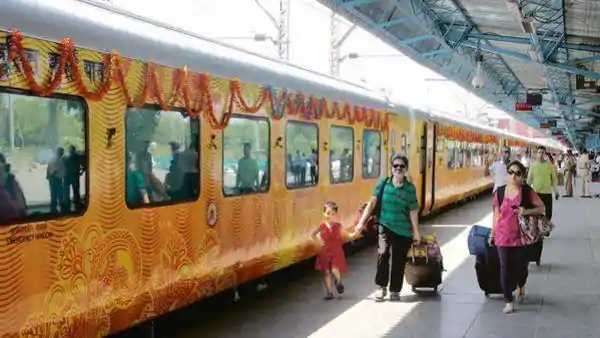 New Delhi, Oct 8: GMR, BHEL and IRCTC are among 15 players who have participated in the Request For Qualification (RFQ) for the Rs 30,000 cr private train operation project.
Railways which has floated the tender on July 1, received 120 submissions from 15 applicants to run 140 trains from 12 clusters on its network. These clusters are centred around key urban areas that witness heavy passenger traffic.
However, big domestic players like Tata and Adani and global players like Bombardier are conspicuous by their absence in the bidding process though a Spanish company has participated in Indian Railways first of its kind private venture.
Describing the response as "excellent" railways said in a statement "In all 120 applications have been received for the 12 clusters, from 15 applicant firms."
This includes 12 applications each for the Delhi 2 and Mumbai 2 clusters, 11 for the Bengaluru cluster, 10 applications each for the Prayagraj, Secunderabad, Jaipur and Delhi 1 cluster and nine each for Chandigarh, Howrah, Patna, Mumbai 1 and Chennai. The Railways had invited RFQs for private participation in operation of passenger train services over 12 clusters comprising 140 pairs of routes through the introduction of 151 modern trains on the network.
Selection of private operators is to be done through a two-stage bidding process. The second stage of the process is a Request For Proposal (RFP) from the qualifying parties from the RFQ stage.
This is the first major initiative of attracting private investment for running passenger trains over Indian Railway network. The project is expected to entail private sector investment of about Rs 30,000 crores.
Megha  Engineering and Infrastructures Limited, Sainath sales and Services Pvt Ltd, IRB Infrastructure Developers Limited, Indian Railway Catering and Tourism Corporation Limited, GMR Highways Limited, Welspun Enterprises Limited, Gateway Rail freight Limited, Cube Highways and Infrastructure III Pvt Ltd, Malempati Power Private Limited, L&T Infrastructure Development Projects Limited, RK Associates and Hoteliers Pvt Ltd, Construcciones y Auxiliar de Ferrocarriles, S.A, PNC Infratech Ltd, Arvind Aviationa and BHEL are participants in the RFQ.
Earlier the prospective bidders have sought flexibility on route and timing among other issues in the first pre-bid conference on the private train project.
According to the railways projections, the public transporter will select the companies that will run the private trains by April 2021; the first 12 are expected to start playing by 2023-24, followed by 45 more in FY 2024-25, the next 50 in FY 2025-26 and the last 44 by 2026-27.