Goyal Seeks Safety Of Rail Staff To Resume Train Service In Punjab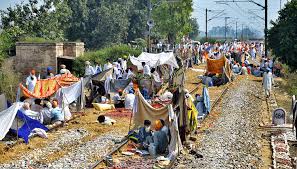 New Delhi, Oct 27: Concerned over the ongoing agitation by farmers, Railways has sought assurances from Punjab government about the safety and security of trains, drivers and guards to resume train operation in the state.
Farmers in Punjab are agitating against the recently enacted farm laws and blocking rail tracks in the state in protest which has resulted in disruption of essential supply in the state.
Drawing the attention of the Punjab Chief Minister Capt Amrinder Singh to the prevailing situation, Railway Minister Piyush Goyal has written to Singh requesting him to "ensure full security, clear track of agitators for complete resumptions of railway services in Punjab and guarantee free run of all trains including freight and passenger trains to and through Punjab."
Singh had earlier written to Goyal regarding the rail roko agitation and the disruption of essential supply to the state.
Following the partial withdrawal of the agitation, railways had commenced freight operation on October 23. However, this had to be stopped as sporadic blockade of track continued at various places and several conditions were being imposed by the agitators to allow movement of certain commodities for certain destinations only.
Highlighting the present situation, Goyal has maintained, "Agitators are still agitating outside Powerhouse and disrupting smooth movement of coal. Railways have also not been able to draw out the 20 empty rakes which are stuck inside. There have been agitations outside Amritsar railway station since October 24. Movement of containers, petroleum rakes and rakes for movement from the FCI silo at Moga have also been obstructed."
Seeking early action on the part of the state government in this regard, Goyal has pointed out that the state administration has not been able to ensure smooth movement of railway services in Punjab.
As on date around 200 freight rakes are stranded in the railway system waiting to be moved to or through Punjab.  Railway staff are apprehensive of the fact that there may be some incidents of run over people obstructing the trains.
"Without total withdrawal of the blockade our staff, particularly loco pilots and guards are not confident of running trains. They fear for their security and also for the possibility of inadvertent run over on track," Railway Minister said in his letter to the CM.
Goyal further said "It is also not possible for the railways to discontinue between customers and selectively run certain kinds of freight trains. The restrictions on the types of trains, routes, destinations and cargo etc., are impossible to adhere to and create huge uncertainty and risk to the life and safety of our railway personnel and property."
The state-run transporter maintains that it is ready to resume train operation – passenger and freight – immediately after assurance from the Punjab Government is received on safety and security of its rakes and trains running staff.