Nagpur Heritage Station To Be Redeveloped As World-Class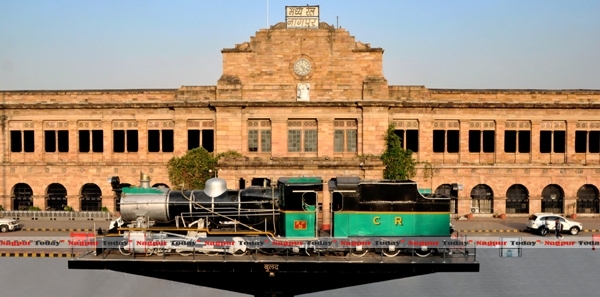 With the Heritage Conservation Committee's approval for the redevelopment plan of Nagpur railway station, the rail premise is all set to undergo a massive makeover with segregation of incoming and outgoing passenger flow.
The HCC has approved the plan, with the condition that the existing main building structure would not be damaged.
The redevelopment works on Nagpur station will be conducted by the Indian Railway Stations Development Corporation Limited (IRSDC).
Six major players have evinced interest in the Request For Quote (RFQ) for redeveloping the station with world-class passenger amenities and commercial activities at an estimated cost of Rs 465 crore, according to the IRSDC.
The plan envisages de-cluttering heritage buildings by relocating the surrounding similar-looking buildings, and enhancing the beauty as well as the grandeur of the heritage building.
Besides, the ambitious plan proposes to introduce a lift for universal accessibility as well as modernise the premises without disturbing the heritage.
In order to minimise cross-movement and clutter during peak hours, the plan proposes to segregate passenger flows in the railway station, a major requirement for world-class stations.
Besides, clearing the circulation corridors which are currently being utilised as station administration functions on the ground floor and elevation cleaning of heritage block as well as improving façade lighting to emphasise its look and feel, are to be part of the grand makeover.
The plan also proposes to streamline façade controls in terms of signage, which includes type, colour and size, to enhance the modern look of the station.
A meeting was held by the Heritage Conservation Committee on 13 August 2020 at the headquarters of the Nagpur Municipal Corporation in order to discuss as well as consider the station redevelopment proposal submitted by IRSDC.
In a bid to de-risk the station redevelopment project, IRSDC will obtain all approvals in advance.
As part of this, a detailed proposal was submitted by IRSDC to Nagpur Municipal Corporation as well as the "Heritage Impact Plan" to Nagpur's Heritage Conservation Committee.
This proposal was considered by the Heritage Conservation Committee, composed of eminent engineers, architects, and environmentalists, on 13 August 2020.
Local importance, along with special architectural, aesthetic merit, its historical and cultural significance, ornamentation, workmanship, climate-responsive architecture were all considered while preparing the Heritage Impact Assessment Report, the IRSDC maintained.
The Union government has also given the power to IRSDC for approving its plan under Section 11 of the Railways Act 1989.
IRSDC shall consult Urban Local Bodies/other statutory authorities while approving its plan so that the development is harmonious to its surrounding development generally following the National Transit Oriented Development (TOD) policy.
No change of land use is required pan India by Railways for developing railway land for commercial use.