Rail Transportation Of Automobiles Attain New Heights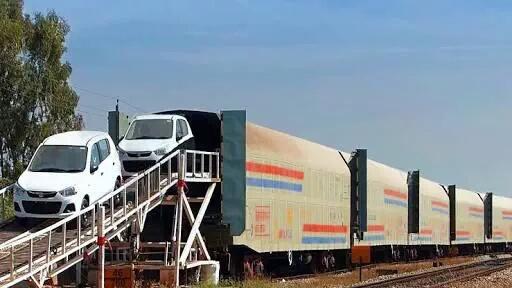 New Delhi, Oct 11: Attaining new heights in rail transportation of automobiles, India Railways has loaded 836 rakes during April-September this year against 731 rakes in the previous year despite almost negligible loading in the first two months of April-May period in the current fiscal.
The total loading of automobiles was only 429 rakes in 2013-14, which has increased to 1,595 rakes 2019-20.
Besides automobile, railways overall loading has also increased with the national transporter using the Covid-19 situation as an opportunity to improve all round efficiencies and performances.
Freight loading crosses last year's loading till the first week of October period by 18 % while earnings from freight is also Rs 250.71 cr higher compared to the previous year's earnings for the same period.
Aiming at achieving a modal share of automobile loading to 20% by the end of 2021-22 and 30% by 2023-24, Railway Minister Piyush Goyal has met automobile industry leaders to give a boost to automobile loading.
Representatives of SIAM (Society of Indian Automobile Manufacturers), Tata Motors, Hyundai Motors, Ford Motors, Mahindra & Mahindra, Honda India, and Maruti Suzuki Ltd, The Automobile Freight Train Operators (AFTOs), Automotive Tyre Manufacturers' Association (ATMA), who were all part of the meeting, lauded  the initiative and committed to work in partnership with Indian Railways to facilitate transportation of automobiles through Railways.
Assuring the stakeholders to resolve all their concerns to boost automobile loading, railways informed them about various steps being undertaken for the industry.
Automobile traffic is now totally exempt from payment of terminal charges while seven new terminals have been opened for automobile traffic during this year.
The participants were also informed about other steps such as revision of haulage charge and permission for two-destination loading to promote automobile loading.
While traffic to Nepal and Bangladesh has started a new taller design of auto-carrier wagons being developed in consultation with the industry.
According to railways, participants were assured that all possible help will be extended to the industry and all their concerns and issues will be addressed on priority.
Meanwhile, overall freight figures continue to impress and move on a much higher trajectory compared to last year in terms of earnings and loading in the first week of October for the public transporter.
On a mission mode, Indian Railways' Freight loading for the month of October 2020 till October 8, 2020 crossed last year's loading and earnings for the same period.
Till October 8, Indian Railways loading was 26.14 million tonnes (MT) which is 18%  higher compared to last year's loading for the same period (22.1 MT). In this period Indian Railways earned Rs 2477.07 cr from freight loading which is also Rs 250.71 cr higher compared to last year's earnings for the same period (Rs 2226.36 cr).
The loading was 26.14 MT which includes 11.47 MT of coal, 3.44 MT of iron ore, 1.28 MT of foodgrains, 1.5 MT of fertilizers and 1.56 MT of cement (excluding clinker).
It is worth mentioning that a number of concessions/ discounts are also being given in Indian Railways to make the Railways Freight movement very attractive.
According to the railway plan, improvements in freight movements will be institutionalized and incorporated in the upcoming zero based time table.