Railways To Seek Cabinet Nod For Corporatising Rae Bareli Coach Factory First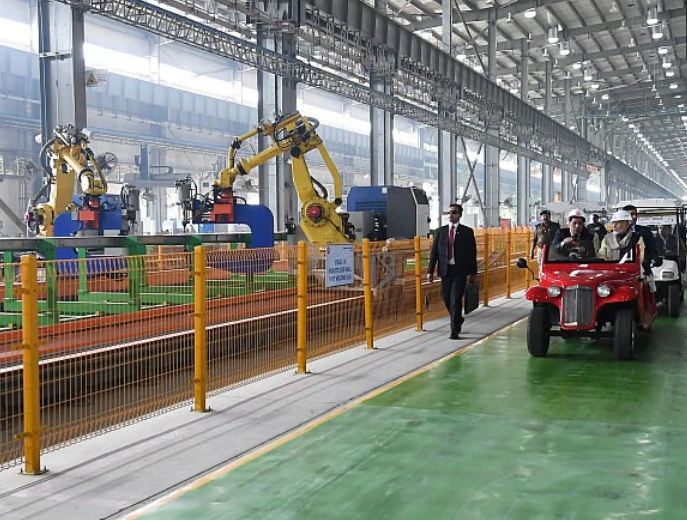 Railways is firming up a cabinet proposal to corporatise Modern Coach Factory at Rae Bareli first as the corporatisation move of rail production units has gathered momentum.
Senior officials from the Finance Ministry, NITI Aayog and Indian Railways are meeting this week to finalise the roadmap for corporatisation of MCF to begin with.
"Earlier, the proposal was to corporatise all eight production units of railways. However, now it has been decided to begin with MCF first and later on carry out the exercise for other units in a phase-wise manner," said a senior Railway official.
RITES, a railways PSU, assigned the task of undertaking a study on corporatisation of the rolling stock units, has submitted the report for MCF corporatisation.
The aim is to make all our production companies market driven and export oriented, said the official.
There are about 2,300 employees in MCF and the report has suggested certain initiatives including VRS to rationalise the workforce.
Till now, all production units including MCF have railways as captive buyers and their productions were depending upon budgetary support.
But with changing times, corporatisation was long overdue as most of these units are not a force to reckon with in the market, it was felt.
The corporate structure is expected to free these units from the rigid bureaucratic system of the government, which would result in gaining flexibility and improving efficiency in a coordinated manner.
These units, which are suffering from technological stagnation, would be able to infuse new technology and also garner the financial resources to enter the international market in a competitive way.
The idea of hiving off all production units of the Indian Railways into a single entity, called the Indian Railways Rolling Stock Company, was floated as part of the 100-days action plan of the Indian Railways last year.
According to the plan, the merger of eight production companies including three each of coach and locomotive manufacturing units and two wheel factories into one giant entity would make these units strong and viable in the world market with the latest technological collaboration.
However, the process was slowed down after the pandemic outbreak, which was taken up again amid signs of revival of the economy.
There is also a plan for merger of 46 workshops with the proposed rolling stock company.
However, this would be taken up at the next stage, as the immediate focus is to work out the final blueprint to corporatise the MCF, the official said.
MCF at Rae Bareli, which produces about 2,000 LHB coaches a year, would become an autonomous one under a corporate structure and is expected to increase its efficiency.
Currently, Railways is working with a holistic approach to modernise its infrastructure to make its network feasible for running high-speed and semi-high speed trains.
Ultimately, rail production units will have to produce coaches and locos, which are fit for a speed of 160 kmph, while the Railways has also allowed private players to run trains on selected routes.
The railways production units are Chittaranjan Locomotive Works, Integral Coach Factory, Diesel Locomotive Works, Diesel Modernization Works, Wheel & Axle Plant, Rail Wheel Plant, Rail Coach Factory and Modern Coach Factory.