Namma Metro Promises To Add Another 15 km To The Existing Network Before The End Of 2020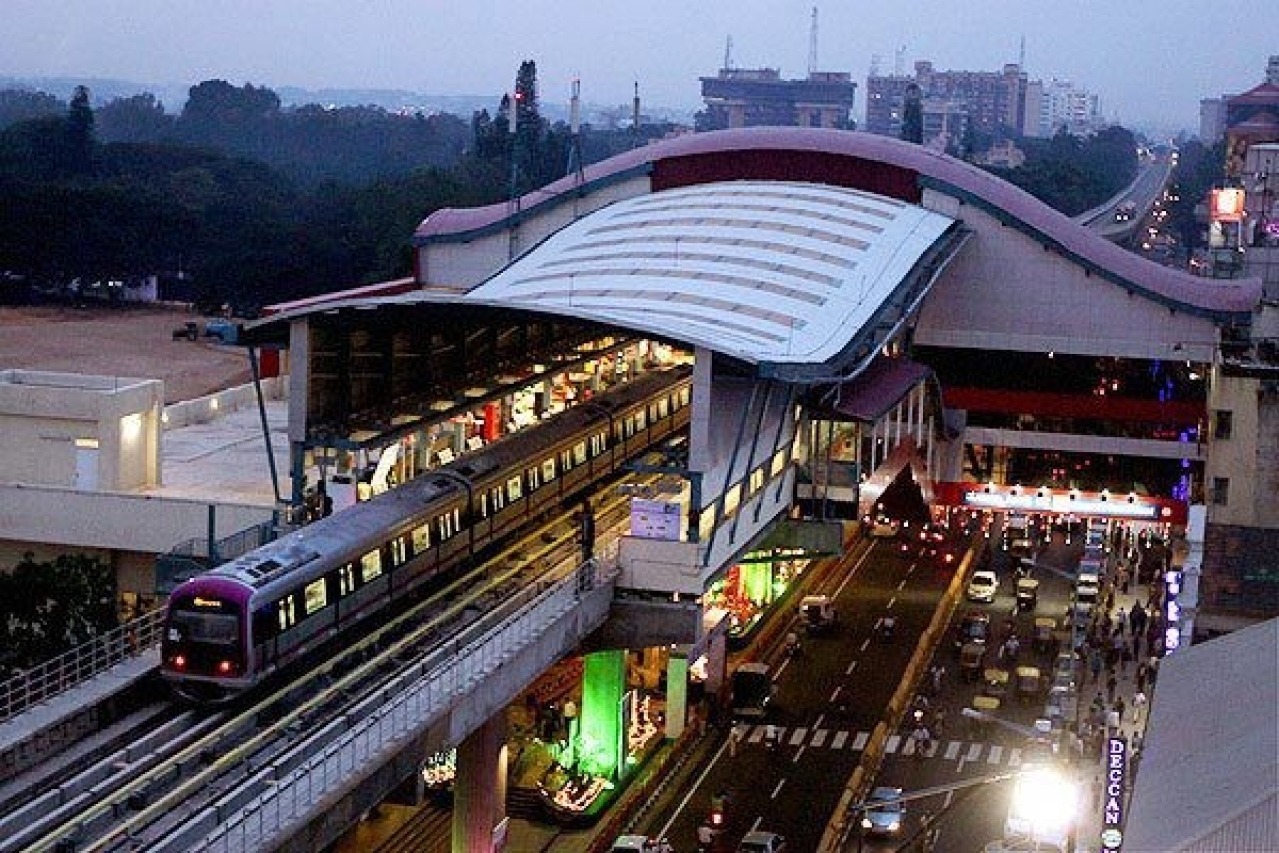 Under criticism for its slow progress, Namma Metro has promised that it will operationalise at least two of six stretches that are currently under construction as part of the  72-km Phase II project, The Bangalore Mirror reported.
The 6.5-km Metro extension on Kanakapura road up to Anjanapura Township will open by August 15 while the 8.8-km line on Mysore road is set to be inaugurated on November 1. The opening of these two stretches will add another 15-km to the currently operational 42.3-km network.
The report quoted Namma Metro chief Ajay Seth as saying "We are confident to throw open two Metro lines this year. The Metro line on Kanakapura Road will be opened on Independence Day and the Mysore road Metro stretch will be ready on Rajyotsava day".
Namma Metro Phase 2 includes the extension of the two Phase 1 corridors, as well as the construction of two greenfield lines.
1. Green Line extensions by 9.32-km – The south-end of the Green Line is being extended by  6.29-km (Yelachenahalli to Anjanapura Township along the Kanakapura Road) and the north-end by 3.03-km (Hesarghatta Cross to Bangalore International Exhibition Centre (BIEC) on Tumkur Road on NH-4).
2. Purple Line extension by 24.05-km – The east-end of the will be extended by 15.25-km (Baiyappanahalli to Whitefield) and the west-end by 8.8-km. (from Mysore Road to Kengeri )
3. A new 18.82-km long fully elevated R V Road – Bommasandra line is being constructed which passes through city's IT hub located at Electronic City. There are 16 stations on this line.
4. Another 21.25-km greenfield line connecting Gottigere and Nagawara. The line is mostly underground (13.79-km), but also has a 6.98-km elevated and 0.48-km at-grade sections. There are 18 stations on this line, of which 12 are underground and 6 are elevated.
Phase 2, when completed, will span a  length of 72.095-km  and will comprise of 13.79-km of underground, 0.48-km at grade and 57.825-km elevated, and adds 62 stations to the network of which 12 are underground.
The January newsletter of BMRCL provided progress updates of projects under phase 2.
According to The Bangalore Mirror report, the completion of a small stretch in the green line extension (to the depot from Anjanapura Township) will face delay as BMRCL is yet to take complete possession of a lane from the custody of NICE (due to pending dispute over land acquisition) and the forest department.
Similarly, the plan is to be to open only the stretch between Nayandahalli and Kengeri on November 1. The remaining portion, including the stations at Mailasandra, Kengeri and Challegatta, will be delayed due to land acquisition issues for building a depot at Challegatta.
In what should be however come as a disappointment to the Bengaluru commuters, the other four lines of Phase II are unlikely to be ready this year. While the target for the completion of the 15-km line between Baiyappanahalli and Whitefield has been extended to 2021, the 21-km RV Road – Bommasandra stretch is estimated to take another two years from now. The Metro extension on Tumkur Road till Bangalore International Exhibition Centre (BIEC) and the Gottigere – Nagawara stretch are unlikely to be ready any time before 2023.
In what should come as solace for the commuters navigating the nightmarish traffic in the notoriously gridlocked Outer Ring Road (ORR), BMRCL in December invited bids from eligible bidders for the construction of 19-km Metro line between KR Puram and Central Silk Board. The final submission deadline for the bids is February 24 after which the tender will be awarded.
ORR is among the densest corridors in the IT capital of India. It is dotted with major IT Parks that houses major companies such as Intel, AOL, Cisco, Adobe, Walmart and more.
In addition to the preponderance of tech giants, major residential complexes and apartments have also sprung up. This consequently makes it the city's most congested road. ORR also acts as a link road connecting traffic between the Kempegowda International Airport (KIA) and the major IT hubs at Electronics City and Whitefield.
The entire 19-km elevated stretch, also called Phase II-A, will comprise of 13 stations- Central Silk Board, HSR Layout, Agara, Ibbalur, Bellandur, Kadubeesanahalli, Kodibeesanahalli, Marathahalli, ISRO, Doddanekundi, DRDO sports complex, Saraswathi Nagar and K R Puram
The deadline for the Light Blue Line, comprising Central Silk Board-KR Puram (Phase 2A) is 2023-24.
The BMRCL has tendered out the project into two packages to ensure speedy completion. The tender also covers road widening, utility diversion & other allied works.
The 9.85-km Package 1 comprises of 6 Metro stations such as Central Silk Board, HSR Layout, Agara, Iblur, Bellandur and Kadubeesanahalli. The entire package is estimated cost Rs 731.18 crore. The 9.77-km Package 2 consists of 7 stations such as Kodibeesanahalli, Marathahalli, ISRO, Doddanekundi, DRDO Sports Complex, Saraswathinagar and KR Puram. The BMRCL has also planned a 1.09-km long viaduct from KR Puram Metro station to the Baiyappanahalli depot.
The BMRCL has also included in the scope of package 1 a provision for a 2.84-km flyover, at Central Silk Board. The signal-free flyover, consisting of two loops around the busy junction, was initially planned to be constructed separately.
BMRCL is expected to shortly invite bids for Phase -2B that will cover the remaining 37-km stretch from KR Puram to International Airport in Bangalore City in February 2020. That will comprise of 17 stations including 15 elevated station and 2 stations at Airport Terminal along with one New Depot.