Why This Elevated Stretch On National Highway 44 Is A Hit With Animals In Pench Tiger Reserve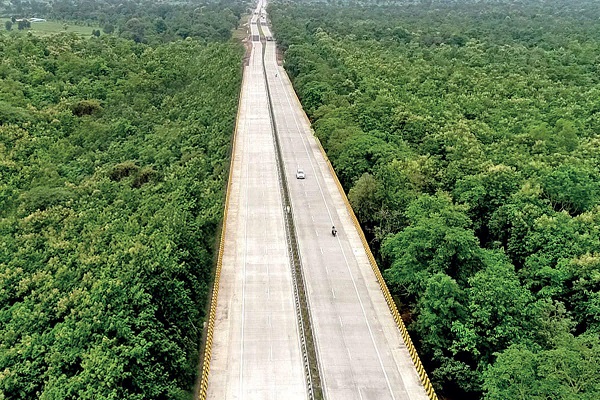 The construction of new elevated stretches along the Seoni-Nagpur highway has come in for a lot of praise recently. The elevated stretch runs through the Pench Tiger Reserve benefits not only humans in the region but also helps protect animals thriving around the National Highway (NH) 44.
The new structures have ensured that the animal corridors in the reserve and their movement remain undisturbed in the long stretch that runs between Madhya Pradesh and Maharashtra.
According to this report in the Economic Times, there are five underpasses and four minor bridges on the 37-km stretch. They have ensured the safe and smooth movement of wild animals thriving in the region.
The animals include tigers, leopards, wild dogs, chitals, Indian bison, wild pigs, jungle cats and porcupines. That these animals have been using the facility has proof.
As per the report, camera traps have captured 5,450 images of these animals between March and December.
This has come as good news to researchers of the Wildlife Institute of India (WII) as it has been found that 11 tigers, too, are frequently using the newly constructed structure.
The stretch has a 750-m long underpass which is believed to be the world's longest highway underpass built exclusively for wild animals, the report says.
According to the report, the construction of the structures had met with protests from animal activists. Later, the National Highways Authority of India (NHAI) agreed to construct 'guide walls and nine underpasses of 50-750 m width at various places on the 37-km road.'
However, it wasn't easy to build this stretch. Work on this section of NH 44 began in 2010. In 2011, the Supreme Court refused to sanction the stretch passing through the tiger reserve. Next year, in 2012, the Wildlife Institute of India came up with mitigation measures but the National Highways Authority of India (NHAI) found it too expensive.
It was only in 2015 that the Bombay High Court allowed the felling of trees for the construction of the elevated corridor. The same year, "NHAI agreed to embed an additional cost into the contract to account for the underpasses and bridge."
Work on the elevated stretch was completed in March 2019.
Now, more such projects are coming up in the country. NH 54 in Assam's Lumding will have two elephant passes and two minor bridges. In Uttarakhand, NH 72 and 58 will have three three elephant underpasses, each with six meters of vertical clearance.