At Nagpur Metro Rail Inaugration, CM Thackeray Showers Praise On Fadnavis, Gadkari For Development Of The State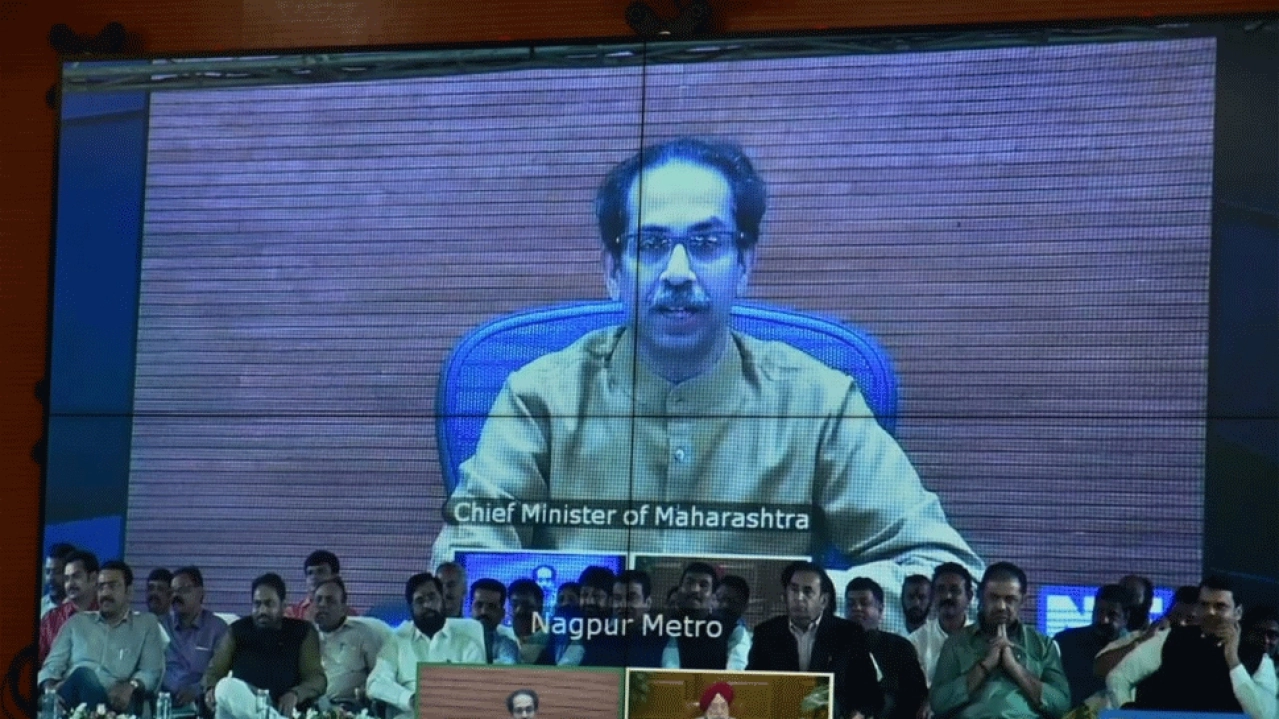 Maharashtra Chief Minister Uddhav Thackeray yesterday praised his predecessor Devendra Fadnavis and Union minister Nitin Gadkari for the various initiatives taken by them for development of the state.
Speaking after inauguration of Nagpur Metro's Aqua Line, Thackeray also requested them to continue working hand in hand for development of Maharashtra.
Thackeray praised Gadkari for playing an instrumental role in realising the vision of Sena founder and his father late Bal Thackeray's dream of having a sea bridge linking Worli in south Mumbai to Bandra, a western suburb. The cable-stayed bridge was inaugurated in 2009.
Thackeray also copiously praised and thanked Fadnavis, a former BJP chief minister, for efforts taken by him for development of Maharashtra during his tenure (2014-19).
"I am saying from my heart that I don't want to take credit of this good work and want to give credit to all who have worked hard for this project," he said.
Thackeray inaugurated the Aqua Line through a video link from Mumbai, while Union Ministers Nitin Gadkari and Hardeep Singh Puri who flagged off the maiden service on the section, in the presence of state ministers Eknath Shinde, Anil Deshmukh, Nitin Raut, Sunil Kedar, Leader of Opposition Devendra Fadnavis, Nagpur Mayor Sandip Joshi, MPs Vikas Mahatme and Krupal Tumane, besides top officials of MAHA-METRO and the government.
The phase 1 of Nagpur Metro Rail Project comprises of 38.21 km metro corridor that includes 38 stations and 2 Depots. The entire stretch will be divided in to two corridors : Orange (North – South Corridor) that covers a length of 19.65 km with 18 stations and Aqua (East – West Corridor ) that covers a lenght of 18.5 km with 20 stations.
With yesterday's inaugration of 11-km line between Lokmanya Nagar-Sitabuldi interchange here on Tuesday which is a part of the Aqua Line, a total of 24.50 km of metro with six stations has become operational for the people of Nagpur. Another five stations are likely to be operational by April
Around 24.50 km, representing about two-thirds of the total network of Phase I of Nagpur Metro Rail Project is now operation and the remainder of the project is slated for completion by end-2020.
Last year in March, Prime Minister Narendra Modi had inaugurated the 13.50 kms section known as Orange Line, running north-south in the city.