Piyush Goyal Lays Out Plans For Privatising Routes Before The Lok Sabha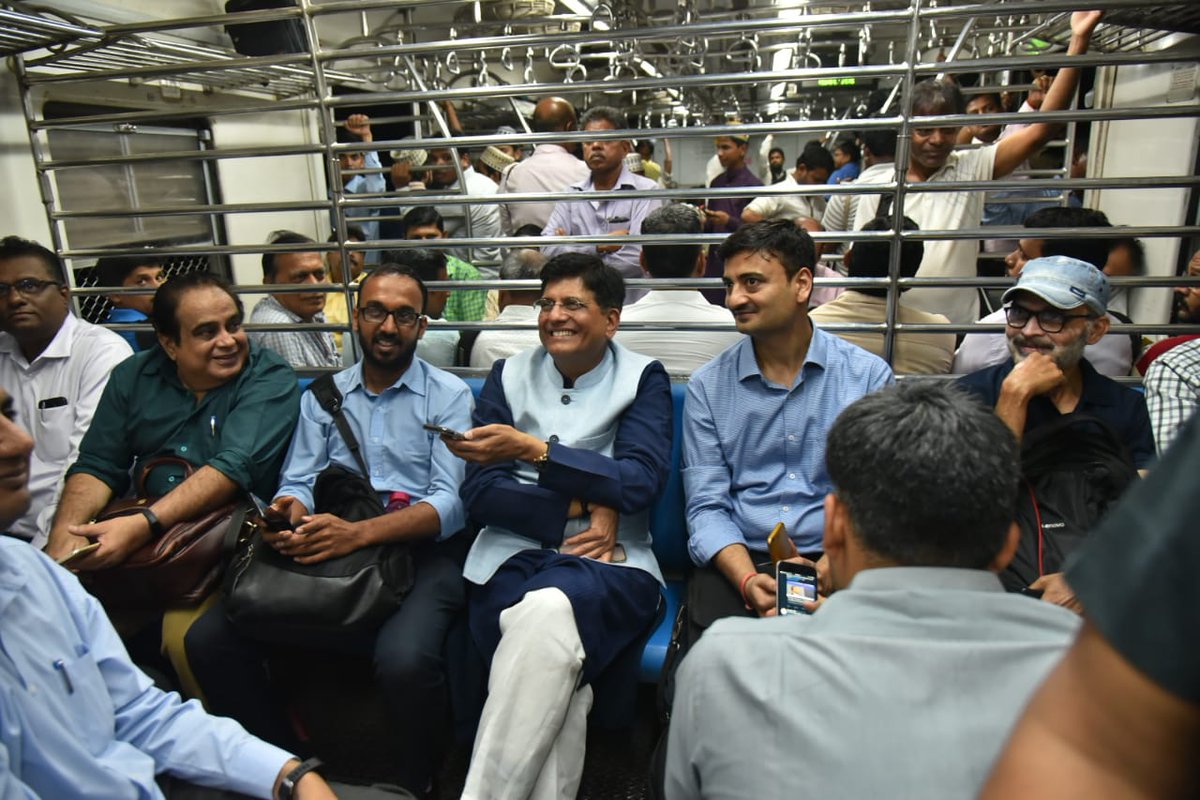 Pitching for private investment in the rail sector, Railway Minister Piyush Goyal said it will help the government realise the goal of Rs 50 lakh crore investment in the sector over the next 12 years.
If it is left to the government to raise all the money, then welfare schemes will be hit and it may be forced to boost revenue by raising taxes and fare, Goyal said in the Lok Sabha on Friday.
The Indian Railways is about to float tender for private train operations seeking private players to run trains on 100 routes across the country. The bold move is likely to attract major players in the first-ever such venture in the state-run transporter.
Goyal was in favour of using skills of the private sector and facilities it may bring at less cost, saying it will strengthen the Railways and help its expansion.
In his reply to a discussion on demands for grants of Railway Ministry, Goyal also said the Centre is considering barring private vendors and agents from booking train tickets for passengers, a move aimed against touts.
Railways have launched a massive crackdown on touts and their nexus involved in cornering tickets to be sold at higher prices to needy passengers.
Goyal asserted that private agents are no longer needed when most people can book tickets on mobiles. Those who need help can go to common service centers which are run by government, he maintained.
Action has been taken against the touts who used to book tickets in large numbers within moments of their availability using certain software programs.
Defending the move to merge all eight services into a single service, Goyal said the department was working in silos and it was affecting railways performances.
Railways has merged all services and created the single service of Indian Railway Management Service to end acute departmentalism. Goyal also highlighted in his reply citing the latest data to assert that the Railways has improved on parameters like safety, punctuality, cleanliness, and expansion.
Not a single death has occurred due to accidents in this financial year so far, he also added.
Hitting out at the previous governments after many opposition members slammed the Modi dispensation for doing away with the presentation of a separate railway budget, he said they presented a separate budget only to "mislead" people. He said separate railways budget was a "balloon" and only attracted "claps" in the House. Railway Minister said the "fake" announcements used to only mislead people in elections.
In this context, Goyal gave a few examples and said some projects are pending since 1974.
Highlighting the increased allocations in the current regime, he said it was enhanced to Rs 1.61 lakh crore this year from Rs 54,000 crore in 2013-14.
The increased allocation is being used on 58 supercritical and 68 critical projects, he said.
Goyal also mentioned in his reply about the big targets of the government and concerted efforts being made to achieve that.
"We fixed a target for electrification of 6,000 km of the rail line and reached 5,200 km as against 600-650 km of electrification in 2013-14," he said.
Criticising the previous governments on pension funds for the sector, he said they did not take any steps to strengthen this fund.
"In 2014, this fund was very low. We built that adequately," he said, adding this government took calibrated steps to increase revenues for the Railways, rather than hiking fares by 60-70 per cent and burdening passengers.
On criticism over the slow pace of work in states, the minister said if states provide help in terms of land availability and other clearances, the project will be implemented at a faster pace.
He also mentioned the projects being undertaken in north-eastern states.
Referring to the Kashmir rail link project, Goyal said the work on the Banihal-Baramula rail line is going on at a fast pace in Jammu and Kashmir and will be completed in two to two and half years. This will include the world's biggest rail bridge over Chenab river.
On trains such as Vande Bharat, he said the Railways has started tendering process to launch 44 more Vande Bharat Express, high-speed trains, in the country.
Earlier about 60 helplines numbers were there for registering complaints, but "we have only one (139) for general complaints" and another (182) for security-related matters.
On the job front, he said the Railways has also recruited over 1.37 lakh persons in the last three years. Solar energy, bio-toilets and elimination of unmanned level crossings are also highlighted in his his reply. Demand for grants was later passed by the House with a voice vote.