Railways Examining Train, Route, Station, Data: Complete Return To Pre-Covid Schedule Unlikely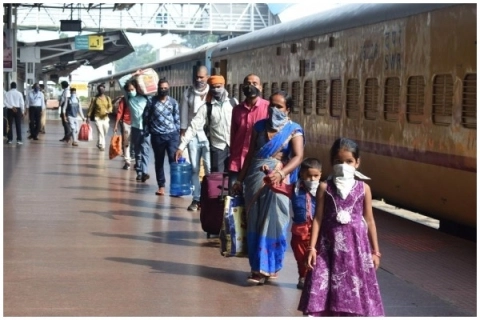 As economic activities are picking up, more passenger-carrying trains including Dibrugarh Rajdhani, Indore-Delhi Intercity, Delhi-Gorakhpur Humsafar and Indore-Howrah Express among others are being slated to start operations shortly.
Shatabdi-like services between Delhi-Chandigarh and Delhi-Amritsar are being shortlisted to commence journey soon to facilitate movement of people in the northern region.
Besides, Valsad-Haridwar Express and Porbandar-Sarai Rohilla Express are among the over 80-odd trains being finalised by the Railways for resuming operations this month.
All these trains would be operational as a special service, and this arrangement would continue till normalcy returns and the Railways resumes regular operations.
"There are many factors taken into account before deciding to start train operations. The consent of the state governments concerned, the Covid-19 situation, demand for a particular train and stoppages are some issues considered for resuming train services on a particular route," said a senior Railway Ministry official.
Since many states like Bengal, Jharkhand, Odisha, and Tamil Nadu are not eager for more trains, Railways has to decide accordingly.
However, it is reliably learnt that train operations are unlikely to be the same again like pre-Covid days, even if a pandemic situation is brought under control.
A massive exercise by the traffic directorate is underway, examining the occupancy of each train, footfalls of every station and financial viability of resuming services in certain routes.
Currently, 230 trains, including 30 Rajdhani-type AC specials, are running and with the restarting of these 80-odd trains, the total number of special services operational in Covid times would touch 300.
Before the Coronavirus crisis, there were nearly 11,000 passenger trains running daily on the rail network.
The Covid-19 pandemic has almost halted passenger operations, barring 230 trains.
Though freight services are unaffected largely, passenger operations have been severely affected, and with the easing of lockdown, only a few trains are operational, said the official.
Now, only those trains are being considered for regular operation, in a graded manner, which are likely to continue post-Covid-19.
Since the passenger business is incurring a huge loss, Railways is doing a reality-check by exploring ways to contain the downslide.
It is expected that many services would be missing when the new time table is published.