Railways Provide Over 15,000 Isolation Beds For COVID Patients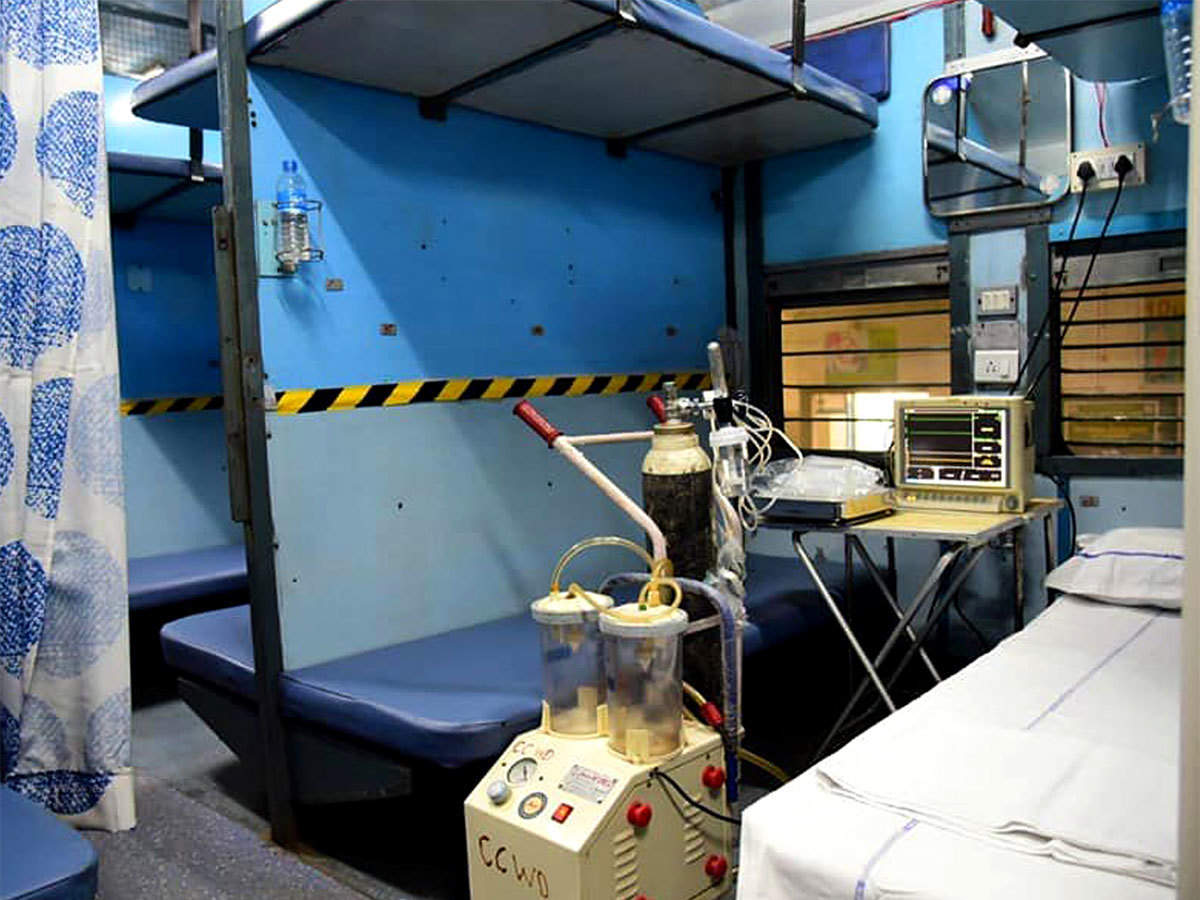 Supplementing the healthcare efforts of the state governments, Indian Railways has provided 960 isolation coaches with 15,360 beds in five states in the wake of the surging COVID cases.
As part of the integrated COVID plan, these coaches can be used in areas where the state has exhausted the facilities and needs to augment capacities for isolation of both suspect and confirmed corona cases.
While maximum COVID care coaches (503) have been deployed in the capital city, followed by 372 in Uttar Pradesh, 60 in Telangana, 20 in Andhra and 5 in Madhya Pradesh, the state-run transporter has come forward to assist state governments in all possible manners to help in care of Covid patients.
Cases that are categorized as mild to very mild with no comorbidities or clinical complications will be kept in the isolation coaches as per the guidelines issued by the Health Ministry.
Keeping in view of the prevailing weather conditions, steps are being taken to maintain comfortable temperature inside the coaches in the given weather conditions.
As the lockdown is being lifted cases of COVID-19 pandemic are seeing an upsurge, especially in urban areas.
"In view of providing additional healthcare facilities to the people of Delhi NCR, Indian Railways on demand of the state government is providing 503 isolation coaches as covid-care centers, Northern Railway General Manager Rajiv Chaudhry said while interacting with the media.
Chaudhry further added that these coaches that can house 16 patients each which means a facility of 8000 beds have been placed at nine stations across the capital.
While 50 COVID Care coaches are deployed at Shakurbasti, 267 at Anand Vihar, 21 at Safdarjung, 50 at Sarai Rohilla, 33 at Delhi Cantonment, 30 at Adarsh Nagar, 13 at Shahdara, 13 at Tughlakabad and 26 at Patel Nagar station.
All these stations have good infrastructure for maintaining these coaches and also proper approach roads for movement of ambulances etc.
General Manager further said that this is a novel concept for the Indian Railways and an innovative use of our assets for providing service to the people and humanity at large, we are open to suggestions from all in improving the newly created facility.
The rakes are being handed over to the local authorities for use. The state government will deploy the medical and Paramedical staff and provide for the medicines for the patients.
The isolation coaches are to be attached to a hospital for medical purpose. The maintenance and recharging of the facilities of the coaches will be taken care by the Railways which include electric and water supply, linen, PPE, sanitization and three oxygen cylinders per coach.
As per the arrangement, each station is to have a doctor and a liasoning officer from the Railways. The liasoning officer will be in coordination with the state government.
In Uttar Pradesh, total 372 COVID Care coaches have been deployed at 23 different locations – Pandit Deen Dayal Upadhyay Junction, Lucknow, Varanasi, Bhadohi, Faizabad, Saharanpur, Mirzapur, Subedarganj, Kanpur, Jhansi, Jhansi Workshop, Agra, Nakha Jungle, Gonda, Nautanwa, Bahraich, Varanasi City, Manduadih, Mau, Bhatni, Bareilly City, Farrukhabad and Kasganj.
In Madhya Pradesh, total 5 COVID Care coaches are deployed at Gwalior. In Andhra Pradesh, total 20 COVID Care coaches are deployed at Vijayawada while in Telangana, a total of 60 COVID Care coaches are deployed at 3 different locations – Secunderabad, Kachguda and Adilabad.
Railways has converted a total 5231 coaches into Covid Care Centres to be used by states for mild cases.
A single coach will be able to accommodate as many as 16 patients at a time.
In the modified isolation coaches an Indian style toilet on one side of the coach has been converted into a bathroom, while space for paramedics has been created on the other side.
Each compartment has been installed with additional electric ports for plugging medical equipment. Oxygen cylinders have also been provided, windows have been covered with mosquito nets and additional fans have also been fitted. Efforts are on to cool the coaches in the ongoing summer heat.