RFID Tags To Track Entire Fleet Of Wagons, Coaches & Locos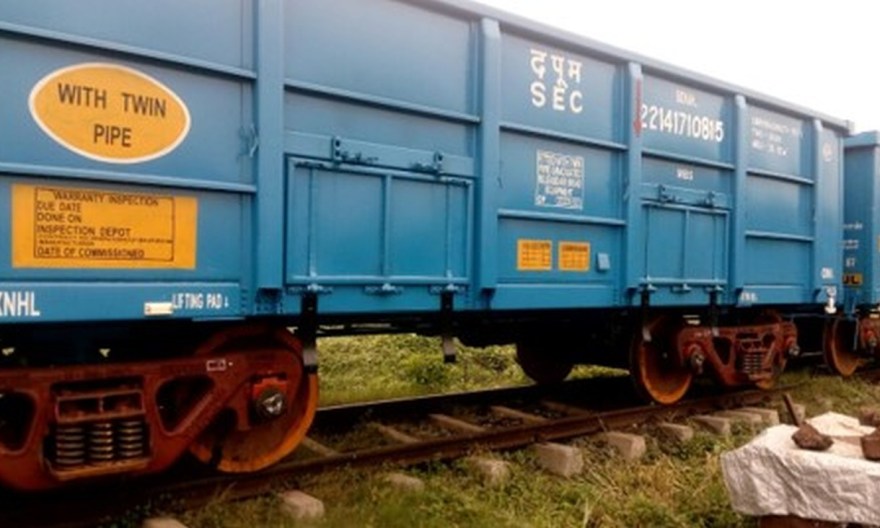 Doing way with the manual system, Indian Railways is installing radio-frequency identification tags (RFID) in all coaches, locomotives and the wagons to keep a track on its entire fleet, a step towards more use of technology to carry out business smoothly.
Currently Indian Railways has maintained rolling stock data including wagons manually, which leaves scope for errors. Using RFID devices will be easier for the state-run transporter to know the exact position of all the wagons, locomotives and coaches.
These radio frequency tags are designed by Centre for Railway Information Systems (CRIS), in association with GS1 India.
With the introduction of RFID, the issue of shortage of wagons, locomotives and coaches is expected to be addressed in a more transparent and expeditious manner.
According to Railways, around 23,000 wagons have been covered under RFID project, so far. The process of tagging the wagons had slowed down due to the pandemic. However, now it has fixed the deadline for fitting of RFID in all wagons by December 2022.
Railways maintain that the RFID system would effectively tackle the challenges of managing huge inventory in terms of wagons, coaches and locomotives and tracking accurate location of the entire fleet even while in transit.
Railways has contacted GS1 India for use of GS1 EPC standards, encoded in radio frequency tags, to uniquely identify each and every rolling stock (wagon, coaches and locomotives) in the Railways.
A unique feature about these tags is that they are as per GS1 GIAI-202 standard and have a user memory area. This allows the information in them to be read and used without any backend network connectivity.
RFID tags are affixed to all the rolling stock to ensure their visibility.
Trackside readers, installed in between stations and other key points, which read these RFID tags from a distance of one-and-a-half metre and transmit the vehicle identity over a network to a central computer. This solution provides visibility to each vehicle that runs in the rail network in real time.
"With the implementation of GS1 standards based RFID tags for its rolling stocks, Indian Railways has taken a step forward towards digitalization. The use of technology to access real-time data, has helped the Railways to track its coaches and wagons that further allows them suitably deploy the same, as per the requirements in a time-effective approach," said GS1 India COO S Swaminathan on the rail project.
With the use of GS1 standards and RFID tags, the Railways is expected to significantly improve the quality of information available for predicting maintenance work related content, along with improving the overall quality of data capture with transparency and more efficiently.
Swaminathan further said "We at GS1 India are glad to partner with Indian Railways for reducing network congestion, and aiding in better visibility and utilization of its assets. Our endeavor is to work coherently with Indian Railways to improve the reliability of its rolling stock and continue to offer traceability solutions and unique identification numbers, for future projects."
Given the success of this project, Indian Railways is also planning to identify each component/spares using GS1 identifiers imprinted on parts using DPM (Direct Part Marking). This will further help railways to uniquely identify the parts, manage their warranties and thus plan its repair operations in an effective manner, throughout the lifetime of that part/component.
RFID tags are expected to play a crucial role in the areas such as freight, traction and coach maintenance as well as operations.