Vande Bharat Train Set Tender Which Attracted Bid From Chinese Company Cancelled By Railways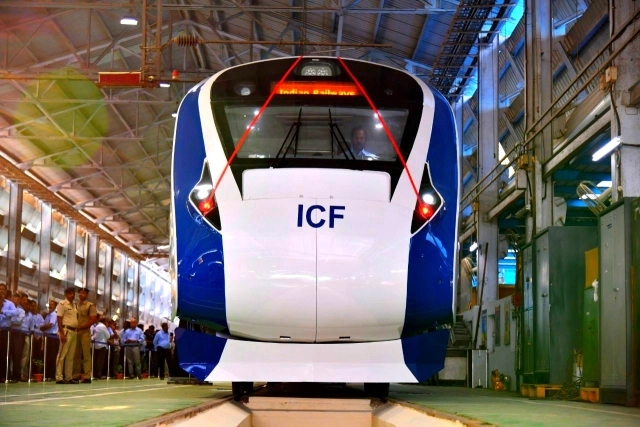 The tender for manufacturing of 44 semi high-speed Vande Bharat train sets was discharged by the Railways on Friday and a fresh tender would be floated shortly as per revised public procurement order with special emphasis on Make in India.
"Fresh tender will be floated within a week as per Revised Public Procurement (Preference to Make in India) order," Railways said in the tweet.
This tender was floated on 22 December 2019, by the Integral Coach Factory at Chennai, and was opened on 11 July. It was the third such tender floated for the trains as the production of the Vande Bharat, also known as Train 18, has been mired in controversy.
The first Vande Bharat train set with world-class facilities was rolled out in a record time of 18 months by the Integrated Coach Factory at Chennai.
Chinese state-owned CRRC Corporation, in a joint venture with an Indian firm, was among six companies in the race to bag an over-Rs-1,500-crore Vande Bharat train project.
Apart from the Chinese, no other major global player came forward to participate in the prestigious train set project initiated by Indian Railways to introduce world-class service for passengers.
China-based CRRC Yongji Electric, in a joint venture with a Gurugram-based company, is now called CRRC Pioneer Electric (India) Private Limited, and five other contenders were being shortlisted for the ambitious train set project.
The other five bidders were the state-owned Bharat Heavy Electricals Limited, Bharat Industries, Electrowaves Electronics, Medha Servo Drives and Powernetics Equipment.
There were speculations that the Chinese joint venture entity was likely to be disqualified as per the 'Make in India' guidelines of the government.
Railways has maintained that the train sets will now be manufactured by not one, but three railway units and will be on the rail network within the next three years.
Railway Board Chairman VK Yadav had earlier said that Vande Bharat trains will be simultaneously manufactured in three rail units — the Railway Coach Factory, Kapurthala, Modern Coach Factory, Rae Bareilly and the Integral Coach Factory, Chennai.
It would take about two years to develop the prototype after getting the contract, which the successful bidder would have to roll out by 2023, if the contract is awarded by December this year.
Currently, two Vande Bharat trains manufactured indigenously at ICF are operational between Delhi-Varanasi and Delhi-Katra.
The first 16-coach Vande Bharat Express, the locomotive-less train between Delhi and Varanasi was flagged off by Prime Minister Narendra Modi on 15 February with much fanfare.
Manufactured at an estimated cost of Rs 100 crore, the Vande Bharat service is equipped with top notch facilities, such as automatic doors, wi-fi availability and CCTV cameras and many other advanced features.
Expected to replace the Shatabdi service in a gradual manner, Vande Bharat also has GPS-based passenger information systems, modular toilets with bio-vacuum systems and rotational seats that can be aligned in the direction of travel.