Alstom, L&T, Siemens Join Race To Run Private Trains With Modern Facilities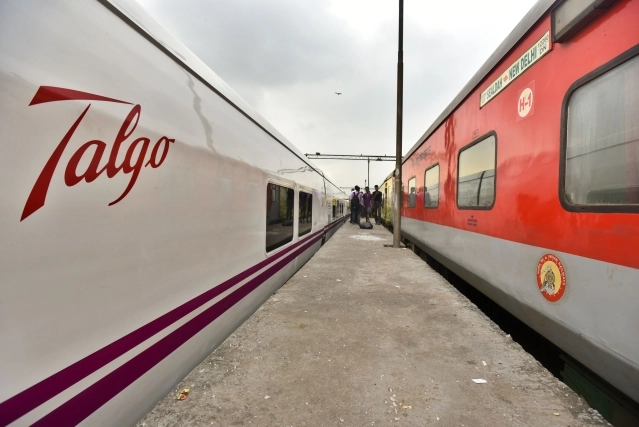 With total 23 firms including Alstom, Siemens and L&T Infrastructure joining the race, the Rs 30,000 cr private train operation initiative, a first in Indian Railways, the project has gained the traction as it has created a buzz in the market.
While there were many queries over the various issues ranging from flexibility in clusters, eligibility criteria, bidding process, procurement of trains, fares, Operations and Maintenance at the second pre-bid conference from interested players on Wednesday, the Railways has specified the details of the project.
According to specifications, the private train will be equipped with state-of-the-art technology offering maximum riding comforts and latest amenities onboard.
Apart from maximum speed up to 180 kmph, the modern train set will have speed indicating recording equipment, train control management system, loco pilot display, train data recorder and crashworthiness.
Giving priority on safety and security of passengers, the entire train will be equipped with CCTV cameras for surveillance system, fire retardants and passenger information system.
In a response to queries, Railways has said that private players will be given full freedom to decide the fare for the passengers and will be given the option of either purchasing the trains or leasing them in terms of procurement.
Bombardier, Medha, BEML, BHEL, Bharat Forge, IRCTC, CAF, Gateway Rail, GMR, Hind Rectifiers Limited, Iboard India, ISQ ASIA Infrastructure, Jasan Infra, JKB Infrastructure, Megha Engineering, National Investment and Infrastructure Fund, PSGG Technologies, RK Associates, Sterlite Power and Titagarh Wagons are among 23 firms who participated in the meeting.
Railways on July 1 began the formal process of allowing private trains on 109 routes – a process that aims to open up the rail sector till now monopoly of the government. The due date for the opening of RFQ is September 8, 2020.
The private players will be selected through a two-stage competitive bidding process comprising Request for Qualification (RFQ) and Request for Proposal (RFP). The first pre-Application Conference was held on July 21. After the first pre-application conference, railways has reduced the RFQ fee by one-tenth for participating in more than one project, removed restriction of up to 3 projects per bidder and clarified that leasing of trains is allowed.
Railway Ministry has also shared traffic data, draft concession agreement, draft feasibility report and draft manual for standards and specifications of trains.
Railways plans to run the trains along 12 clusters across the Indian rail network. It has planned two clusters each in Delhi and Mumbai, and one cluster each in Secunderabad, Chennai, Howrah, Jaipur, Prayagraj, Chandigarh, Bengaluru, and Patna.
The railways plan to introduce private trains on its network in phases, with the first dozen due to start running in the 2023-24 financial year and all 151 by 2027. According to the railway ministry's projections, the transporter will select the companies that will run the private trains by April 2021; the first 12 are expected to start plying by 2023-24, followed by 45 more in 2024-25, the next 50 in 2025-26 and the last 44 by 2026-27.
According to railways, the planned investment will come to around Rs 30,000 crore, and a majority of the rakes (70%) will have to be manufactured in India; private entities cleared to run the train services shall be responsible for financing, procuring, operating and maintaining the trains.
Since the trains will be designed to run at a maximum speed of 160 kmph, reduction in travel time is expected for passengers.
Facing huge losses in the passenger business, the Railways is expected to receive total haulage charges of around Rs 3,000 crore a year from operation of these 151 trains.