Chinese JV Among 3 Players Enter Race For Making 44 Semi-High Speed Vande Bharat Trains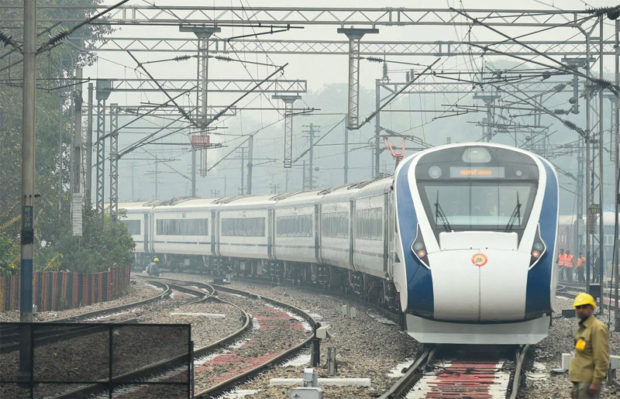 New Delhi, Nov 19: Three companies including a Chinese in partnership with an Indian unit have filed tender documents to bag Rs 1800 cr Vande Bharat contract, a poor response to a multi-crore project.
Medha, BHEL and CRRC-Pioneer Electric India have emerged as only players which have participated in the project as the technical bid of tender for manufacturing of 44 semi-high speed  Vande Bharat train sets comprising 16 coaches each has opened on November 17.
While the BHEL is a PSU and Medha is a domestic player, the third company CRRC is a Chinese entity which has tied up with an Indian unit to bid for making 44 rakes of Vande Bharat indigenously.
Since there are only three players in the race, the railway tender committee would decide on whether to allow reverse bidding or not, said a senior Railway Ministry official.
Besides, the Railways would also decide on the eligibility of Chinese joint venture company for bidding the project.
According to railways, this is an indigenous tender with stipulation of minimum local content of 75 per cent. The eligibility for a bidder from a country which shares a land border with India to participate in the tender shall be as per public procurement orders of the Ministry of Finance. Any company whether stand alone or JV, if not eligible as per the well laid down norms of indigenous tenders will be automatically be eliminated.
In the aftermath of border tensions with China, India has been considering a series of measures to restrict Chinese investments in Indian projects, and promote domestic companies instead.
Earlier six companies including CRRC had participated in the Vande Bharat tender that was floated in December last year by the Integral Coach Factory at Chennai.
However, the tender was scrapped in July as it was found during the scrutiny  that some bidders had furnished information that indicated financial information as well. Since price quotation was not needed at the qualification stage Indian Railways decided to cancel the tender maintaining transparency in the bidding process.
The fresh tender for the project was floated after that as per the revised public procurement order with preference on Make in India initiative.
However, with revised specifications and the Railway Board taking over the responsibility of floating the contract, the fresh tender has failed to attract many players.
ICF has produced two Vande Bharat rakes which are running successfully in the rail network.
Since two Vande Bharat rakes produced at ICF two years back, railways is yet to manufacture another indigenously built trainset.