Exclusive: Indian Railways To Float RFQ Inviting Private Players To Operate 150 Trains On 100 Routes By Feb End, Haulage Charges at Rs 668/km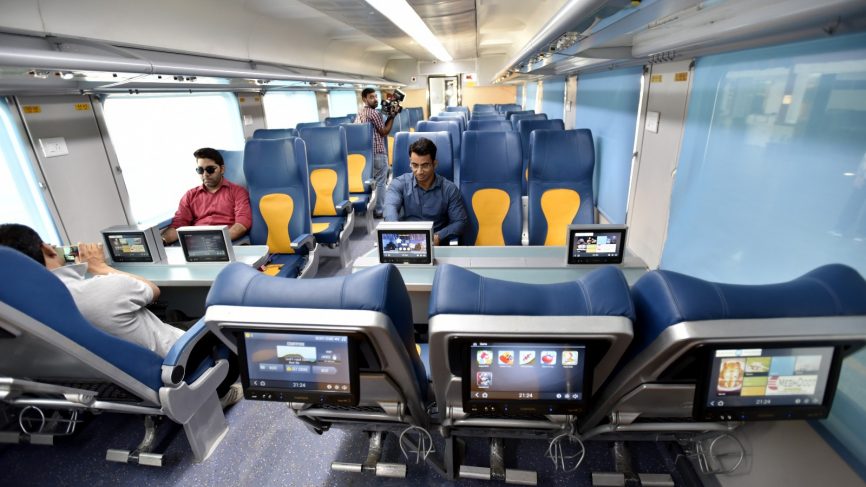 With the firming up of tender documents for private train operations, a keen race is slated to unfold among the big players to bag the first-ever such rail project by Indian Railways.
Breaking new ground, Indian Railways will float the request for qualification (RFQ) for the Rs 22,500 cr private train operation proposal by the month-end seeking private players to operate 150 trains for passengers on 100 routes.
According to the bidding documents, private players will have to pay Rs 668 per km as haulage charge besides sharing a portion of revenue collection for the particular train operation.
The revenue-sharing model will include total earning from ticket sale as well as other non-fare collection like advertising on trains and the bidders must part a portion of it to railways.
The revenue sharing clause holds the key as the bidders will be selected based on the lowest quotation from them.
During the pre-bid meeting, all bidders are said to have expressed satisfaction at the proposed haulage charge, the revenue sharing continues to be a bone of contention for many of them.
Facing a mounting loss of over Rs 40,000 cr in the passenger business, the move to allow private players is being regarded as a bold move by the public transporter to loosen its monopoly on the passenger segment.
In order to provide a level-playing field, there will be a regulator to look into pricing and other issues involving the private train operator.
The RFQ has also specified that no passenger train will be allowed 15 minutes before and 15 minutes after the departure of the privately-operated train on the same originating route.
Till now, the national transporter has complete monopoly in the passenger segment though some tourist trains are being run privately in a limited way.
The maiden attempt by the national transporter has evinced keen interest among top companies in infrastructure and transportation sectors including Tata and Adani group.
While global players from Spain, France, Germany, US, Japan, Korea and also China among others have shown interest in the private train operation, leading Indian companies are also shown interest in the race.
"The draft RFQ is in circulation and many interested players have sent us queries concerning the project. We have addressed those concerns and now the document is being finalised to be floated by the month-end," sources in railways said.
Private players are expected to introduce modern trains of 16 coaches each equipped with upgraded facilities which include better interior, comfortable seats, onboard entertainment, modular clean bio-vacuum toilets, good food served in an overall better hygienic condition.
Railways have prepared a list of 100 routes for the introduction of 150 private trains across the country and these routes have been split into 10-12 clusters.
Trains connecting all major destinations like Mumbai, Pune, Ahmedabad, Kolkata, Chennai, Bangalore, Patna, Ranchi, Bhopal, Varanasi and Lucknow are on the offer.
Incidentally, Talgo, a leading Spanish rolling stock company, had already undertaken a successful trial run of its train between Delhi-Mumbai sector two years back and as expected is also in the race.
Alstom, Bombardier, Siemens, Hyundai, Hitachi and CRRC (Chinese) are other top guns who have participated in the pre-bid meeting and expected to enter the race.
Among Indian companies, Tata Realty and Infrastructure, Medha, Bharat Forge, BEML, IRCTC, RK Associates, Gatx, Essel Group, Adani Ports and SEZ were present in the stakeholders meet and expected to be in the race to run private trains in the country.
Reiterating the government's resolve to allow private train operation in the passenger segment, Finance Minister Nirmala Sitharaman had spelt out Indian Railways' mega plan for allowing private players in selected routes and also more Tejas Express to connect tourist places.
Currently, IRCTC, the Railways PSU, is running two Tejas Express between Delhi-Lucknow and Mumbai-Ahmedabad routes. Though the IRCTC-operated trains cannot be strictly called as private train operation, the move is widely seen as a pilot run before plunging into private domain completely.
However, the Railways will have control over the operation and safety as the signalling system, track, loco pilot, station and platform will be with the public behemoth. Besides bringing their own train, private players will be responsible for providing onboard staff, catering, amenities, ticketing and other facilities.
According to the bidding document, private trains running on a particular route will have a head start of 15 minutes on other trains running on the same route.
"No similar scheduled regular train will depart in the same origin-destination route within 15 minutes of the scheduled operation of the concessionaires (private players) train," the tender document stated.
Since the railways are facing over-saturated tracks with back to back train running on the same route, this provision may help to attract private players.
According to railways, some of the high-demand routes are being finalised keeping the passengers rush in mind. For example, since Bihar bound trains are always having high occupancy rates, there would be nine routes connecting different Bihar cities on the offer.
There would be private trains for Howrah to Patna, New Delhi to Patna, Patna to Pune, Indore to Danapur, Gaya to Anand Vihar, Darbhanga to Jogeshwari (Mumbai), Anand Vihar to Chhapra, Barauni to Anand Vihar, Panvel to Patna, Katihar to Tilak Bridge (New Delhi) and Anand Vihar to Bhagalpur among others.
Similarly, states like Bengal, Uttar Pradesh, Tamil Nadu, Jharkhand, Madhya Pradesh will also have many private trains on the offer.
Since private operators will be responsible for financing, procuring, operating and maintaining trains, it is expected that conditions will be improved with more facilities and prompt service.
It is believed that passengers are ready to pay more if they get good service and the train is reached on time. So it is expected that private trains will maintain better punctuality rate and improved service to attract customers.
With the track renewal going on full speed. All the private operated trains would be allowed to run at a maximum speed of 160 kmph.
Railway Minister Piyush Goyal has prioritised to go for complete track renewal to replace age-old tracks to prevent derailments. The replacement of rails along with the strengthening of the track allows trains to move on higher speed without any hindrance.
Recently railways revised the fares from January 1, 2020. While there is no increase in fares in suburban services, in case of non-suburban services, a nominal increase of one paisa per km has been done and in case of non-AC and AC classes in Mail and Express trains, the fare has been increased by two paise per km and 4 paise per km respectively.
Though the Railways aims to mop up Rs 2300 cr in a year from the recent fare hike, the passenger business is facing a huge loss. Since freight business earns profit, the passenger service is cross-subsidised from it. According to sources, another round of fare hike is on the card in the near future.
Focusing on developing new infrastructure, Budget 2020 has allocated Rs 12,000 cr for construction of new railway lines, Rs 2,250 crore for gauge conversion, Rs 700 crore for doubling, Rs 5,786.97 crore for rolling stock and Rs 1,650 crore for signalling and telecom among others.
Apart from private train operation, specific services like station cleaning, pay-and-use toilets, retiring places, parking and platforms maintenance, are being outsourced to improve cleanliness and other services of trains.
Private investments are also involved in network expansion, setting up of locomotive factories, induction of railway wagons, station redevelopment.
Railways have set up two locomotive factories (one electric and one diesel) in a joint venture model with private players.
It has also inducted 150 rakes through incentive schemes by associating freight customers. In addition, 63 private freight terminals have also been commissioned to augment terminal infrastructure with private participation.
Redevelopment of Habibganj, Nagpur, Gwalior, Amritsar and Sabarmati stations has also been undertaken through Public-Private Partnership.
With the planned private participation in the operation of passenger trains by introducing around 150 modern rakes with the objective to induct state of the art rolling stock, railways aim to provide world-class travel experience to passengers.
Arun Kumar Das is a senior journalist covering railways and he can be contacted at akdas2005@gmail.com.