Explained: Union Budget Approves Bengaluru Suburban Rail Network. Here's All About The Critical Project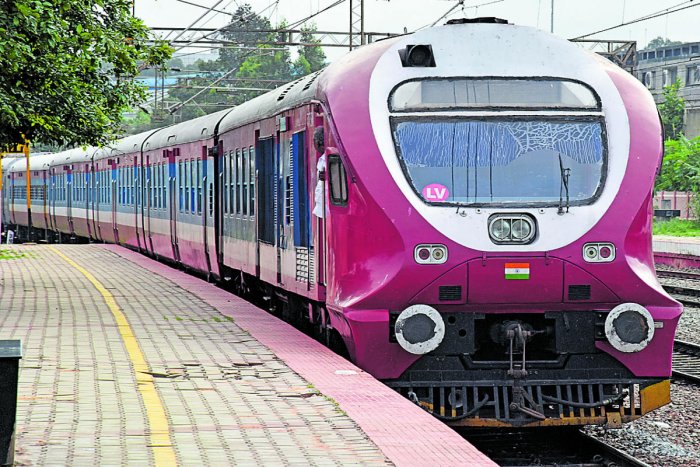 Bengaluru – a sprawling metropolis spread over 8,000 square kilometres is home to a whopping 1.16 crore people as per the 2011 census.
So many people need transportation systems to move around, especially in a city like Bengaluru which is home to the largest numbers of technology establishments in the country.
Bengaluru's Traffic Curse
Even individuals who have never set a foot in the city are aware of the dreaded traffic jams in the city. As per a study commissioned by Uber, Bengaluru loses a whopping Rs 38,000 crore per year due to traffic congestion.
Commute during peak traffic – aka office hours takes 162 per cent longer than off peak hours. The situation is only expected to get worse as the city's population is projected to rise to 1.81 crore by 2031.
Facing A Unique Problem
Bengaluru faces a unique problem of asymmetry when it comes to its transport system. As per a comprehensive traffic and transportation plan [PDF] for Bengaluru, only 30 per cent of the city's transportation needs are met via public transport. In contrast the public transport share for New York is 55 per cent.
Some Public Transportation Systems Are Worse Than Others
Clearly, the public transport connectivity remains a glaring flaw in the current scenario and needs fixing but there are worrisome aspects even in this regard.
As per a 2012 RITES report, share of rail transportation including metro stood at a paltry 1.5 per cent among vehicular transport systems while buses led the fray with over 40 per cent of the share.
Focusing solely on suburban rail transport systems, the South-Western Railway (SWR) currently operates 100 train services in Bengaluru including 30 MEMU and 44 DEMU services which cater to 2 lakh short distance commuters, daily.
In contrast, the Chennai suburban railway service caters to 14 lakh people per day and Mumbai's suburban behemoth is used by over 75 lakh commuters per day. In comparison to the 100 odd train services running in Bengaluru, Mumbai runs 2,342 trains per day.
In total, Bengaluru's suburban plus railway network currently caters to 6 lakh commuters daily. In contrast [PDF] the New York subway has a daily ridership of 54 lakh and London tube carries 1.02 crore people per day.
The Pressing Need For A Robust Suburban Rail Network
While the work continues on its own pace for Bengaluru metro's second phase (work is not expected to be completed before 2024), many have stressed on the need to develop an extensive suburban rail network, by consolidating on the existing infrastructure.
In a positive sign, things are beginning to move in the right direction. The Karnataka cabinet in January approved four long-pending corridors of the Bengaluru suburban rail. This comprised of four routes namely:
Kengri to Whitefield Route
KSR Bengaluru to Rajanakunte
Nelamangala to Baiyappanahalli
Hillagere to Baiyappanahalli
In July RITES submitted a revised detail project report (DPR) which gave further clarity over the project and modified the plan which was approved by the Karnataka cabinet.
What Does The REITS DPR Propose
As per the RITES DPR, the suburban rail network would comprise of 57 railway stations spread across 148 km. This is a reduction of 29 stations and 13-km distance as compared to a plan submitted in November 2018.
This revision was reportedly carried out to assuage the fears of the suburban network eating into the ridership of the Bengaluru metro. Out of the four routes approved by the erstwhile Congress-JD(S) state government, only one was retained.
This DPR proposes four corridors:
KSR Bengaluru City to Devanahalli – this 41.4 km route will comprise of eight elevated and seven ground level stations. It is expected to generate a ridership of 2.82 lakh by 2025
Baiyappanahalli to Chikkabanavara – the route would be 25 km long and will include six elevated and eight on ground stations. It is projected to attract a daily ridership of 2.03 lakh
Kengri to Whitefield – comprising of nine stations out of which four will be elevated, a total of 1.64 lakh people are expected to commute on this route
Hillagere to Rajanakunte – this route will be the longest of the four at 46.24 km and will comprise of 19 stations. This is expected to attract a ridership of 3.34 lakh
Here is a diagram of the proposed suburban plan.
Out of the total network spanning 148.17 km, 55.57 km will be elevated and the rest will be at ground level. This project is expected to cost around Rs 16,000 crore. Almost Rs 3,500 crore less than the earlier estimate of Rs 19,500 crore.
The Way Forward For This DPR
One of the key features of this revised DPR is its integration with Bengaluru Metro. This sprawling suburban network is expected to be connected to at least 10 metro stations namely – Majestic, Yeshwanthpur, Kengeri, Cantonment, Whitefield, KR Puram, Baiyappanahalli, Jnanabharathi and Nayandahalli.
The project would require a land acquisition of almost 101 acres for additional tracks and infrastructure, which will be one of the main challenges to overcome.
The enormity of the task can be gauged by the fact that various sections of the routes would need line doubling and electrification apart from acquiring private buildings which would fall under the scope of the project.
Yet to be approved by the railway board and the cabinet, the DPR has drawn a six year long plan and if everything goes according to plan, operations are expected to begin by 2026.
The Way Forward
There is no quick fix solution to Bengaluru's traffic and commute woes as the suburban rail network won't be ready before 2026 and the highly awaited and much delayed Silk Board to Kempegowda Airport line has a 2023 deadline.
Meanwhile, various activists have urged the railway authorities to increase the frequency of trains to every five minutes during peak hours on existing routes. In some cases there is a gap of almost 3 hours between two trains.
They contend that rather than waiting for the completion of the suburban project Bengaluru badly needs an optimisation of the existing infrastructure which in itself would make a big difference.
The suburban rail network needs to be one of the biggest priorities of the authorities to prevent Bengaluru's public transport infrastructure from going off the rails.