States Charged Rs 600 Per Ticket On An Average For Travelling In Shramik Specials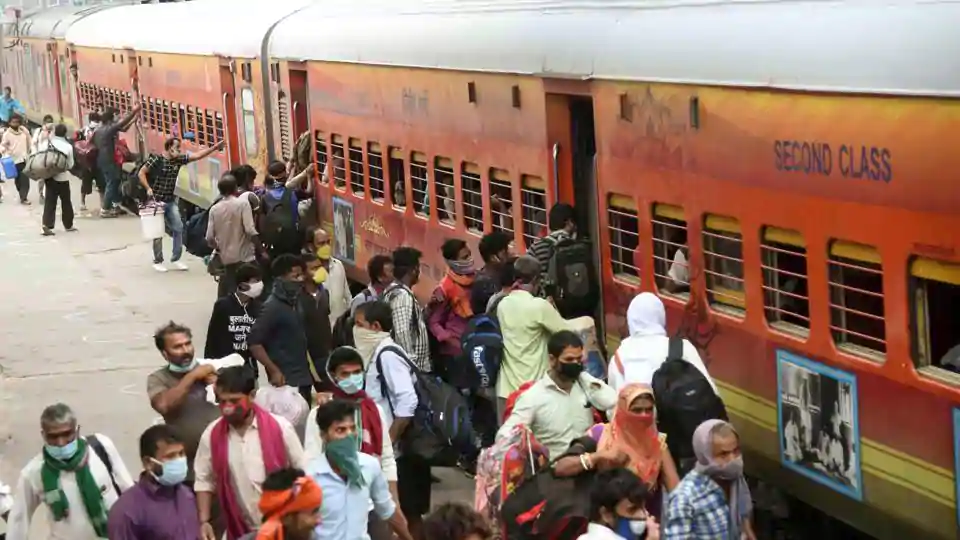 Railways has ferried about 60 lakh migrants on Shramik Specials at an average ticket rate of Rs 600 per passenger since May 1 and recovered 15 percent of the total operation cost of the service.
While the public transporter has earned about Rs 360 cr from Shramik trains, it has spent around Rs 3,400 per person for operating the trains with the cost of operating a migrant special is estimated to be around Rs 75-80 lakh.
The average fare of Shramik Special trains is Rs 600 per passenger. One has to keep in mind that these are normal fares of mail, express trains and not fares for special trains which are higher. We carried 60 lakh passengers, so the revenue can be calculated. We however, managed to recover only 15 percent of cost of operations, 85 per cent of the cost is being borne by the centre," Railway Board Chairman VK Yadav said in a virtual presser.
Railways maintained that the cost of operating these trains is being shared by the Centre and the states in a 85-15 per cent formula respectively.
Yadav also said that most migrant workers have returned to their destinations and very few are left to be transported.
"We are ready to run more Shramik Specials if states demand such trains. After the Supreme Court's order we have again sought their need from the state governments to meet the additional demand," Yadav said and added "I have again written to the states on June 14 to provide more of their demands. We will keep running the trains till there is a demand for them."
As of now, a total of 63 more Shramik Special Trains have been demanded by various states following the Chairman of Railway Board's letter to the states. A total of seven states including Kerala, Andhra Pradesh, Karnataka, Tamil Nadu, West Bengal, Gujarat and Jammu & Kashmir have sought the trains to ferry remaining migrants.
On the deployment of isolation coaches amid surging infection and demand by some state governments, Yadav said the Covid isolation coaches are meant to be used when the health infrastructure of various states gets exhausted due to the sudden spike in Covid-19 cases across the country.
We are providing Covid care coaches to these states as per their requirement, he said.
According to the Health Ministry guidelines, suspected and confirmed Covid-19 patients will be kept in separate coaches wherever they are allocated. "They would be transferred to hospitals depending upon their clinical condition," he said.
Yadav said Delhi, Uttar Pradesh and Telangana had shown interest in isolation coaches and steps are being taken to cater to the demands of these states.
Railways also made it clear that restarting of local train operation completely depends upon the respective state governments after the commencement of suburban train service in Mumbai.
Maharashtra government has requested us for starting the local service in Mumbai for ferrying people related to essential service and we did it immediately, Yadav said.
Asked when suburban and Metro service would start in Kolkata, Yadav said the start of local train service depends upon the state government and whenever the states would ask for it we would do it like we did in case of Mumbai.
While a local train can accommodate 1200 people, only 700 are allowed to travel due to the social distancing protocol.
People from the private sector as well as government officials involved in essential services and healthcare workers identified by the state and the Brihanmumbai Municipal Corporation (BMC), are allowed to travel in the suburban service in Mumbai.
On the operation of 230 Mail/Express and AC specials, he said barring a few destinations like Dibrugarh and Amritsar there are not many waiting lists in June and July.
Yadav said the demand for the "return journey" in the lockdown was less and that the situation was being monitored.
Railways carried out safety related works in a major way as train operation was less during the lockdown.