Railways Likely To Get Nearly Rs 950 Crore From COVID-19 Fund For Its Coach Conversion And Restoration Work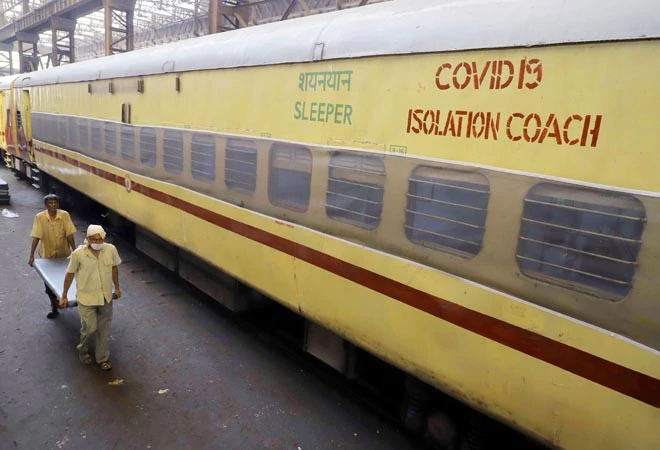 Ahead of the passenger service resumption, Indian Railways is facing a gigantic task of restoration of coaches that are being converted into isolation wards in the wake of COVID-19 pandemic.
Staring at a shortfall of more than Rs 5000 crore in traffic receipts by the end of March 31, the public behemoth is expecting to receive nearly Rs 950 crore from the Central COVID-19 fund as the cost to the Railways for converting coaches into hospital beds and again restoring them for passenger service.
According to the Railways, it cost about Rs 2 lakh to convert a coach into isolation ward while restoration cost is estimated to be around Rs 1 lakh.
Going ahead with its attempts to supplement the medical care facilities, the national transporter is leading from the front and has undertaken a big-ticket project to convert a total of 20,000 coaches into isolation wards with 5000 coaches in the first phase to combat coronavirus.
As of now, 4067 confirmed Covid-19 cases and 109 deaths have been reported in the country. 291 persons have been cured/discharged after recovery. As per the presently available data, an analysis of total confirmed cases show that 76 per cent are male and 24 per cent female. Regarding age distribution, 47 per cent people are below 40 years of age group, 34 per cent people are between 40 to 60 years age group, and 19 per cent people are of the age 60 years and above.
Prime Minister Narendra Modi has interacted with Central ministers on Monday and asked them to be determined and vigilant in the battle against COVID-19 pandemic.
Till now, Railways has converted 2500 coaches into isolation wards making 40,000 beds ready for contingency while work is going on at 133 locations across the country for the remaining coaches.
According to a railway official, "The conversion of coaches into isolation wards is done under medical supervision and as per the needs and norms which involve cost. Then again dismantling the medical care and restoration of coaches also involves expenditure."
While running these trains with isolation beds would cost to railways, there is additional operational cost involving water and power at certain stations where these facilities are not there, the official said.
Besides the special sanitization of coaches for resuming passenger service also require expenditure.
Some old coaches are slated to be condemned in the process but the majority of them are to be restored, it is learned.
While all production units of railways are slated to be operational from April 15, partial resumption of passenger-carrying train service is also likely to commence on that day after lifting of lockdown.
The operation of long-distance train service will depend upon the prevailing situation and no decision has been taken on the issue yet, said the official.
Currently, while the passenger service is suspended due to lockdown, freight service is fully operational transporting essential commodities like food grains, vegetables, salt, sugar among other goods.
Besides carrying essential items, Railways is also distributing free meals to poor and stranded people at various locations.
Joining the ongoing national efforts against the pandemic, railways is contributing to medical care by manufacturing coveralls, hand sanitizers, face mask and ventilators besides converting coaches into isolation wards.
On average, 375 coaches are being converted by Indian Railways in a day. These coaches are equipped as per medical advisories issued.
Efforts are being done to ensure the best possible stay and medical supervision as per the needs and norms.