'Super Anaconda' On The Track With 177 Wagons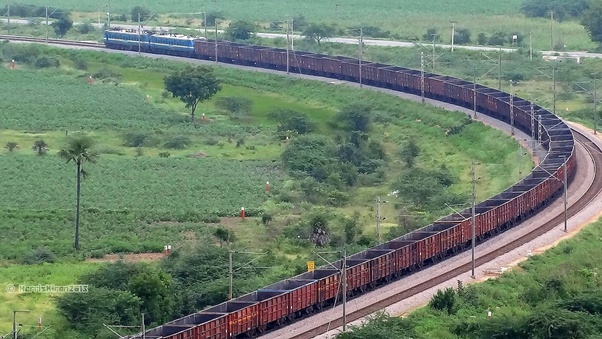 Taking a major leap in heavy haul operations, the Railways has successfully run 177 loaded wagons with three freight trains combined together on the busiest route, a first on the Indian rail network.
Named as "Super Anaconda", the three freight trains clubbed into one carried 15,000 tons of coal worth more than Rs 1 cr cargo value traversing through Bilaspur and Chakradharpur divisions, one of the busiest sections of Indian Railways, at a maximum speed of 60 kmph.
Starting from Lajkura near Brajrajnagar, the Super Anaconda reached Raurkela station in a record time of 2 hours and 15 minutes successfully negotiating typical gradients and curvatures in the 100-km section.
It was a thrilling experience to run three freight trains clubbed together at one go, said a senior railway official involved with the first of its kind operation.
The three-in-one freight service has three electric locomotives with 6000 HP (horsepower) capacity each. Railways had run three empty rakes together earlier before going for loaded wagons.
Considered as a harbinger of future heavy haul train operations in India, the 177-wagon train moved at a maximum speed of 60 kmph while maintaining the average speed at 40 kmph.
"Generally it takes about three and half hours to cover the distance as the route is a busy one in the region. But since there is less movement of passenger trains on the route, we managed to run the freight train at a higher speed utilising the availability of the path," said the official.
Till now two freight trains combined into one have been operational on Indian rail system but it is for the first time three freight trains clubbed into one, said the official.
It was driven by the main loco pilot Randheer Kumar and Guard S Mallick both from Raigarh. The crew team consisted of a total six loco and assistant loco pilots.
On choosing the name of the service as Super Anaconda, the official said "Earlier we have tried two freight trains clubbed together and named the operation as Anaconda. So after three trains combined together we decided to call it Super Anaconda."
With the successful operation of Super Anaconda, railways expect to carry out more such operations in future.
We have gained experience and confidence through the operation and we hope to cover more distance in heavy haul train operation in the coming days, the official added.
Though passenger service has been curtailed due to pandemic, freight operation is in full swing transporting essential commodities and other goods across the country.
The loadings of foodgrains, fertilizers and cement among other goods have picked up recently showing a sign of economic revival in the country amid the phasing out of the lockdown.