Agra Will Be The 20th City In India, 5th In UP To Get A Metro System As PM Modi Inaugurates Phase 1 Project Construction
Prime Minister Narendra Modi on today (Dec 7) inaugurated  the construction of Phase 1 of Agra Metro Rail Project (AMRP) through video conference. The ceremony began at 12:15 am and was held at 15 Battalion PAC parade ground in Agra. UP Governor Anandiben Patel and Chief Minister Yogi Adityanath also joined the programme.
Speaking at the virtual inauguration ceremony, Modi said, Agra has always had an historical identity, and is now getting an aspect of modernity with the metro project, to catch up to the 21st century.
The Agra Metro project comprises of two corridors with a total length of 29.4 km. The first line will have 14.2 km linking Sikandra and Taj East Gate, while the second line will connect Agra Cantt and Kalindi Vihar by a 15.4 km line. It will connect major tourist attractions like Taj Mahal, Agra Fort, Sikandra with railway stations and bus stands in the city. The metro services will provide environment-friendly Mass Rapid Transit System to the historic city. Upon completion it will cater to 26 lakh (2.6 million) residents of the city in their daily and occasional commute. Apart from local residents, the Agra Metro will also serve more than 60 lakh (6 million) tourists who visit the city every year. The estimated cost of the AMRP will be Rs 8,379 crore. The project is expected to be completed in 5 years.
Uttar Pradesh Metro Rail Corporation (UPMRC), the implementing agency for the metro, will first develop the 14.25 km Line-1's roughly 7 km 'Priority Corridor' with a mix of 3 elevated and 3 underground stations between Jama Masjid and Taj East Gate.
Agra is the 20th city in India where metro construction work has started. Uttar Pradesh has five metro system either operational or under construction– Lucknow Metro, Noida Metro, Kanpur Metro and Meerut Metro (integrated within Delhi-Meerut RRTS)
Pointing out the expeditious progress of metro works across various cities in past 6 years he said, until 2014, Indian cities has 225 Km metro lines operational, and as of today, more than 450 Km of operational lines are added across various Indian cities, and more than 1000 Km lines are under construction.
Pointing to strong element of 'Atmanirbhar Bharat' in various metro projects , Modi pointed out that Metro coaches are now being manufactured in India now, and soon metro signalling systems will also be manufactured in India now.
Citing other major projects in the region, PM Modi listed the Rapid Rail Transport (RRT) between Delhi and Meerut that is currently under construction, 14 lane Delhi-Meerut expressway  that will be inaugurated soon, dozens of airports across Uttar Pradesh  being developed for regional connectivity including Jewar airport. The PM said that these developments will change the face the region.
The PM said that under the recently unveiled National Infrastructure Pipeline, investments worth 111 lakh crore are under pipeline and attempts are being made to attract and ease foreign investment.
UPMRCL ha selected Sam India Builtwell Pvt. to construct the 4 km Taj East Gate Station – Taj Mahal Ramp (Package AGCC-01) section of Agra Metro's 14.25 km Line-1.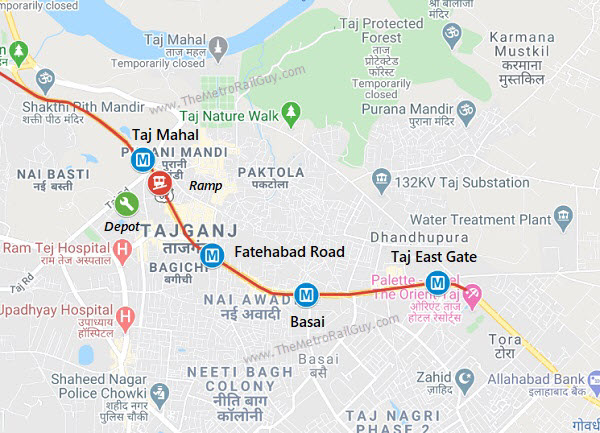 First section: Taj East Gate to Ramp with indicative location of enroute stations (Map Source: The metro Rail Guy)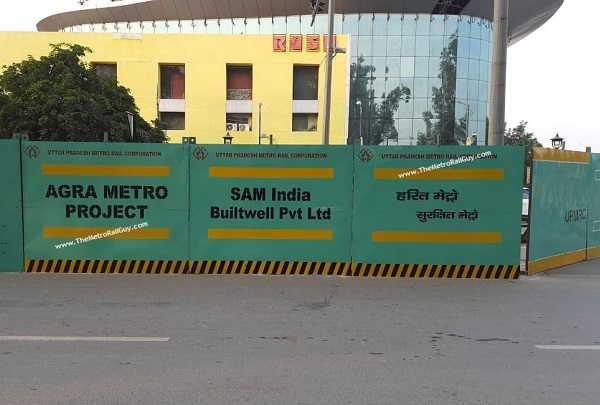 Barricading in front of TDI mall, Agra, Photo via The Metro Rail Guy (Photo copyright: Arthava Yadav vis Abbas Jafri)
UPMRC is set to raise loans worth Rs 4,178 crore from the European Investment Bank, which had funded the Lucknow Metro project. This would be in addition to the 20% equity of Rs 1,459 crore that both the Union and state governments would make available for the project.