Bengal To Get A New  Passenger Terminal At Dankuni, Kolkata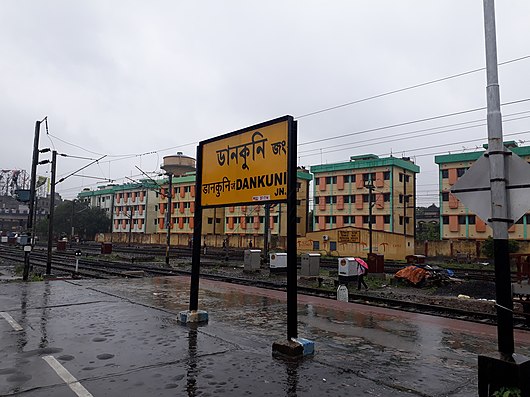 New Delhi, Jan 14: The upcoming Budget 2021-22 is likely to offer a greenfield coaching terminal with platforms, maintenance shed and other ancillary infrastructure at an estimated cost of over  Rs 430 cr at Dankuni in West Bengal fulfilling a long awaited demand from the region.
With the Railways allowing private train operation, the passenger terminal at Dankuni is expected to serve as a hub for private trains in the eastern region.
The Railway Board is favourably examining the detailed project report (DPR) on Dankuni terminal submitted by the Eastern Railway and the mega project is likely to be announced in the forthcoming Budget in Parliament on February 1, said a senior railway official aware of the development.
The DPR envisaged the total cost of the Dankuni project at Rs 439.51 cr including pit lines, station building, loco shed and other ancillary facilities.
The rate of return of this project is 20.24 percent and the annual maintenance cost of this terminal is expected to be Rs 49.76 cr while gross earnings Rs 143.43 cr in a year, according to the DPR.
The possible announcement of a new passenger terminal at Dankuni in the Budget would assume significance as West Bengal would face assembly elections in April this year.
Dankuni is a suburban station under Howrah division of Eastern Railway with excellent connectivity with Kolkata by road and rail also from both north and south Kolkata.
At present there are only three terminals – Howrah, Sealdah and Kolkata. All thee terminals are saturated from pit line capacity, platform availability. Besides there is limited number of platforms at Howrah sand Sealdah station to deal with 24 coaches rake.
Due to non-availabilit of railway land there is no scope for further expansion of these terminals. Therefore there is a need for a new coaching terminal.
Since the Railways is allowing private trains to and from Metro cities, it will require more coaching terminal facilities.
Howrah is the only station in the country dealing with a large quantum of suburban and non-suburban passengers common to both types of traffic.
The coaching facility at Dankuni is likely to become a satellite terminal for Howrah.
Railways is also developing sectional capacity on the golden quadrilateral and its diagonals. Without adequate terminal facility complete utilisation of this sectional capacity will not be feasible in future introducing more Mail/Express trains.
Dankuni will also have a freight terminal as the Eastern Dedicated Freight Corridor is connecting Dankuni to Ludhiana and the sanctioned work is progressing very fast.
As far as private train operation is concerned, there would be four trains from Howrah station in the first phase and the number of trains can be increased later on.
So without terminal capacity augmentation, there will be a problem. So there is a necessity of another passenger terminal at Dankuni, said the official.