Freight Train Hits New Speed Record On DFC Section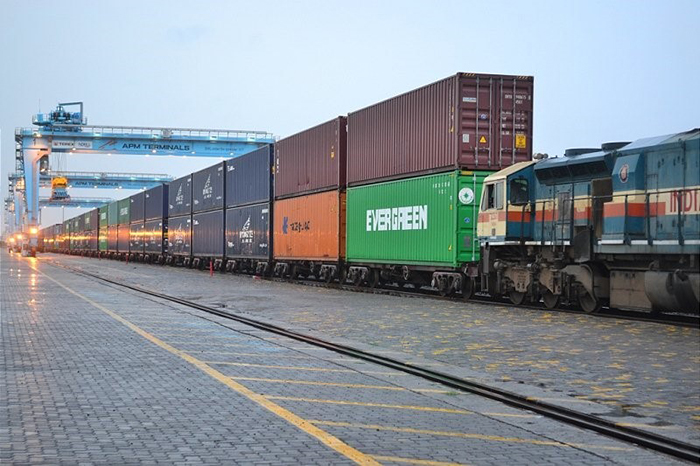 Paving the way for running goods train at an increased speed, Dedicated Freight Corridor (DFC) has run a freight service with 50 wagons at a maximum speed of 100 kilometres per hour on the newly-built New Palanpur-Madar section of Western Corridor.
The goods train carrying 3,900 tonnes of high speed diesel was scheduled from Rajkot in Gujarat to Bawal in Haryana.
It was a trial run which was carried out successfully. First, we tried a locomotive run followed by a fully-loaded goods train running at a maximum speed of 100 km per hour, said a senior Dedicated Freight Corridor Corporation (DFCC) official involved in the operation.
Constructed at an estimated cost of Rs 7,020 crore barring land purchase, the 352.7 km long New Palanpur-Madar section consists of 98 major bridges and viaduct, 531 minor bridges, two rail flyovers, 14 road over bridges of which four have been completed and 10 under construction and 136 road under bridges.
The section falls in Rajasthan for approximately 333 km in Sirohi, Pali and Ajmer districts while 19 km long track is in Banas Kantha district of Haryana.
The opening of this stretch will benefit various industries in Swaroopganj, Banas, Keshavganj, Bangurgram, Beawar, Kishangarh, Phulera, Rewari, Manesar and Narnaul areas of Rajasthan and Haryana.
In addition to this, the container depot of CONCOR at Swaroopganj, Kathwas will also come on the DFC map and get advantage in terms of faster throughput.
There are 12 newly-built DFC stations in the section of which nine are crossing stations — New Shri Amirgarh, New Swarupganj, New Banas, New Keshavganj, New Biroliya, New Jawali, New Chandawal, New Haripur and New Saradhana.
The section also has three junctions at New Palanpur, New Marwar and New Bangurgram.
In order to conserve water, all DFC stations and road under bridges (RUBs) will have rainwater harvesting systems to preserve ground water resources.
Currently, operational in the US, Canada, Brazil, Australia, China, Russia, South Africa and Sweden and Norway, DFC is expected to witness heavy haul train operation with 32.5 tonne axle load, a first in India.
The entire stretch of DFC will be equipped with a train protection and warning system for safe and efficient operation of freight trains.