Goods Revenue Collection Hits Record High For Indian Railways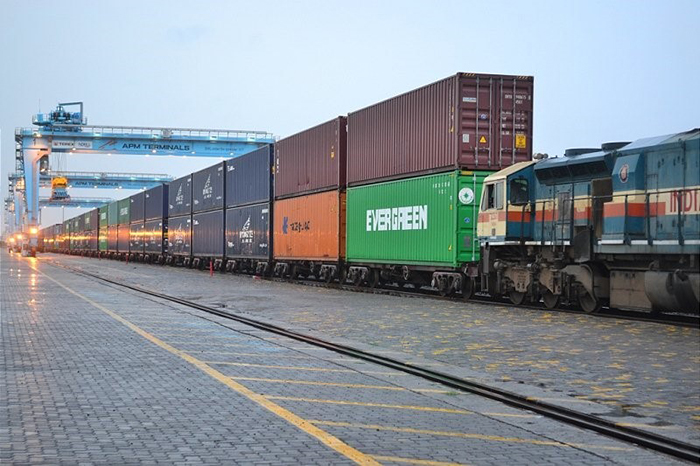 Achieving a new high, the freight earnings have surpassed last year's revenue collection as Indian Railways has earned Rs 98,068.45 cr despite Covid as compared to Rs 97,342.14 in the corresponding period last year.
Crossing a new milestone, the national transporter has also overtaken the freight revenue on a month to month basis as it has surged past the earnings by 5 per cent in the first 12 days of February against the same period last year, a heartening new development.
As per the estimates, Railways freight revenue stood at Rs 4571 cr for the first 12 days of February as compared to Rs 4365 cr for the same period last fiscal.
Incidentally, loading is also ahead by almost 8 percent as compared to last year for the same period.
According to the Railways, it has achieved this turnaround due to an extraordinary set of new initiatives being taken in improving business development, incentives, speed and customisation.
On a monthly basis, Railway freight revenue has surged Rs 206 crore ahead in February this year as compared to corresponding period last year.
It may be noted that freight loading has been showing higher figures since August 20 as compared to corresponding period of previous Financial year. This is for the first time post-Covid lock down that freight revenue for the  month has also been showing higher estimates as compared to corresponding period last year.
Higher Freight revenue for the month is a great signal of an all round economic recovery that is sweeping the country and speaks volumes about the new management initiatives being taken in the Railways to boost business and further improve freight operations.
A number of concessions/discounts are also being given by Indian Railways to make freight movement attractive.
Railways maintain that Covid-19 has been used as an opportunity to improve all round efficiencies and performances.
Also, to attract new business and incentivise other existing clients, the Railways has held meetings with the top leadership of iron and steel, cement, power, coal, automobiles and logistics service providers.
Business Development units at the zonal and divisional levels and near- doubling of freight speed is also contributing to the sustainable growth momentum.