More Than 49,000 Tons of Agri-Products Transported In 157 Kisan Rail Services So Far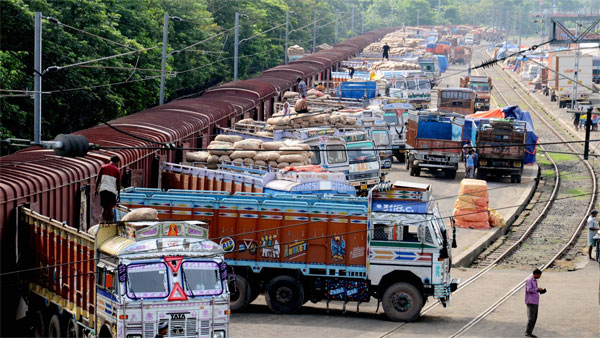 New Delhi, Jan 30: With the aim to help double the farmers' income, the Kisan Rail service started in August last year has transported over 49,000 tons of agri products with 157 services so far.
Launched by Indian Railways, these trains are carrying vegetables, fish, meat, milk, foodgrains and fruits to the market in a short period of time.
The ambitious Kisan Rail project has found a mention in President Ram Nath Kovind's address in Parliament on Friday, indicating its significance for the government as a service for the agriculture sector.
"The Kisan Rail, started throughout the country, is helping to chart a new course by increasing the access of Indian farmers to new markets. This rail is like a mobile cold storage. So far, over 100 kisan trains have been started, which have enabled the farmers to transport over 38,000 tonnes of foodgrains, fruits and vegetables from one region to the other," the President said.
Building a seamless national cold supply chain for perishable goods, the first such train service was launched between Devlali in Maharashtra and Danapur in Bihar in August 2020.
In fact, the Kisan Rail was also announced in the Union Budget 2020-21 also.
Till now, total 157 services have been pressed into service on 18 routes across the country, according to the Railways.
A Kisan Rail Special train between Tarakeswar and Dimapur was pressed into service on Friday. The train will stop at Bandel, Ambika Kalna, Nabadwip Dham, Purbasthali, Katwa, Azimganj, Malda Town, New Jalpaiguri, New Coochbehar, New Bongaigaon, Guwahati and Lumding enroute in both directions for loading/unloading of parcels.
Hooghly and Burdwan District of West Bengal are the largest potato producing districts in the country. The local farmers will be benefitted very much from this Kisan Rail for sending their produce to the North East Frontier part of the country.
According to the Railways, the primary objective of running Kisan Rail trains is to increase the income in the farm sector by connecting production centers to markets and consumption centers.
Railways have been actively pursuing various stakeholders – including the Ministry of Agriculture, state governments, and local bodies – to plan roll out of Kisan Rail services. Based on demand pattern and feedback received from stakeholders, Railways have so far operated Kisan Rail services on eighteen routes.
A subsidy of 50% is being granted on the transportation of fruits and vegetables via Kisan Rail.
These Kisan Rail trains are run on time-tabled paths, and their punctuality is strictly monitored to avoid any en-route detentions and delays.