Over 15-Year-Old Govt Vehicles To Be Phased Out: As Center Approves Procedure To Scrape Old Vehicles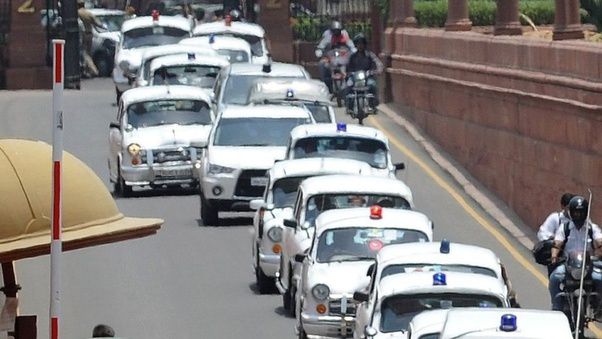 New Delhi, Jan 15: With the aim of having a pollution-free environment, the Union Government is likely to go for mandatory scrapping of government vehicles which are more than 15 years old.
Though the share of government vehicles is negligible, at least a beginning can be made with this move to roll out the formal mechanisms to scrap old polluting vehicles.
However, state governments will have the final say in disposing their vehicles as transport is a state subject, sources added.
Steps are also being undertaken to introduce a stringent fitness and emission-related regime for phasing out of old personal vehicles.
According to sources,  while chairing a meeting on the proposed Vehicle Scrapping Policy on Thursday, Prime Minister Narendra Modi asked the ministries concerned to finalise the policy before the budget and step up the setting up of automated fitness testing centres and vehicle scrapping centres to accelerate the implementation of the policy.
There are indications that the policy is likely to be part of the budget announcements for 2021-22.
The PM has also asked the officials to go through the scrapping norms of Defence and Railway Ministries and put together the final proposal quickly, including the proposed incentives for people to junk their old vehicles.
It is believed that the PM has asked the Transport Ministry to compress the timeline for full implementation of the scheme instead of stretching it up to 2025.
According to the Road Transport Ministry, there is a perception that people would go for scrapping their vehicles provided there is a proper mechanism and there are enough scrappage centres across the country. So, there is a need to increase the number of scrappage centres and automated fitness testing centres for the smooth roll out of the proposed policy.
Niti Aayog CEO Amitabh Kant has suggested the need for a major increase in the number of such facilities across the country.
Earlier, the PM had told the Ministry, which is making the policy, to translate the policy document in all languages describing the necessity and the benefit of the policy to convince people to retire their old vehicles.
The draft of the proposed policy was first published in May 2016 and there have been several rounds of meetings on the issue. One of the main reasons for the delay in the finalisation was inability of the government and vehicle manufacturers to agree on the incentive that could be provided for scrapping old vehicles.