PM Modi Unveils Global Housing Technology Challenge: To Use New Technology In Developing Light Affordable Housing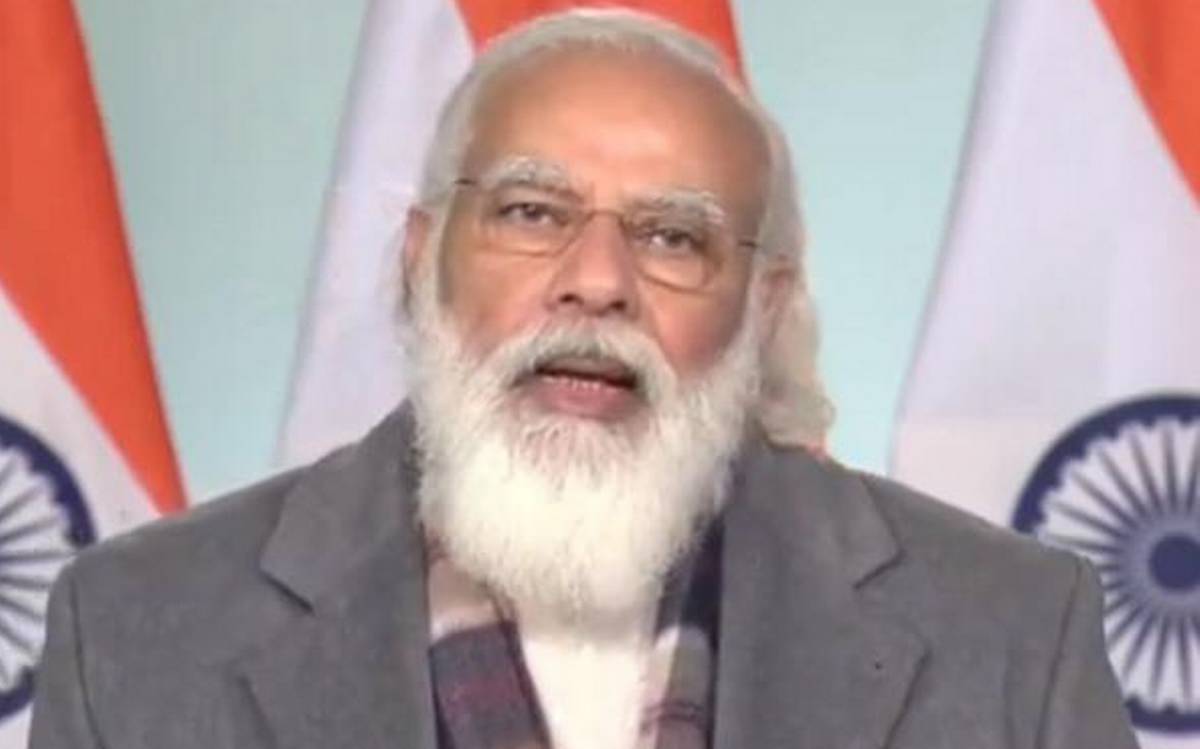 New Delhi, Jan 2: Leading to a new era in the construction technology in India, Prime Minister Narendra Modi has laid the foundation of six Light House Projects (LHPs) as part of Global Housing Technology Challenge – India (GHTC -India) initiative, in six States across the country through
video conference.
About 1,000 houses at each location are to be constructed in a year, using six distinct technologies from a basket of 54 such technologies shortlisted under the GHTC-India, 2019.
This technology revolution will help fulfill the Prime Minister's vision of 'Housing for All' by 2022 as the construction needs of a rapidly urbanizing India will be catered to through the use of cutting-edge and alternate global technology innovations, according to the Housing and Urban Affairs Ministry.
The initiative would not only bring people and technology together, LHPs will pave the way for a new eco- system where globally proven technologies will be adopted for cost-effective, environment friendly and speedier construction.
The advantages of these LHPs are many, the primary ones being durability, climate-resilient, affordability, safety and speed, the Ministry said in a statement.
The LHPs with allied infrastructure facilities have been launched at Indore (Madhya Pradesh), Rajkot (Gujarat), Chennai (Tamil Nadu), Ranchi (Jharkhand), Agartala (Tripura) and Lucknow (Uttar Pradesh).
The States and respective places have been selected through a national challenge and these projects are ready for construction. In all six States, nearly 1000 houses at each location are to be constructed under LHPs using six distinct technologies from a basket of 54 such technologies shortlisted under GHTC-India, 2019.
"LHPs will prove to be a major push towards realizing the Prime Minister's vision of 'Housing for All' by 2022. As a strategy, the new global cutting-edge technologies in construction will be adopted and adapted in line with the government's Atmanirbhar Bharat initiative," said  Ministry of Housing and Urban Affairs Secretary Durga Shanker Mishra.
LHP at Indore will showcase 'Prefabricated Sandwich Panel System' that originated in China. The one at Rajkot will be 'Monolithic Concrete Construction using Tunnel Formwork', a technology that comes from France.
'Precast Concrete Construction System' technology will be used at Chennai, that has come from Finland and USA. The LHP at Ranchi is being constructed using the technology '3 D Volumetric Precast Concrete Construction System' that originated from Germany. 'Structural Steel Frame with Light Gauge Steel Infill Panels' system from New Zealand will be used at Agartala.
The LHP at Lucknow will have a technology from Canada called 'PVC Stay In Place Formwork System'.
LHPs will serve as live laboratories for facilitating transfer of technology to the field and its further replication. This includes planning, design, production of components, construction practices and testing for both faculty and students of IITs/ NITs/ engineering colleges/ planning and architecture colleges, builders, professionals of private and public sectors and other stakeholders.
Mass use of these technologies from across the globe will bring speed, sustainability, resource efficiency, environment friendliness; disaster resilience, quality and durability in structures.
Prime Minister declared the year 2019-20 as 'Construction Technology Year' while inaugurating GHTC-India in March, 2019 to promote new and alternate technologies at a large scale. As part of 'Construction Technology Year', besides LHPs, a Certificate Course on Innovative Construction Technologies namely NAVARITIH (New, Affordable, Validated, Research Innovation Technologies for Indian Housing) and a Compendium of 54 innovative housing construction technologies which were identified through GHTC-India were released by the Prime Minister at the event.
An E-Course on Vulnerability Atlas of India has already been launched as part of the 'Construction Technology Year'.
Five Incubation Centers set up Under Affordable Sustainable Housing Accelerators – India (ASHA-India) initiative under PMAY (U), were launched during the event for providing incubation support to identify innovative materials, processes and technology for resource efficient, disaster resilient and sustainable construction.
In addition, the five winners under the Post-Prototype Technologies category for Acceleration Support were announced. These will provide a major fillip to indigenous start-ups, innovators and such stakeholders.
PMAY (U) Mission is playing an instrumental role towards fulfilling Hon'ble Prime Minister's vision of "Housing For All' by 2022", when India celebrates its 75th year of independence. So far, 1.09 Cr houses have been sanctioned against the assessed demand of 1.12 Cr.
Construction is in various stages in more than 70 Lakh houses and nearly 40 Lakh have been completed and delivered to the beneficiaries. PMAY(U) is leading to life transformation of beneficiaries with access to dignified living, health, education, security and ensuring empowerment of women.
To recognize the outstanding contribution and performances by States, Union Territories (UTs), Urban Local Bodies (ULBs) and beneficiaries, the Prime Minister also gave away the annual awards for excellence in six categories for implementation of Pradhan Mantri Awas Yojana–Urban (PMAY-U).   A total of 88 beneficiaries from across the country were felicitated on the occasion. Housing and Urban Affairs Minister Hardeep Singh Puri and Chief Ministers of six States where LHPs are being initiated, namely, Tripura, Jharkhand, Uttar Pradesh, Madhya Pradesh, Gujarat and Tamil Nadu were also present at the occasion.
Senior officers from the central and state governments also participated in the event on the virtual platform. The PMAY(U) awards were instituted by the Ministry in 2019.