Railways On Electrification Mode: Fossil Fuel Bill Drops By Over Rs 8,000 Crore In Fiscal 2020-21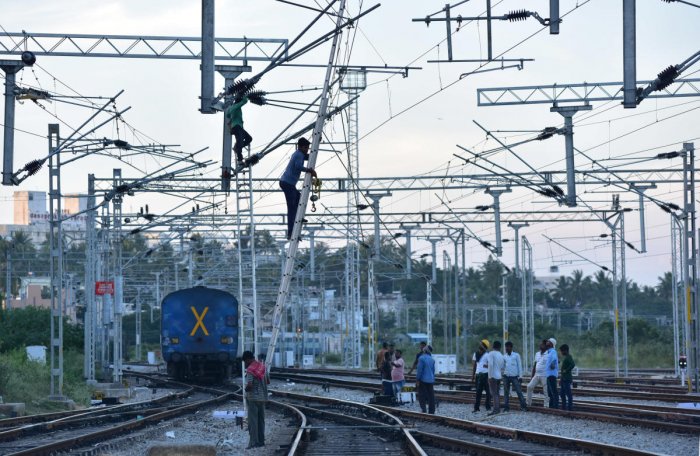 With the rapid route electrification, Indian Railways has reduced its diesel fuel bill by over Rs 8000 crore in 2020-21, a significant savings for the cash-strapped public transporter.
Railways has reduced diesel consumption from 3.06 billion litres in the fiscal 2018-19 to 1.43 billion litres in 2020-21 as more and more diesel locomotives are being replaced with electric ones.
It is estimated that 3.7 million tonnes of CO2 emissions are being prevented by reduction in 1.63 billion litres of diesel consumption during 2020-21.
Out of the total 63,949 km rail route, railways has electrified 45,581 km as on March 31, 2021.
Since the diesel consumption is decreasing, the fuel bill has been reduced to Rs 10,374 crore in 2020-21 from Rs 19,794 crore in 2018-19.
Aiming at 100 per cent electrification by December 2023, the national transporter has undertaken the massive drive to electrify almost the entire rail network in the country.
As a result, the pace of electrification has gone up considerably. In 2014-15, the Railways had electrified 1,176 km, which increased to 4,378 km in 2019 and 6,015 km in 2020-21.
Total electrification is expected to reduce the Railways' dependence on fossil fuel to a great extent, saving forex on diesel import.
With the increased electrification, till now, 201 new substations have been commissioned for traction purpose.
Railways' energy consumption was 2,000 MW in 2019-20, which increased to 3,400 MW with the present level of traffic.
According to the Railways, traction energy consumption is expected to touch 4,000 MW with 100 per cent electrification by December 2023 and anticipated savings on energy would be over Rs 14,000 crore.
In electrical consumption, the energy bill was Rs 10,451 crore in 2018-19 which rose to Rs 11,045 crore in 2019-20.
However, passenger train operations was greatly affected due to the Covid pandemic in 2020-21, resulting in the energy bill being reduced to Rs 9,458 crore.