Budget 2021: Railway Allocation For Bengal, Maharashtra & UP See Significant Increase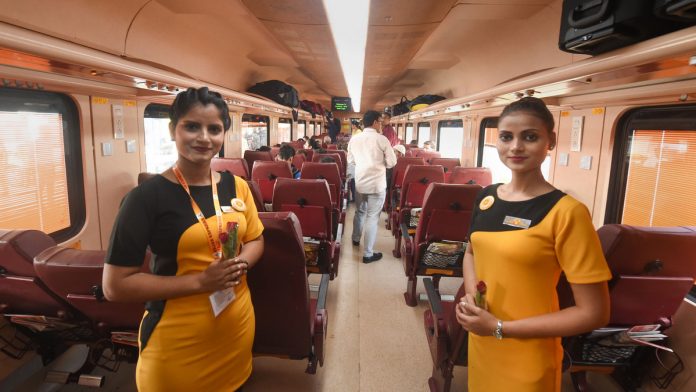 New Delhi, Feb 3: With highest ever total Plan expenditure in the rail sector, allocations for many states including Uttar Pradesh, Maharashtra, Madhya Pradesh and West Bengal among others have also gone up significantly in the 2021-22 budget.
Uttar Pradesh has got a maximum allocation of Rs 12,696 cr in the 2021-22 budget as compared to Rs 8576 cr in 2020-21 followed by Madhya Pradesh whose share has increased from Rs 6509 cr to Rs 7700 cr.
The rise in allocation for Uttarakhand is also maximum as the state has been given Rs 4432 cr as against Rs 1780 cr last year.
All poll-bound states like West Bengal, Kerala and Tamil Nadu have also been allocated increased funds to carry out rail projects in their respective states.
The budget presented by Finance Minister Nirmala Sitharaman has earmarked Rs 6636 cr for West Bengal as against Rs 5246 cr in the last budget. In 2019-20, the state was given Rs 5033 cr.
Tamil Nadu's share has been increased from Rs 2812 cr in the last fiscal to Rs 2972 cr for the 2021-22 fiscal.
Another southern state Kerala, which is also going to the poll, got  Rs 871 cr this year as against Rs 688 cr last year.
Maharashtra, which has maximum rail users for its massive local train operation, received Rs 7107 cr this year. Last year the state was allocated Rs 6572 cr.
Bihar's share has seen a rise from Rs 4489 cr in the last fiscal to Rs 5150 cr this year.
Since the North East is the focus state for the NDA government, the region's rail expenditure allocation has gone up from Rs 4669 cr to Rs 6913 cr in the budget.
The share of Odisha, Rajasthan, Andhra Pradesh and Punjab have also witnessed a considerable increase from the last fiscal.
Allocation for Odisha has gone up from Rs 4884 cr in the last fiscal to Rs 5528 cr this year, while Rajasthan has got Rs 4986 cr as against Rs 4582 cr in 2020-21.
Andhra Pradesh has also got a considerable increase with Rs 5812 cr allocation against last year allocation of Rs 4910.
Punjab which witnessed large scale disruption of rail operation due to farmer stir last year got Rs 2262 cr. It has got Rs 1515 cr in the last budget.
However, States like Chhattisgarh, Telangana and Karnataka have received less allocations than last year.
Karnataka got Rs 3897 cr this year as against Rs 3932 cr while Chhatisgarh share was dipped from Rs 3845 cr to Rs 3650 cr this year and Telangana's share was reduced to Rs 2420 cr from Rs 2602 cr last year.
Delhi also witnessed a fall in the allocation with Rs 310 cr allocation as against Rs 312 cr last year.
The Capex of Rs 2,15,058 cr this fiscal for the Railways was highest
which was an increase of 34 per cent compared to the Capex announced for the last fiscal. The total Capex for 2020-21 was Rs 1.61 lakh cr.
The operating ratio of Indian Railways is expected to improve by the end of the current financial year to 96.96 per cent, despite the disruption caused by Covid. The operating ratio is pegged at 96.15 per cent for FY21.