Haryana Orbital Rail Corridor: PM Modi To Lay Foundation For Rs 5,600 Crore Project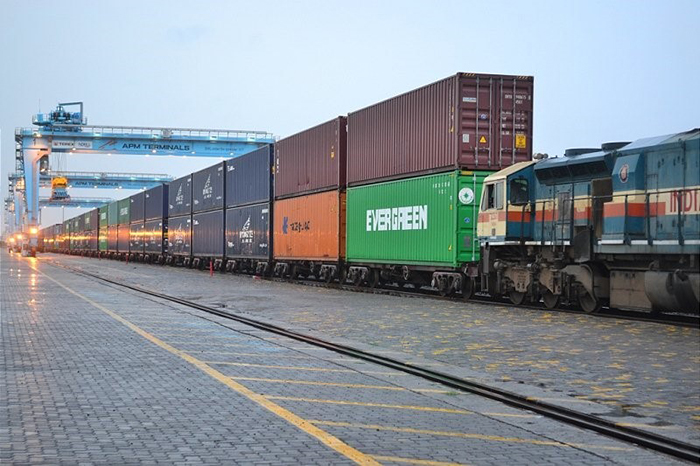 Haryana Chief Minister Manohar Lal on Thursday (16 September) met Prime Minister (PM), Narendra Modi, at the Prime Minister's residence, in New Delhi and invited the PM to lay the foundation stone of the Haryana Orbital Rail Corridor (HORC).
Later addressing the media persons, CM Manohar Lal said that the PM had been invited to visit Haryana to lay the foundation stone of the HORC to be constructed at Rs 5,600 crore.
According to the official statement, the foundation stone laying programme would be organized at Manesar or Palwal or any other place on the Orbital Rail Corridor route in Haryana.
A Rail Corridor To Bypass Delhi
Haryana Orbital Rail Corridor (HORC), connecting Palwal to Sonipat via Sohna, Manesar and Kharkhouda, is a broad gauge double railway line for passenger and freight traffic.
It will provide seamless connectivity to Dedicated Freight Corridors (DFC) at Prithla station and Indian Railways at Palwal, Patli, Sultanpur, Asaudha and Harsana Kalan stations.
This project will be beneficial to the industrial Hubs of Kharkhoda, Manesar and Sohna and will help develop this region of Haryana.
The project has been approved by the Government of Haryana and the Ministry of Railways; after the clearance of the project by the Extended Board for Railways (EBR) and the project is approved by the Cabinet Committee of Economic Affairs.
The alignment of this project is mainly along the Western Peripheral Expressway or Kundli–Manesar–Palwal Expressway (KMP expressway) along the inner side (towards Delhi).
The total length of the project is approximately 140 km, including connectivities, and about 95 km alignment runs parallel to the KMP expressway.
HORC is being built on a Public-Private Partnership (PPP) model. Haryana Rail Infrastructure Development Corporation (HRIDC), Haryana State Industrial and Infrastructure Development Corporation (HSIIDC), Gurugram Metropolitan Development Authority (GMDA), Maruti Suzuki India Ltd (MSIL), International Cargo Terminals and Infrastructure Pvt Ltd (ICTIPL) and All Cargo Logistics Ltd (ACL) have joined together to form a Special Purpose Vehicle (SPV) called Haryana Orbital Rail Corporation Limited (HORCL) to implement this project.