Roll-On-Roll-Off Service Kicks Off On Western Dedicated Freight Corridor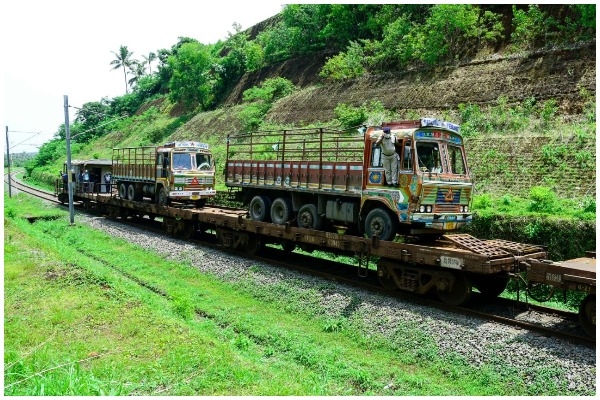 Aiming at a faster and seamless goods service, the trial run of the Roll On– Roll Off (Ro-Ro) service was successfully carried out between New Rewari and New Palanpur of the Western Dedicated Freight Corridor recently.
The rake consisting of flat wagons proceeded from New Rewari in Haryana and arrived at New Palanpur in Gujarat, covering a distance of 630 km.
The Ro-Ro service consisted of carriages of loaded and empty trucks on flat rail wagons, which would enable door-to-door service, piggybacking on fast and safe movement on rail tracks.
Currently, 2,500-3,000 trucks ply daily from Rewari to Palanpur. It is intended that the licensee will run two rakes of 45 wagons each with 450 trips per rake with a total of 900 trips during a year.
This initiative is a win-win proposition for all concerned stakeholders. The stakeholders who stand to benefit are customers, Dedicated Freight Corridor Corporation, Indian Railways as well as society at large.
A key benefit is that customers would be assured a faster and assured transit time of roughly 10 hours vis-à-vis at least 24 hours through the road, a saving of around 14 hours.
This would result in reduced expenditure on maintenance due to less wear and tear of trucks. Driver efficiency would be enhanced as well as a safe cargo transit would be ensured.
Indian Railways and DFCC stand to gain from increased freight market share and additional revenue coupled with proper utilization of assets and capacity.
An important benefit would be aggregation of piecemeal cargo which was not getting tapped for rail transportation. Seamless transportation, and door-to-door service would aid customers too.
The Ro-Ro service would enable huge environmental gains for society with low carbon emissions and reduced congestion on roads, fewer accidents and road mishaps as well as lower transportation costs.