Ahmedabad Station Redevelopment: Here's A Sneak Peek Into New Design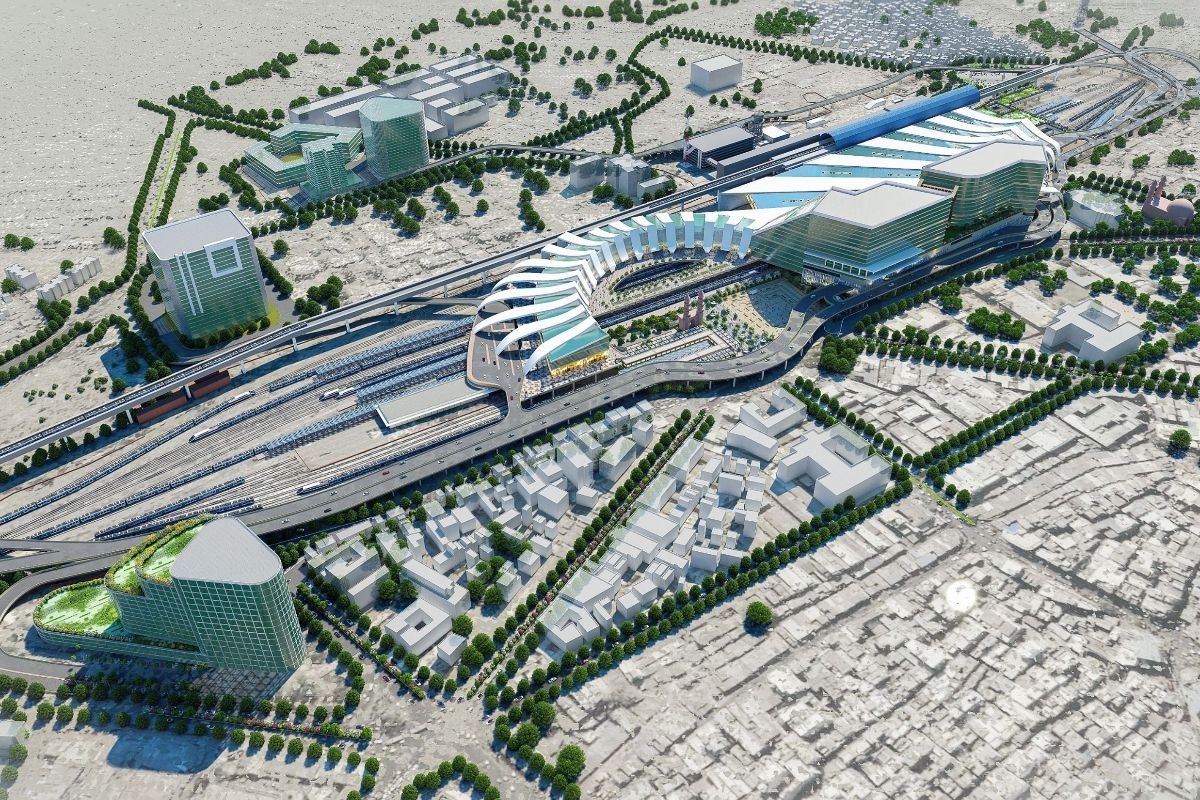 Snapshot
The design of the Ahmedabad railway station will be inspired by the iconic Modhera Sun temple in Gujarat.
The Union Cabinet on 28 September approved the Indian Railways' proposal for redevelopment of Ahmedabad railway station into world-class station.
Briefing the media in National Capital, Union Railway Minister Ashwini Vaishnaw laid down the key details of the redevelopment plan.
Need for development
The historic city of Ahmedabad is amongst the major metropolitan cities in India. The existing Ahmedabad Railway is a junction station of the Western Railway.
The existing station has entry on only one side which leads to heavy congestion on roads. Further, the station complex does not have segregated arrival and departure, inadequate passenger waiting facilities and limited spaces for parcel handling.
Combined with this, the station is located near Ahmedabad heritage town, which renders any capacity expansion almost impossible.
The 600-year-old Walled City of Ahmedabad was declared India's first World Heritage City by UNESCO in 2017 and is home to over two dozen ASI protected monuments.
The new Ahmedabad Railway Station will redefine the city, offering unparalleled comfort to the common man while weaving in Gujarat's cultural touch.
Proposed design
The design of the Ahmedabad railway station will be inspired by the iconic Modhera Sun temple in Gujarat.
A huge arch inspired by the Modhera Sun Temple, flanked by two Iconic towers on both the sides, will be a visitor's delight.
Besides, sun-themed architecture has been planned across the station. The new iconic towers and arch will be a new landmark for Ahmedabad city.
Key Features
648 m X 140 m wide roof plaza to be built 10 metres above the tracks with all passenger amenities at one place along with spaces for retail, cafeterias, recreational facilities.
Integrated connectivity with bullet train, metro station, existing BRT, city buses and taxis.
Two towers to serve as multi-modal logistics hub and provide office spaces.
13 lane-KM of elevated road network planned all around the station to ease traffic flow.
A new city Centre
Expanding the scope of modernisation, the Railway will also develop a city center near the heritage structure of Jhoolta Minar.
Inspired by Adalaj, the city centre will have a stepwell design and will serve as a vibrant open space in the heart of city. Also popular as Adalaj ni Vav is located at a distance of 18 km from Ahmedabad's Kalupur Railway station.