Chennai Metro Ridership Hits 62.71 Lakh Passenger Footfall In November, Records 150 Per Cent Increase Since January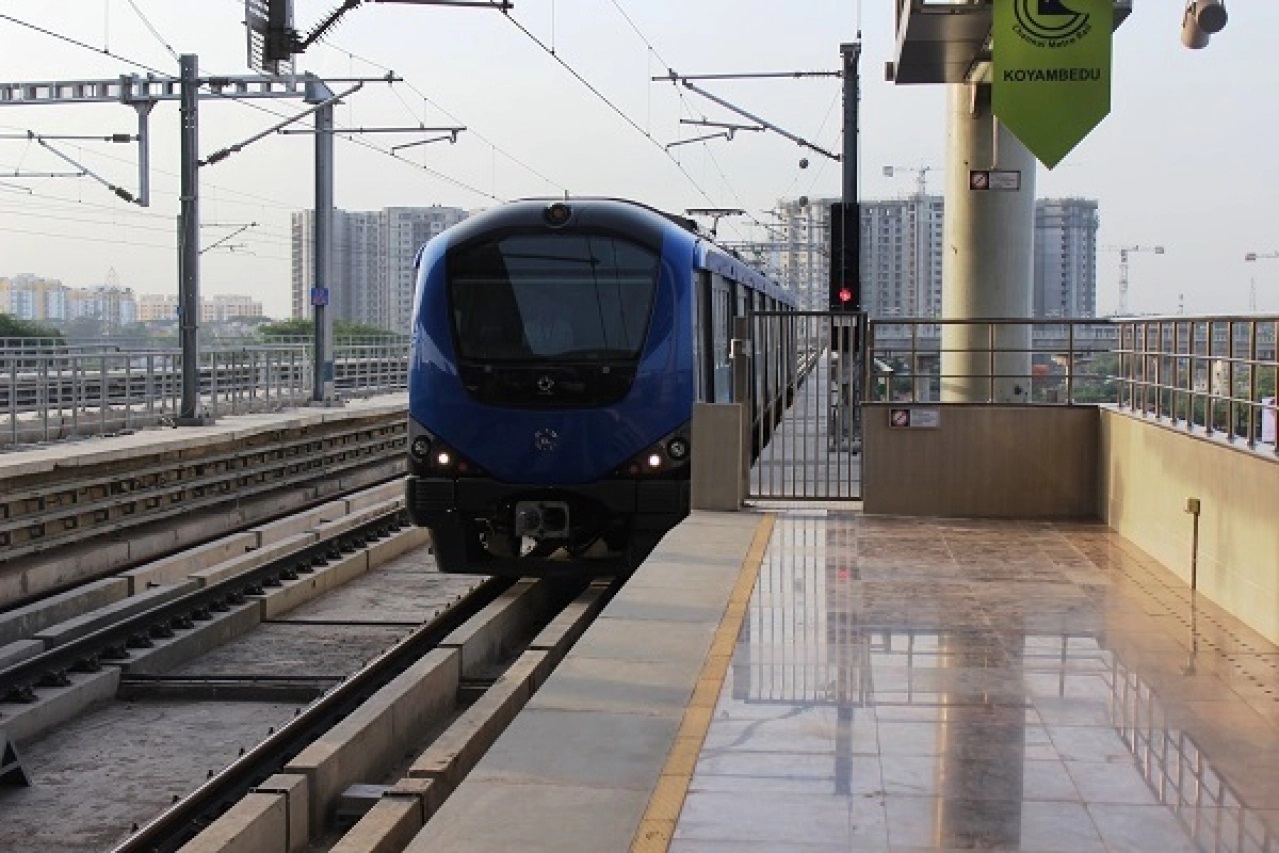 Snapshot
Between January and November, 5.43 crore passengers travelled by Chennai Metro.
The Chennai Metro Rail Limited (CMRL) recorded 62.71 lakh passenger footfall for the month of November.
This is almost 150 per cent more than the usage recorded in January, when 25 lakh passengers took metro trains for their daily commute.
On 7 November alone, CMRL had passenger flow of 2.47 lakh, recording the highest for the day.
Between January and November, 5.43 crore passengers travelled by Chennai Metro.
According to Economic Times, in November 18.22 lakh passengers used the QR code service, while 40.23 lakh passengers used the trip card. Due to a 20 per cent fee discount, there has been an increase in the use of these facilities.
Reasons For Increase In Ridership
Due to the city's extensive suburban rail network and extremely cost-effective service offered by rickety fleet of state-run buses, the metro network has faced challenge of tepid commuter adoption.
However, the steady improvement in footfalls over the last few months comes as a relief to the city's urban transport authorities who have faced questions over expansion plan of the metro service.
Plugging the missing links in last mile connectivity has helped Chennai Metro boost ridership.
In May 2020, Chennai Metro Rail was operating trains to 32 stations throughout the city, including all major transportation centres. Ridership was low, with only roughly 75,000 people.
Two months later, this quickly increased to nearly a lakh, representing a 33 per cent increase in the number of passengers travelling through the metro.
This increase is also attributed to the improvements in last-mile connectivity options at 21 stations. The feeder services include Rapido bike taxis, Uber Autos, vans, cab companies that have established partnerships with businesses for employee mobility.
According to Chennai Metro Rail Limited (CMRL) authorities, passenger traffic has gradually increased in recent months as CMRL and the Metropolitan Transport Corporation (MTC) began operating minibuses to transport commuters to and from metro stations and neighbouring areas.
Minibuses are available at Shenoy Nagar, Tiruvottiyur, Koyambedu, Government Estate, Alandur, Little Mount, Guindy and Chennai Airport.
"Aside from that, we have started running a few shared auto rickshaws from several residential colonies in chosen places, such as Koyambedu, and hope to expand the service even further," a CMRL official stated.
"We have begun to discover areas with high demand. We also intend to take steps to establish connection services between schools, colleges, and IT enterprises and stations," added the official.
In addition, CMRL's recent realignment of frequency to match peak hour traffic has helped increase Chennai metro ridership.
Since several office-goers take the Washermenpet-Alandur metro line, which connects Thousand Lights, AG-DMS, Nandanam, Guindy, and LIC,  CMRL decided to run a train every three minutes between Washermenpet and Alandur.
The frequency of trains in both corridors — Wimco Nagar to Airport and Puratchi Thalaivar Dr M G Ramachandran Chennai Central to St Thomas Mount — has been increased by CMRL to cater to the needs of office-goers.
"Offices can be seen all along Anna Salai. Numerous office workers commute to the stations between Washermenpet and Alandur, and the demand is very strong, as we saw when we examined the data on passenger traffic. Therefore, we decided to have a train go along this length every three minutes," said a CMRL official.
Furthermore, several new office spaces have opened in the Anna Salai Central Business District (CBD) region in the last year, also resulted in increased usage of the metro.
CMRL is a joint venture of the Government of India (GoI) and the Government of Tamil Nadu (GoTN) for the construction of metro network in Chennai with loan assistance from Japan International Cooperation Agency (JICA).
The Phase I network currently covers a total length of 54.1 km and consisting of two corridors (ie, Corridor 1 from Wimco Nagar to Airport and Corridor 2 from Chennai Central to St Thomas Mount).
There are 41 stations of which 21 are underground and 20 elevated. The entire Phase-I (ie, 54.1 km) is fully operational.
The detailed project report (DPR) stated that almost 7.5 lakh passengers per day will travel on metro rail, yet current ridership estimates still fall short of the estimated passenger volume. Therefore, CMRL is implementing various schemes/strategies to achieve optimum utilisation of its system to address the issue.
The future of Chennai Metro appears bright with the steady growth in ridership presently, thanks to the supportive measures of the CMRL.
The ongoing expansion of Metro Phase II will add an additional length of 118.9 km with 128 stations to the network. It consists of three corridors, namely Corridor-3 — from Madhavaram to SIPCOT (45.8 km), Corridor-4 —from Lighthouse to Poonamalle Bypass (26.1 km), Corridor-5 — from Madhavaram at Sholinganallur (47 km).
The estimated cost of the project is‌‌ Rs 63,246 crore. Construction is expected to be completed by the end of 2026.