Nagpur Metro Rail Phase 1 Project Completed, To Be Inaugurated On 11 December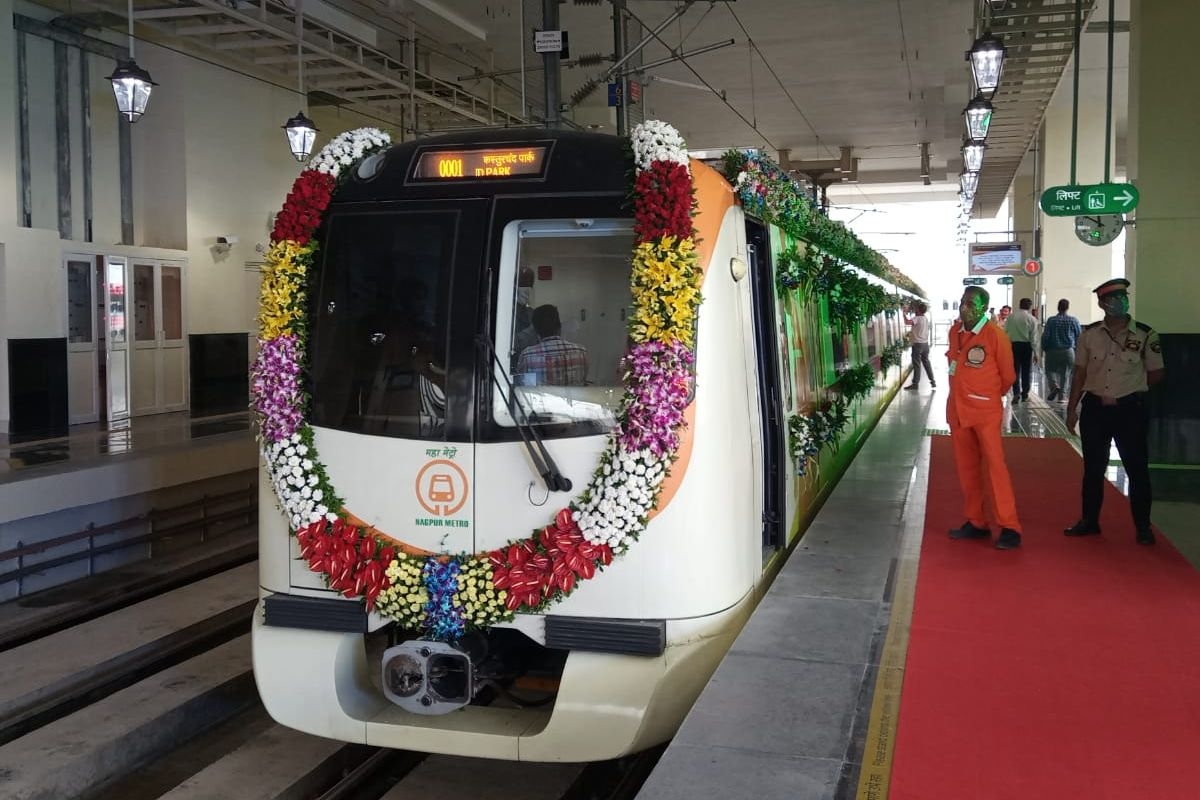 The first phase of Nagpur metro is set to be operationalised soon, with the inauguration of the remaining routes on 11 December.
Prime Minister Narendra Modi on 11 December will dedicate metro routes from Kasturchand Park to Automotive Square (Line-1) and Jhansi Rani Square to Prajapati Nagar (Line-2) to the people of Nagpur.
Until now, the metro has been operational between Khapri and Kasturchand Park on Line 01 and Lokmanya Nagar and Sitabuldi Interchange on Line 02.
Nagpur is the third largest city in the state of Maharashtra and the 13th largest urban conglomeration in the country. The Metro project catering to Nagpur – the Orange City and Tiger Capital of India – aims to serve 35 lakh people and will reduce average travel time of commuters by around 50 per cent.
Apart from transit-oriented development, the project aims to reduce the number of vehicles that ply on roads and also bring down air pollution in the city.
Metro Network
The Phase-1 of Nagpur Metro comprises a 39-km-long elevated stretch, with 38 stations and 2 depots.
The entire stretch has been divided into 2 corridors: North-South (Line 01) and East-west (Line 02). The 19.6-km-long North-South corridor with 18 stops will operate between Khapri and Automotive Square.
The East-West corridor with a length of 18.5 km connects Prajapati Nagar on the eastern part of the city with Lokmanya Nagar in the western part of the city and has 20 stops.
The Sitabuldi Interchange Station, constructed by Afcons, is the highest Metro interchange station in India.
The project has been implemented by the Maharashtra Metro Rail Corporation Limited (MAHA-METRO), which is a 50:50 jointly owned company of Government of India and Government of Maharashtra.
Trial Run
The Nagpur Metro Rail project was approved on 21 August, 2014 and its foundation stone was laid by Prime Minister Narendra Modi on the same day.
The passenger service started on 10 March 2019 after the inauguration of a 13-km stretch by the Prime Minister in the same month. Since then, the Maha metro has incrementally commissioned various stretches on both the corridors.
Phase – II
The Union Cabinet is expected to sanction Phase II of Nagpur Metro in the coming days. Under Phase II, the Metro will connect the satellite cities of Nagpur and highly benefit a population of over 10 lakhs residing in these areas.
Nagpur Metro Phase-II consists of the following 4 extensions of two corridors of Phase-I, totaling 43.8 km. These include
1.       MIHAN – MIDC ESR – 18.6 km
2.       Kanhan River – Automotive Square – 13.0 km
3.       Prajapati Nagar – Kapsi – 5.5 km
4.       Lokmanya Nagar – Hingna – 6.7 km
Scheduled to be completed in 2026, the phase -II project will take the total length of Nagpur Metro project to 82 km.