Delhi-Meerut RRTS: Third Made-in-India Trainset Reaches Duhai Depot From Gujarat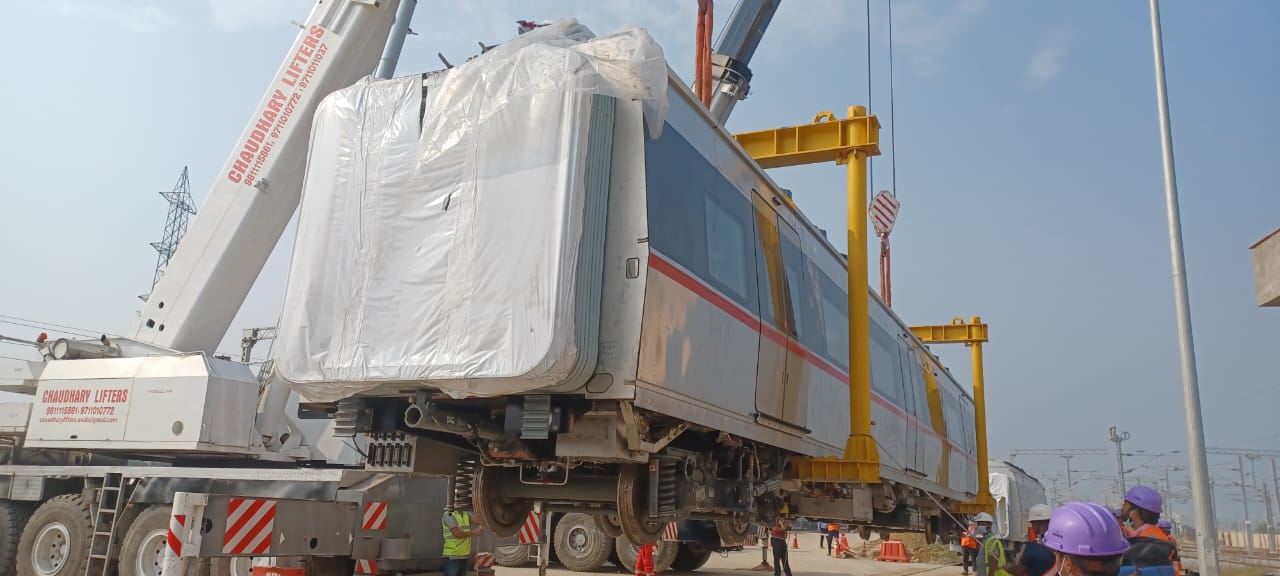 The third trainset of RRTS reached Duhai depot on November 15, 2022. Like the first two trainsets, six coaches of this train were brought to the Duhai depot laden on trolleys from the manufacturing plant located at Savli in Gujarat.
With the third RRTS trainset reaching the Duhai depot, preparations for the trial run on the priority section have gained further momentum.
The keys to the first RRTS train were handed over to the NCRTC on May 7, 2022. Since then, two trainsets of RRTS have already reached the Duhai depot.
Under the Make in India guidelines, 100 per cent of trainsets for the country's first RRTS are being manufactured in India at an Alstom factory located in Savli, Gujrat.
For the first RRTS corridor, 40 semi-high-speed first-of-its-kind aerodynamic trainsets will be delivered, including 30 trainsets for operating regional transit services on the Delhi-Ghaziabad-Meerut corridor and 10 trainsets for local transit services in Meerut, bundled with rolling stock maintenance for 15 years.
Static and dynamic testing of two RRTS trainsets currently present at the Duhai depot is in progress. After successful completion of this test, integrated testing of the train will be carried out, in which rolling stock, signalling and power supply are tested.
After successful testing of all these, a pre-operational trial is carried out. After the successful completion of the trial, the train is made operational for the passengers.
The roof shed for trains at Duhai Depot has been completed. Along with this, for the convenience of the commuters of the surrounding areas around the depot, an underpass has been made under the depot line. The installation of OHE and fencing at the depot is also in the final stage and will be completed soon.
NCRTC is going to commence the trial runs on the Priority Section soon. NCRTC aims to make RRTS operational in this section by March 2023.
The full stretch of the Delhi-Ghaziabad-Meerut RRTS corridor will have 25 stops and will likely be operational by 2025.

Also Read: Delhi-Ghaziabad-Meerut RRTS: Trial Run On 17 km Priority Section Of Rapid Rail Corridor To Begin In First Week of December