Border Infra: Rs 13,000 Crore Plan To Construct 37 Strategic Roads Along LAC With China In The Works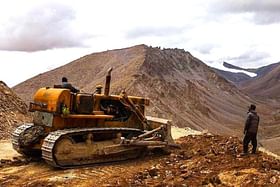 https://gumlet.assettype.com/swarajya/2021-09/84af9758-7d21-4683-9bde-bd4575504869/Road_construction_in_border_areas.jpg
The Narendra Modi government is mulling over a proposal to construct an additional 37 roads spanning a total distance of 875 km along the India-China border, a report in the Economic Times says.
The proposed project, part of the India-China Border Roads (ICBR) programme, would cost approximately Rs 13,000 crore.
According to the proposal, nearly 70 per cent of the roads under ICBR-III would be built in the state of Arunachal Pradesh.
The ongoing phases of the ICBR programme, namely ICBR-I and ICBR-II, involve the development of 1,435 km of roads in Ladakh, Himachal Pradesh, Uttarakhand, Sikkim, and Arunachal Pradesh.
The estimated cost of the project is around Rs 1,600 crore.
The ICBR project aims to enhance infrastructure along the border between the two nations by constructing strategic roads, bridges, and tunnels.
This initiative is largely in response to China's infrastructure development on its side of the border and the larger Tibetan Plateau.
According to sources, the proposal for the third phase of the ICBR programme was discussed in a recent high-level meeting that addressed issues delaying the progress of projects under the first two phases.
It has been suggested that priority be given to developing 22 roads under ICBR-III, as the starting points for these roads are already available.
For the remaining stretches, the start points will become available after the completion of the ongoing projects.
BRO's Capital Budget Increased
The government has increased the capital budget of the Border Roads Organisation (BRO) by 43 per cent to Rs 5,000 crore in the 2023-24 budget as against Rs 3,500 crore in 2022-23.
The agency, which is responsible for the development and maintenance of roads and other critical infrastructure in border areas of India, has sen its capital budget rise sharply over the last few years.
According to the Ministry of Defence (MoD), the capital budget of the BRO has been doubled in two years since FY 2021-22.
In the 2021-22 budget, the government has increased the capital outlay for the BRO by 40 per cent to Rs 3,500 crore.
This unprecedented increase in the BRO's capital budget comes amid tensions between India and China along the LAC.
Over the last few years, the BRO has significantly increased the pace of the construction of roads in border areas. Major reforms, including the transfer of control of the organisation to the Defence Ministry, have helped the BRO improve the pace of the construction of border roads.