Bihar: Work On 54 Km Stretch Of Darbhanga-Jaynagar NH To Start Soon, To Ease Connectivity To Nepal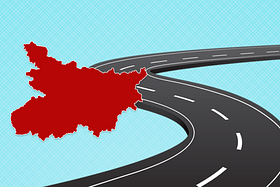 https://gumlet.assettype.com/swarajya/2021-11/87d590a1-704b-4b78-be71-5ba998778196/Bihar_expressway.png
The four-laning of 54 km stretch on NH105 from Darbhanga to Jaynagar in Madhubani district in Bihar is set to begin as Ministry of Road Transport and Highways (MoRTH) has sanctioned Rs 991.88 crore for the project.
The Darbhanga-Jaynagar stretch of NH105, which has been re-designed as NH 527B serves as a key arterial link for trans-national connectivity to Nepal.
The Road Construction Department (RCD) had sent the Detailed Project Report (DPR) for four-laning of the long-delayed project and the same was approved by the Ministry last year.
Out of the total length of 54 km, 15 km stretch of the highway lies in Darbhanga and the rest of the stretch lies in the neighbouring Madhubani.
The RCD, which will build and maintain the road, has already initiated the land acquisition for the project. However, special efforts will be required to acquire land in rest of the stretch in Madhubani, said a RCD official.
With funds being released, the civil work is expected to commence soon after finalising the construction company on the initial 15-km-stretch from Dilli More in Darbhanga to Banwari Patti, situated on the border of Madhubani district.
RCD officials said Rs 430.27 crore would be spent on construction of the road in the next fiscal. The rest of the amount will be allocated for payment of compensation to the landowners, whose plots would be acquired.
The monetary support from MoRTH would give push to the project, likely to be finished in 2025-26.
Connecting to Rail Link
The road is also important for tourism purposes as it will provide a link to the Jaynagar-Kurtha railway service between Bihar and Nepal.
The 35-km rail line-criss-cross from Jayanagar in Bihar to Kurtha in Janakpur, Nepal and was inaugurated by Prime Minister Narendra Modi last year.
The Jaynagar-Kurtha section is part of the 68.7 km Jaynagar-Bijalpura-Bardidas rail link. Jayanagar is 4 km from the India-Nepal border. This route has Janakpur, the famous pilgrim centre in Nepal and the capital of ancient Mithila region, which is 29 km from Jayanagar.