Chennai Metro Phase II: CMRL To Begin Tunnelling Work On Light House-Poonamallee Corridor Soon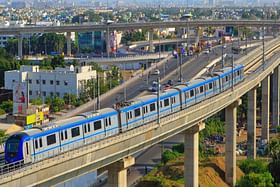 Tunnelling work for Light House station, a part of corridor 4, will soon begin as part of Chennai Metro Rail Limited's phase II project.
Corridor 4 runs for 26.1 km from Light House to Poonamallee, with half the stretch being underground from Light House to Kodambakkam.
The remaining stretch will be elevated up to Poonamallee.
Alongside Light House, corridors 3 and 5, Madhavaram to SIPCOT and Madhavaram to Sholinganallur respectively, have also been planned for the 116 km phase II project.
Tunnelling work is underway in Madhavaram for corridors 3 and 5.
Together, these corridors will significantly improve mass transportation in Chennai and help ease traffic congestion.
In August, a tunnel boring machine will begin drilling at Light House station and by 2025 it will reach Boat Club, creating a tunnel. Another machine will later drill the same distance, resulting in twin tunnels for trains to run in the underground network within two years.
The Flamingo tunnel boring machine is 6.67 m wide, 110 m long, and weighs almost 700 tonne.
The recently tested machine at Alinjivakkam in Tiruvallur will be disassembled and transported to the Light House station site gradually.
The TBM launching shaft is being built at the station, and the TBM will be assembled by August. It'll bore underground at 29 m deep.