Dharavi Makeover: SRA Directed To Provide Rs 300 Crore To Acquire Railway Land For Redevelopment Project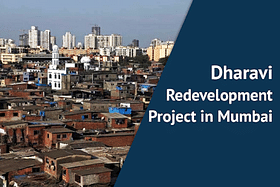 Maharashtra government has directed the Slum Rehabilitation Authority (SRA) in Mumbai to give Rs 300 crore for the proposed Dharavi Redevelopment Project (DRP).
The Housing Department of the state issued a government order on 15 May, which states that a payment of Rs 1,000 crore is required upfront for the inclusion of an additional 45-acre railway land parcel in the redevelopment project, reports Indian Express.
According to the department, the state has secured Rs 800 crore, and the remaining Rs 200 crore must be paid to the Railway Land Development Authority (RLDA) upon the agreement between the Dharavi Redevelopment Project (DRP) and the RLDA.
Furthermore, Rs 100 crore will be allocated towards its equity in the Special Purpose Vehicle (SPV) that will be established for the Dharavi project.
In November 2017, Maharashtra initially intended to redevelop sectors 1 to 7 through the SPV.
However, an additional 45 acres of land were included in this project, and in March 2019, a Memorandum of Understanding (MoU) was signed with the railways.
The initial resettlements during the revamping project will be arranged on the allotted railway land.
The Adani Group had won the bid for the expansive redevelopment project in November 2022 with promising an initial investment of Rs 5,069 crore for the overall Rs 20,000 crore project.
The project will move forward through the SPV formed between the SRA and Adani Realty.
The state government specified that the lead developer is required to make an initial payment of Rs 500 crore within 90 days of receiving the letter of award (LOA).
However, since the LOA has not yet been granted to the developer, funding will need to be arranged through the SRA in Mumbai, according to reports.
It has been made clear that the amount will be returned to the SRA after the formation of the SPV.
The area of Dharavi spans 259 hectares with population estimates of around 600,000 along with 12,000 commercial establishments.
There are an estimated 59,000 eligible slum families that will be part of the rehabilitation process.
A vibrant range of industries and enterprises are concentrated within its 223 hectares of land area, providing employment to over 100 thousand residents.
The project aims to transform the chaotic sprawl into a cluster of towering apartment buildings with enhanced urban amenities.
The redevelopment project will emerge as a major economic contributor to Mumbai and Maharashtra.
The plan incorporates industrial and business zones for the existing and new businesses and commercial activities with better facilities, infrastructure and platforms for improved conditions and growth.
Also Read: Dharavi Makeover: How This Ambitious Slum Redevelopment Project Is Taking Shape