Gateway To Gods: Haridwar May Soon Get Driverless Pod Taxis For Public Transport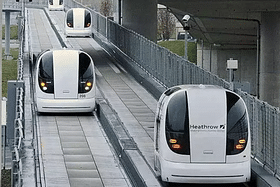 https://gumlet.assettype.com/swarajya/2023-02/d671519f-6931-462c-aaa0-95a60e23f4d2/PODS__1_.png
Devotes visiting Haridwar may soon use driverless pods for internal travel within the holy city.
Uttarakhand Metro Rail Corporation (UKMRC) has invited global competitive bids for development of Personalised Rapid Transit (Pod Taxi) in the holy city of Haridwar on PPP basis.
Earlier in 2019, UKMRC has requested DMRC to prepare detailed project report (DPR) for development of Personal Rapid Transit (PRT) system in Haridwar City.
Pod Taxi
PRT system, also known as pod cars or pod taxis, is a public transport system which comprises small automated vehicles operating on a network of specially built guideways. The driverless pods usually work for non-stop, point-to-point travel transporting four to six people at a time.
Numerous PRT systems were proposed in India, but none of them could be implemented.
As a pilot project, the pod taxi system was to be developed on the 12.3 km stretch from Gurugram border to Sohna road, at a cost of around Rs 800 crore. The project has however, remained in abeyance.
In June 2022, Telangana Government proposed to set up an PRT system from State Assembly to Paradise Metro station in Hyderabad.
Further, in February 2023, the National Highways Logistics Management Limited (NHLML) invited proposals from consultants for carrying out feasibility study for development of PRT system to be implemented in GIFT City in Gujarat
The Union Ministry of Road Transport and Highways (MoRTH) has already constituted a special committee to formulate and recommend standards and specifications for PRT system in the country.
Necessity
Being one of the seven holiest cities in India, Haridwar often bustles with devotees. Its propitious location near the holy River Ganga has made it to gain more popularity.
Haridwar is also one of the four places where Kumbh Mela occurs after rotation of every twelve Years and Ardh Kumbh Mela is organised after six years of every Kumbh.
Today, the city is developing beyond its religious importance, with the fast developing industrial estate of State Infrastructure and Industrial Development Corporation of Uttarakhand (SIIDCUL), and the close by township of Bharat Heavy Electricals Limited (BHEL) as well as its affiliated ancillaries.
Presently, the city does not have adequate public transport system to handle huge influx of pilgrimages as well as industrial establishments.
The dedicated personal rapid transit system will not only make the journey comfortable and time saving, but it will also be eco-friendly and energy efficient.
Specification
The proposed Haridwar PRT system will comprise of 4 PRT Corridors aggregating to 20.74 km with 21 stations.
The details of the proposed PRT corridors are as follows:

The proposed route can be seen on the map below: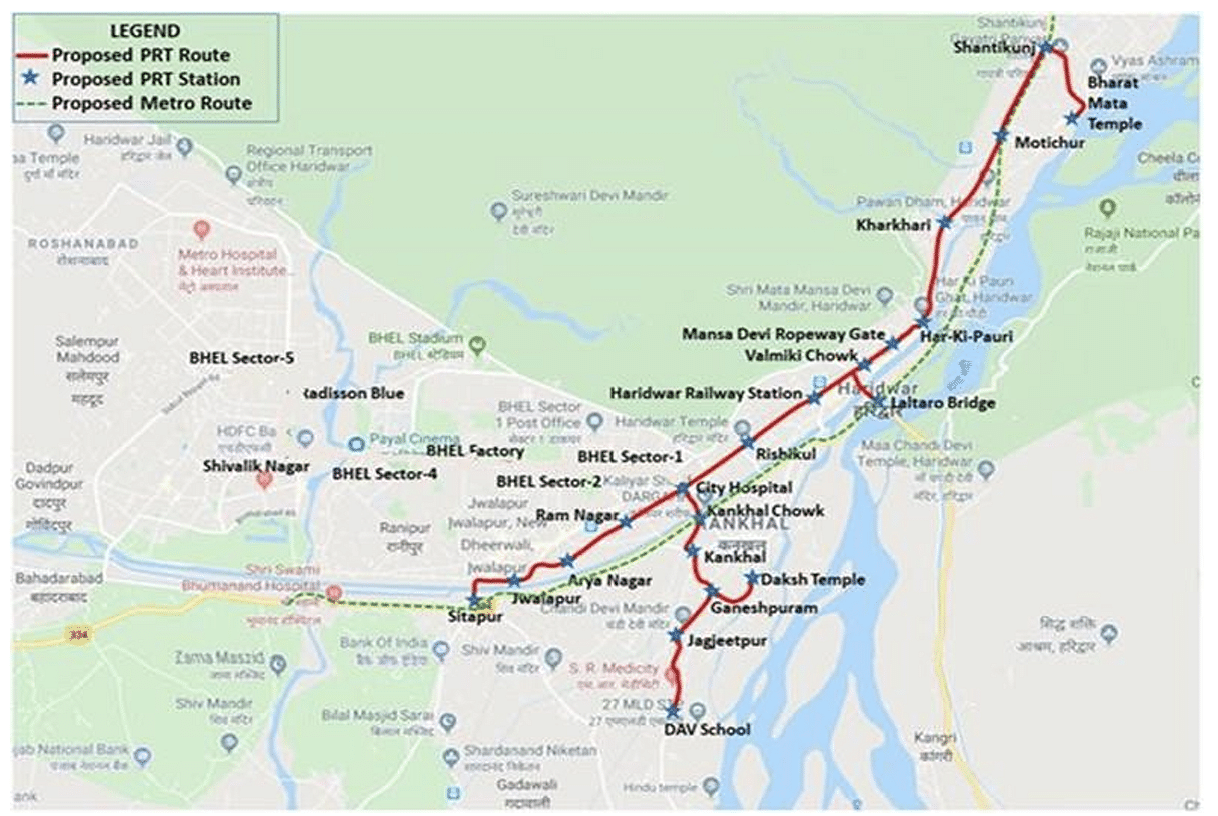 It is expected that the Pod taxi will provide seamless connectivity across the city, commercial zones, Railway Station, Bus Stand, tourist places like Har-Ki-Pauri Mansa Devi Temple, Bharat Mata Temple, Daksh Temple among others.