H G Infra Bags Rs 677 Crore Contract To Upgrade Kanpur Central Railway Station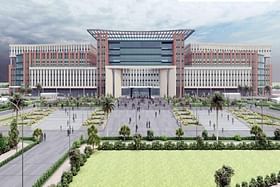 https://gumlet.assettype.com/swarajya/2022-09/512a37d4-08e7-4d93-ba9e-344c69bd1619/Kanpur.jpg
Construction engineering company H G Infra Engineering has been declared as the lowest bidder for the redevelopment project of Kanpur Central Railway Station.
The North Central Railway (NCR) had floated the tenders for redevelopment project in Uttar Pradesh on engineering, procurement and construction (EPC) mode in September 2022.
While the estimated cost of the project was Rs 677.31 crore, H G Infra emerged as the lowest (L-1) bidder for the project by quoting a sum of Rs 655 crore.
A three-year deadline has been set to complete this state-of-the-art, modern terminus in Kanpur. This will be second big station in Uttar Pradesh after Lucknow, for which redevelopment begins this year.
Redevelopment Plan
Kanpur Central is one of the five "Central" railway stations in India. It is the busiest railway station in India in terms of frequency of trains.
It is a major intercity rail and commuter rail station in the city of Kanpur, and is situated on the Howrah-Delhi broad gauge route passing through Uttar Pradesh.
The Ministry of Railways recently posted a proposed design of Kanpur Central via its official Twitter handle that showed an impressive architectural marvel.
With finalisation of the contractor, the much-anticipated Kanpur Central Station's redevelopment work is set to begin soon.
Amrit Bharat Station Scheme
Ministry of Railways has initiated a new scheme of 'Amrit Bharat Station' for development of railway stations across the country.
A total of 1,275 railway stations have been identified for development under this scheme, and Kanpur Central Station is one of the stations identified for development under this scheme.
The works planned under redevelopment of Kanpur Central Station are, roof plaza/air concourse, front side building, east side building, green building with platinum rating and GRIHA certification and solar panels, separate departure and arrival area for passengers and well-designed amenities for passenger like lounges, recreation area, waiting area, sitting points and rest room, etc.
A total of 149 station in UP have been selected for redevelopment under this scheme and includes some major stations such as Agra Fort, Aishbagh, Aligarh, Ayodhya, Banaras, Ghaziabad, Ghazipur City, Gomtinagar, Gorakhpur, Kanpur Central, Khalilabad, Lucknow (Charbagh), Lucknow city, Mathura, Prayagraj, Pt Deen Dayal Upadhyay, Raebareli Jn and Tundla.